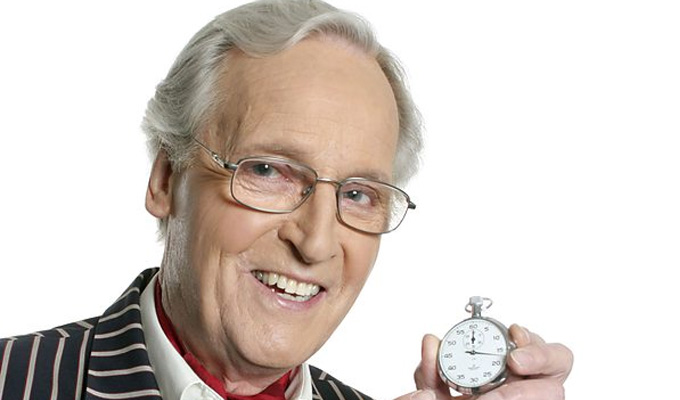 Just minutiae
Nicholas Parsons' book Welcome To Just A Minute!, about the show's near 50-year history has just been republished in paperback. Here are 12 things we learned… with apologies for any repetition, deviation or hesitation…
1. Comedy actor Jimmy Edwards had been lined up to chair the pilot in 1967, but he was unavailable on the proposed recording dates and was replaced by a reluctant Nicholas Parsons. In the book, he confessed that he didn't like the way he did the job ('Too stilted in my opinion') but the BBC would only take it to a full series if he was to be the host. 48 years later he still is.
2. Official audience research taken after the pilot was broadcast concluded that it 'met with a somewhat lukewarm response' from many of the panel. 'Silly pointless interruptions,' said one man identified as a clerk. 'It was a mediocre bonanza for the boys and their women panellists' said another listener referred to only as 'invalid'.
3. Parsons once played the game as a panellist, in 1977, when Clement Freud had been delayed on a train, so Parsons stood in, with the show's creator, Ian Messier, taking the chair.
4. Ultra-competitive Freud once spilled a glass of water over Gyles Brandreth just as he was hitting his stride. And the only person he never challenged was his daughter Emma, who appeared in the show in April 1990.
5. During one recording in 2009, Stephen Fry was challenged for deviation from the English language by Jenny Eclair, after he said 'Howmever'. However he convinced Parsons that it was a real word, a poetic usage similar to 'whomever', insisting: 'I wouldn't have said it otherwise… I've always said it… my favourite' – and was awarded a point for an incorrect challenge. However, it was all a bluff, prompting the BBC to issue a statement after the programme went out saying: 'Radio 4 can now confirm that there is no such word as "howmever". A post-programme disqualification may be in order.'
6. Derek Nimmo set off a stink bomb at a 1981 recording.
7. When Paul Merton made his first appearance on the show producer Ted Taylor was so worried about booking an edgy alternative comedian that not only did he explain very carefully that no swearing was allowed on the show – he even asked what clothes Merton would be wearing. 'I think he saw me as some sort of Sid Vicious character,' the comic said. 'It was clear to me that in his mind he was taking a bit of a chance on me. Thank God he did.'
8. Merton has, however, one particular clothes-based Just A Minute record to his name. He is the only panellist to have appeared topless, in a 2004 edition when the subject of 'strip poker' came up. The whistle blew just as Merton disrobed, to the chagrin of Tony Hawks who wanted to challenge on repetition of nipples.
9. Parsons tends to have trouble with Sue Perkins' name. On her second appearance he introduced her as Sue Perks – which turned out to be the name of one of his early flames – and once called her Poo Serkins.
10. Kenneth Williams was the fastest-speaking panellist, racking up an incredible 6.1 words a second. Williams also completed more uninterrupted minutes than any other contestant.
11. Earlier this year, Jim Davidson hit the headlines after cancelling a gig in Evesham, complaining that the stage was too high… but he's not the only person to have encountered difficulties. When the Just A Minute team recorded there, the height of the platform brought on Merton's vertigo. so he recorded his contribution from the front row of the stalls. The odd arrangement was never mentioned on air.
12. To date, Parsons has appeared on 922 original editions of the show on radio and TV. It would take 20 days and 16 hours to listen to them back-to-back
• Welcome To Just A Minute, A Celebration Of Britain's Best-Loved Radio Comedy by Nicholas Parsons has just been published in paperback by Canongate, priced £9.99. Click here to order.
Published: 2 Sep 2015
What do you think?