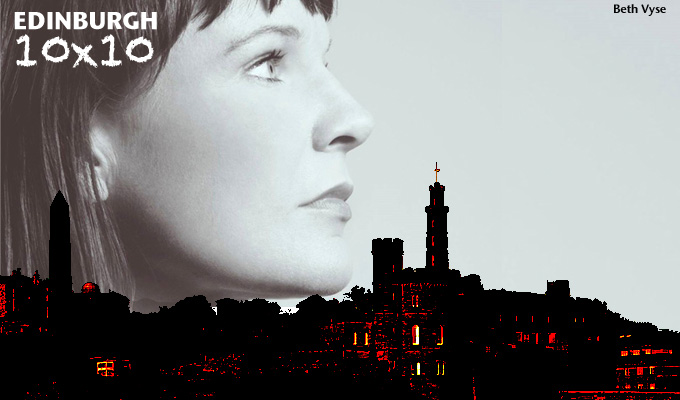 5. Sick humour
Is laughter the best medicine? Here are ten Edinburgh Fringe shows hoping to take a healthy look at illness and disability.
1. Beth Vyse: As Funny As Cancer
Best known for playing the fool, Weirdos queenpin Beth Vyse produced one of the most raucously surreal shows on last year's fringe in the guise of demented breakfast show host Olive Hands. Which might make her an unlikely comic to be addressing the more serious and personal topic of breast cancer. But then look what happened to Briget Christie when she found a sense of purpose for her absurdism… Heroes @ The Hive, 16:20
Oh yes, it's breast cancer again. In December last year, circuit stalwart Alistair Barrie got married, and in the following month his wife was diagnosed with the disease. Gotta love his blurb, which states: 'Come and watch another comedian miraculously make it all about him'. Movement, 15:45
Mel Moon has an awful polyglandular condition, caused by a problem with her endocrine system that creates the hormones essential for the body's functioning. It can lead to death and often leaves her in the most agonising pain, while the steroids she has been taken to combat the condition have required her to undergo some punishing surgery. That's a very brief summary of her horrible problems, which have led her to become an advocate of euthanasia. All that is the subject of Sick Girl – which is billed a comedy despite it all. She had been scheduled to perform along fellow assisted suicide campaigner 'Dr Death' Philip Nitschke, as Chortle reported back in December, but they fell out over those notorious 'creative differences' and are now doing separate shows. His, Dicing With Dr Death, is at Just The Tonic at the Caves at 18:10; while Moon's Sick Girl is on at The Counting House, 12:05
4. Felicity Ward: What If There Is No Toilet
This lively Australian misfit has previously tackled mental illness in her shows, helping the subject shed its taboo status in stand-up. Now she addresses a topic even less glamorous: irritable bowel syndrome. She typically plays the fool to gain ownership of the potentially embarrassing stories she tells, so this should provide rich pickings. Pleasance Courtyard, 21:00
5. Not Disabled… Enough!
Milanese comedian Romina Puma has muscular dystrophy… but is relatively early into the progressive disease. Hence the title as she figures out what changes she'll face in the years ahead. In this show she'll tell the story of becoming disabled and talks about relationships, sex, wheelchairs and more. Laughing Horse @ The Free Sisters, 12:15
6. Jamie McDonald: Oblivious
Glaswegian comic Jamie McDonald started losing his sight at the age of 16 when he was diagnosed with retinitis pigmentosa, a progressive degenerative retinal disease which will eventually leave him totally blind. Now 34, he has been performing on the Scottish comedy circuit for more than five years under the billing That Funny Blind Guy. This is his third Fringe show, and promises 'un-PC' anecdotes. Assembly George Square 21:05
Lee Ridley, current holder of the BBC Radio New Comedy Award, returns to Edinburgh for his third solo show – this time addressing the dumb questions people have asked him over the years. Ridley, who lost his speech as a baby when he developed cerebral palsy, uses an iPad to tell his jokes. He said: 'I'm often getting asked if I really can talk after my gigs, because obviously pretending to be disabled for the sake of entertainment is perfectly acceptable! If I WAS going to do that, I'd probably pretend to be blind, so that my guide dog could shit on everyone who didn't laugh at my jokes. I've also been asked if I could still have a relationship even though I was disabled and someone once asked if I wanted a list of doctors who could fix me!' He says he's holding a festival-long amnesty so that any questions, whoever foolish, can be put to hi m via lostvoiceguy@icloud.com and included int he show. The Stand 5&6, 13:15
8. Colin Leggo: Leggoland
With a rather cruel irony, given his surname, Cornish comic Colin Leggo had his right leg amputated below the knee last year, a consequence of his diabetes. This is billed as a 'silly, life affirming show' about his experiences, and earned him a nomination for best debut at Dave's Leicester Comedy Festival earlier in the year. Laughing Horse @ The Blind Poet, 13:30
9. Shane Todd: Sick Bro
Northern Irish comic Shane Todd says he nearly died at last year's Fringe. Two days after returning home he was taken to hospital, then diagnosed with Crohn's Disease which attacks the digestive system. He told Chortle: 'While in Edinburgh I did an hour-long show, I have no recollection of this… The new show is about the past year, among other things. Thankfully I have fully recovered.' Pleasance Courtyard, 00:00
Why restrict yourself to seeing one disabled comedian when you can see a full line-up of them. This showcase gig, produced by comics Steve Best and Simon Minty, is now celebrating its tenth anniversary and last year started a podcast too. There's a different line-up each night, but those slated to appear this year include Liz Carr, Laurence Clark and TanyaLee Davis. Stand In The Square, 21:40
• 10 Fringe comedians who have been to clown school.
Published: 24 Jul 2015
What do you think?