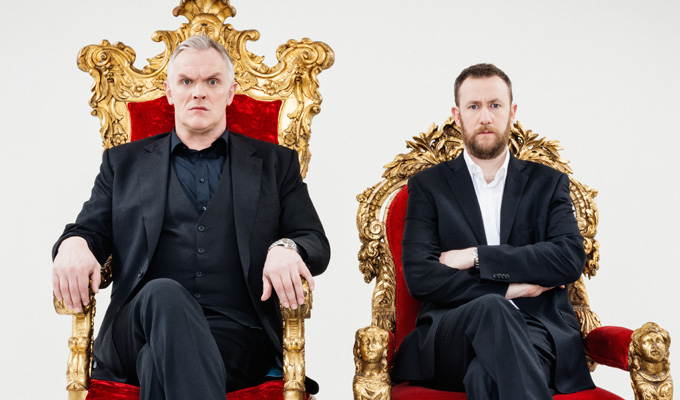 'I looked like a bellend'
'I can't believe I actually cared.' That was the verdict of Greg Davies after one of the challenges set in the new gameshow Taskmaster.
What the five comedian contestants had to do was to get an egg as high as they could, using a few items of stationery, without breaking it. Yet the genuine heartache and joy as the variously hare-brained schemes failed or triumphed means viewers – and indeed Davies as the show's overseer – are,  to use a terrible telly buzzword, 'invested' in how the apparently trivial worked out.
There was much talk at an advance screening about how competitive the contestants were. And the challenges of Taskmaster certainly reversed the usual TV panel show convention in where points are immaterial but scoring quick laughs is. Being forced to think laterally to solve problems, even preposterous ones, brings out more of the comics' personalities, too.
Further jeopardy comes from the fact that each of the comedians – always Frank Skinner, Josh Widdicombe, Roisin Conaty, Romesh Ranganathan and Tim Key – put up personal items into the prize pot. Sometimes surprisingly valuable, or sentimental ones.
The format was originally devised as a one-off Edinburgh show by Alex Horne, who fills the Richard Osman sidekick role now it's being made for TV channel Dave, after his friend Tim Key won the festival's big prize in 2009.
'I was a bit envious and thought it was unfair,' Horne jokes. 'So the following year I decided to design my own awards that he couldn't win.
'Twenty comedians took part, all anonymously, doing one task a month over the course of a month For one they had to deposit money in my account. Mark Watson put loads in… he wanted to win so much. Then we did it a second year with a more manageable ten comedians. But it was never a TV idea, just a laugh.
'One challenge was to send me something large through the post. I go three copies of Eddie Large's autobiography and one subscription to Big & Bouncy. Mike Wozniak sent a plinth with a message from the Post Office saying that the contents were once a 10ft ice sculpture of a horse, the biggest item they'd ever delivered. He won that one.'
Steve North, the general manager of Dave, saw the show on the Fringe and decided, he wanted it. But transferring it to the screen demanded a rethink.
'When we turned it into a TV show we tried lots of different ideas to make it bigger, but in the end we made it less,' Horne says. 'We didn't want to lose the idea of messing around with friends.'
Davies was also recruited, a better-known name thanks to the Inbetweeners, Cuckoo and Man Down. 'I just swanned in,' he admits. 'Alex wanted someone with a powerful sense of authority – and he saw me judging people in the street.'
But the one-time drama teacher confesses that the sense of authority he exudes is all fakery. 'I'm a complete mess as a human being. But being a teacher you learn how to create the illusion.'
He also admits he didn't relish his role in adjudicating how the comics had performed: 'I was really nervous making some of those judgements; they all wanted to win so badly.
'In the pilot, I was more of a panto villain and that didn't really work. I was a dick. I had a huge stick, like a cane, with Taskmaster written on it. I looked like a bellend. We lightened it up for the show.'
In most cases, the comedians took on the challenges in isolation, and only found out how the others did when the films are unveiled in the show, recorded in front of a live audience at the Clapham Grand.
'It's quite intense in the studio,' Key says. 'We spent ten weeks not talking to each other, but really intrigued about how each other did. We'd not seen any of the films, so it's quite a genuine reaction in the studio.'
Key admits the competitive spirit led him to try to bend the rules of some of the challenges, confessing: 'I hate myself in those moments'
'You don't know quite how to play it. Your default is to do it well, then you try to be innovative - to try to do something the others haven't though of. Being funny is about sixth down the list.'
The challenges were all about ingenuity and creativity, rather than anything unpleasant. 'It's not I'm A Celebrity…, embarrassing people was the last thing we wanted to do,' said Horne, who also helped produce the show.
'I found that far better than stand-up,' he said of working behind the scenes. 'I found being on the production side more enjoyable, Comedians also told me they trusted me as it was created by a comedian not a producer.' Before hastily adding: 'Not that there's anything wrong with producers.'
Key agrees with the sentiment. 'The fact it went through Alex's prism is reassuring,' he says. 'He has a nice kind of mindset.'
Still, Davies for one is happy to be in the Taskmaster's chair rather than embark on the challenges himself. 'I wouldn't like to do it,' he says. 'Physically I'm a very clumsy man and mentally very slow.'
• Taskmaster starts on Dave at 10pm next Tuesday. Here is a clip:
Published: 24 Jul 2015
What do you think?