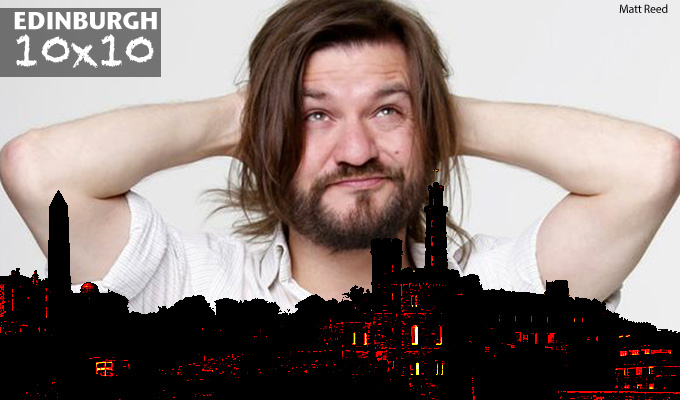 2. Ten circuit stalwarts
Over the years a divide has grown between 'Edinburgh acts' and 'circuit acts'. The latter get often difficult rooms full of people howling with laughter over 20-minute set every Friday and Saturday night, but often don't get the critical acclaim of the festival darlings, who typically use their hours to offer something more emotional, theatrical or artistically daring.
Some acts straddle both camps, of course, but here we present ten Edinburgh-bound acts known more for their work in the clubs than at the Fringe, but who've certainly proved their abilities in front of audiences over the years…
Most weekends, Sunderland-born Matt Reed can be found compering one of Britain's bigger clubs. But following one show, one punter became more than a fan… and here Reeds relates his four-year ordeal at the hands of that stalker, what he calls the worst period of his life. Just The Tonic @ The Mash House, 21:40
George Egg usually travels to his gigs with an oversized suitcase full of custom-made props. There are props, too, in Anarchist Cook – surprisingly his first Fringe show in a career that's spanned more than two decades – but only the sort of things you'd find in an average hotel room. And with these he intends to prepare a three-course meal. He's already made a series of online videos cataloguing this creative way of cooking on the road, how will it stack up for an hour-long show? Gilded Balloon, 14:45
Gavin Webster was named comedians' comedian by a poll of 175 of his peers on the circuit last year. But not content with that, the arch-cynic described as 'uncompromising' and 'hard-edged' is using this show to award himself a bunch more prizes, and no doubt take swipes at all sorts of targets, deserving or not, en route. The Stand 2, 19:19
An ever-dependable act on the Scottish circuit and beyond, as demonstrated by the prime slot he's been given in The Stand's main room. The blurb promises stories of 'growing up with lies, drink, drugs and sex toys' from a commanding comic known for his ability to generate no-nonsense laughs. The Stand, 21:30
The comic, blogger and podcaster makes the move to a free show, two decades after starting off a comedy career that's taken her around the world… and to performing to inmates at Scottish prisons. The Daily Telegraph called her ' the most outspoken female stand-up in Britain' – which probably translates as meaning they think she swears a lot – and the new show promises more 'outrageous stories and home truths'. Laughing Horse @ The Counting House, 19:45
6. Raymond Mearns Is Growing Old Disgracefully
Raymond Mearns has been a comic since the mid-1990s and a pro for more than a decade; including founding the improv sketch group Dance Monkey Boy Dance! His Fringe shows typically include much of the audience banter that's bread-and-butter for him year-round, while this year's offering, as the title indicates, revolves around him failing to act his age. Scottish Comedy Festival @ The Beehive Inn, 19:55
Mark Nelson is another club regular taking stock of his life at a certain age, this time because he's lasted longer on the planet than one of the planet's best-known Messiahs. Nelson was the winner of the first ever Scottish Comedian Of The Year title in 2006, and has been a circuit stalwart ever since. Gilded Balloon, 21:15
8. Paul Thorne: This Month's Apocalypse
Comedy Store regular and occasional musical comedian Paul Thorne returns to the Fringe with what's bulled as a look at modern evils, from bigots to bankers 'and the three fundamentalist teddy bears'. Canon's Gait (PBH Free Fringe), 21:25
He's from the sun-soaked city of Adelaide, but now lives in Birmingham. Which has to prove just what he's prepared to sacrifice to make Brits laugh. With 15 years' experience he's an in-demand compere, but at the Fringe he's promising a family-friendly hour of afternoon comedy. Laughing Horse at City Cafe, 15:00
10. John Scott Presents Dissent
John Scott was described as 'possibly the funniest Scotsman alive'. Though that was by 100% Biker, a magazine for fans of custom-made motorcycles, so you might query their credentials to comment on comedy. Still, like all the acts here, he works on the circuit week in, week out – which counts more than any critique. In this show he celebrates the voice of rebellion. The Stand 2, 16:50
• 10 shows from the theatre section comedy fans might be interested in….
Published: 21 Jul 2015
What do you think?