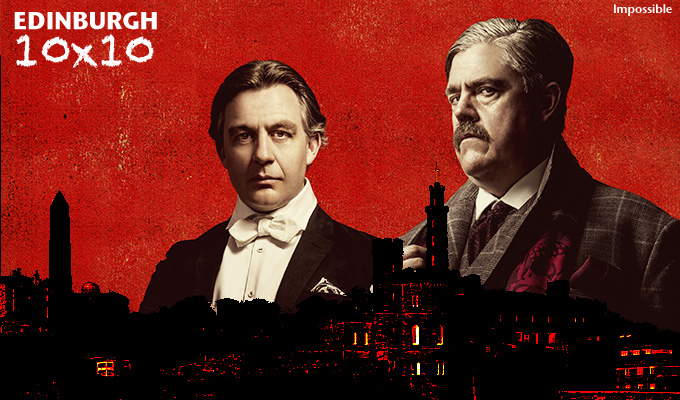 1. Ten from the theatre section
We kick off our series of ten Edinburgh Fringe previews, with ten shows in the theatre section that comedy fans might be interested in.
1. Impossible
Phill Jupitus plays Arthur Conan Doyle in this play intriguingly based on the feud between the Sherlock creator and escapologist Harry Houdini, here played by Alan Cox. This new work has been penned by Robert Khan and Tom Salinsky, writers of the 2012 political comedy play Coalition, which also featured Jupitus. The historical figures met in 1920; but Houdini quickly became troubled by his new friend's passion for mediumship and his fervent belief in life after death. When shown the mediums' miraculous feats, all Houdini could see were conjuring tricks. In the sort of strange coincidence that happens when you have a festival as big as the Fringe, it's one of two plays on exactly the same theme: The Game's Afoot takes place at the very apt location of the Arthur Conan Doyle Centre for three nights from the 12th. Pleasance Dome, 13.20
2. Polyphony
Daniel Kitson's latest… so it'll come as no surprise to learn it's already sold out. The high concept is that our creative genius has written a play, but it's so brilliant it can't be trusted to actors. So Kitson hands out to the audience 20 iPods attached to portable speakers, each containing one character's lines, which will be perfectly synchronised if everyone presses 'play' at the same time. We reviewed it in Melbourne earlier this year (here) but understand it's undergone something of a rewrite since. Roundabout @ Summerhall, 12.15
3. Giant Leap
This is the 10th anniversary show from Phil Nichol's Comedians Theatre Company. In it he stars alongside Tom Stade, Lewis Schaffer and other comedians yet to be announced as writers tasked with creating the crowning line of their careers: Neil Armstrong's words as America fakes the 1969 moon landing. It's been written by Mickey Down and Konrad Kay, whose credits include the forthcoming You, Me And The Apocalypse for Sky One. Pleasance Courtyard 13.50
4. Scenes Of A Sensual Nature
Another one from the Comedians Theatre Company, stand-up Jo Romero's first play was born out of the group's regular new writing workshop Itch:A Scratch Event. It's a collection of six dark, sensual stories featuring other comedians you might recognise, including David Mills, James Dowdeswell and Mick Ferry. Cowgatehead, 12.00
Mr Brigstocke gets to show off his acting chops in this fast-paced single-hander, about the fight for tables at the hottest restaurant on the New York scene. Kevin Bishop took the lead when Becky Mode's comedy was at the Mernier Chocolate Factory in London last year, and won critical praise for the quick turnover of characters required, so the bar is already high. Underbelly Potterrow, 14:00
6. Every Brilliant Thing
Jonny Donohoe is best known to comedy audiences as the frontman from Jonny And The Baptists. But he also stars in this play about depression, which has dubbed 'possibly one of the funniest plays you'll ever see' by The Guardian despite its subject matter. It enjoyed a hit 16-week run in New York and now it's back in Edinburgh. Roundabout @ Summerhall, 14:05
The woman herself gave permission for her material to be used in this play, which is more than a straight tribute show as it tells the story of Gladys Winter, Victoria's number one fan, born on the same day and prone to launching into some of the comic's best-known songs and routines. But Mo Shapiro's play is certainly a homage to a great comic. Gilded Balloon, 13:45
8. EricTheFred
Chris Lynham, best known not he circuit for sticking a firework up his jacksie, here takes a rather different direction in a dream-like silent comedy-drama about a stage-weary trouper at the end of his tether. There's some inventive moments as we said in our review when he performed it in London earlier in the year. Assembly Roxy 21:45
9. Fake It Till You Make It
Bryony Kimmings has earned a reputation for laying her life wide open for her comedic art; and for her latest she's roped in her partner – an advertising account manager called Tim Grayburn. Fake It Till You Make It is based on what happened when, six months into their relationship, Bryony found out that Tim suffers from severe clinical depression. The comedy elements are as dark as the subject matter might suggest, but there is wit with the powerful theatre. We just reviewed it at Latitude here. Traverse Theatre, various times.
10. Scaramouche Jones
Comedian Thom Tuck stars in this one-man storytelling show as an ancient clown. Sixty minutes before the end of 1999 and the start of a new millennium, he gives his final performance and retires to his dressing room to open his mouth for the first time in fifty years. Written by Justin Butcher, the play was previously performed in Edinburgh in 2008. Underbelly Cowgate, 12:20
Published: 20 Jul 2015
What do you think?