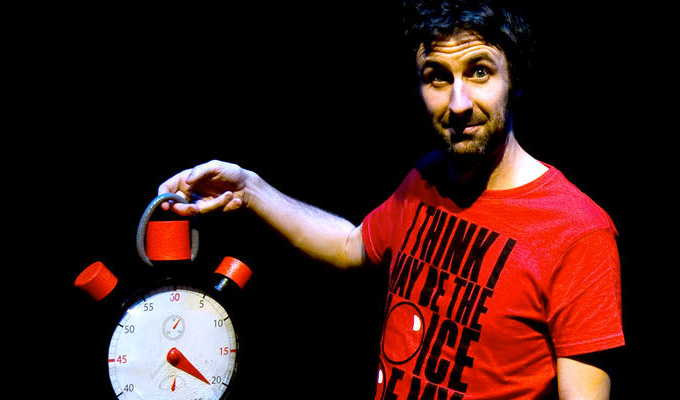 27 challenges for the 27 hour show
Mark Watson embarks on another of his mammoth shows on Friday, raising money for Red Nose Day.
The 27-hour show marks 27 years of Comic Relief, and comes two years after his last marathon show raised £72,000 over its 25 hours.
Rufus Hound, Adam Hills and The Boy With Tape On His Face are among those committed to taking part in the effort, although exactly what challenges they will be set remains to be seen…
Here are just 27 of the mad challenges. To sponsor Mark to complete the 27 hours – or any of his huge team of supporters who are also embarking on their own dares (including, we should say, Chortle's Corry Shaw who is stage-managing the full 27 hours), visit the Mark Watson fundraising page on rednoseday.com
The show takes place at the Pleasance Islington and starts at 9pm on Friday. It will be streamed live here.
1. Susan Calman will be dressing up as a different person, or character every hour using only what the audience provides. As an extra challenge she will be trying to get the subject of her 'impersonation' to come to the show in person. 'It's important that you know I can't do impressions,' she says. 'But for Comic Relief I'm willing to give it a go.
2. Markus Birdman's 27-hour mural. Markus will be creating a huge work of art based on what happens over the course of the show. He did the same at the 25-hour show in 2013, raising thousands. The result hangs proudly in the lobby of The Pleasance Islington.
3. Tiernan Douieb will be subjected to a new undignified 'Torment Tiernan' challenge every hour… and will be wearing one of 27 dresses each time.
4. Emma Kennedy will be running the 27-hour office supplying celebrity guests for the show. Last time she persuaded Jonathan Ross, Zach Braff, Gary Lineker, Jennifer Saunders and many more get involved. She said: 'Last Red Nose Day I was on stage for 25 hours, peed in a bucket and was so tired I had to crawl on my hands and knees while Rufus Hound broke eggs with a mallet strapped to his penis. The prospect of adding an extra two hours is nothing short of horrific.
5. Michael Legge has been learning to love football – and over the course of the show he will be immersed in the sport he so hates. Follow his growing anger so far on his blog.
6. Sean McLoughlin and Tony Jameson will be playing Football Manager for 27 hours to see who can win the World Cup (or just get promoted out of the bottom division)
7. Ben Van Der Velde and Chris Purchase will be visiting as many of London's 200 embassies in 27 hours as they can, dropping off Red Noses and sampling the national dish of each embassy.
8. Mat Ewins will be walking the 80 miles from Peterborough to the Pleasance Islington in 27 hours… which Google maps assures him is possible.
9. Internet radio station Fubar is clearing its schedule for a 27-hour broadcast in aid of Comic Relief. The show will be hosted by the Geekatorium podcast team of Paul Gannon, Eli Silverman and Richard Sandling with guests including David Schneider, Angela Barnes, Stuart Goldsmith and Mark Dolan.
10. Bad Film Club will be watching 27 hours worth of bad movies in one sitting. Club member Clint Edwards said: 'It's going to be tough to keep awake, especially if we hit a really dull film. But I'm taking with me a vat of coffee and a create of Red Bull, and a cyanide pill just in case it all gets too much.' They will be commentating on their progress here .
11. Rob Palk will be being a Mark Watson lookalike/understudy for 27 hours
12. Gemma Coles will be listening to one song on repeat while attempting to make the worlds largest elastic band ball
13. Bradley Woollett will be on stage for the entire 27 hours… with his eyes shut.
14. John-Luke Roberts will be eating a lemon every 10 minutes for 27 hours.
15. Richard Foster will be reading out retrospective football results for the entire 27 hours.
16. Holly Johnston will be having her hair cut off and made into a wig for cancer patients, while her partner Jack Kenny will be getting various bits of his body waxed
17. Dan Mugridge and Ian Stafford will be holding a 27-hour game of darts
18. Nick Isles and Alexander Costello will be doing the traditional baked bean bath for the 27 hours
19. Matthew Collins will have 27 Nandos-based dates in 27 hours
20. Oliver Fisher will be trying to break a number of records including: Most E-numbers consumed while listening to a Jedward album, longest time spent tickling a cactus, longest time kissing a photo of Ant while thinking about Dec, and Most Watercolour paintings of Mark Watson in three minutes.
21. Giles Terera will be singing and playing piano for 27 hours
22. Claire Tavers Smith will be writing a novel in 27 hours
23. Pierre Novellie will be drawing and sketching for the full 27 hours.
24. Bruno Vincent will be hitch-hiking from Brno in the Czech Republic to the Pleasance.
25. Pete Dillon-Trenchard will be watching 75 episodes – 27 hours worth – of 1990s kids series Mighty Morphin Power Rangers
26. Zoe Groom will be building Star Wars Lego kits for the duration
27. Pupils at St Gregory CEVC Primary School in Subury, Suffolk, under headteacher Daniel Woodrow, have been doing 27 things to make the world a better place, including caring for the elderly, planting trees – and travelling by conga.
Here's Mark explaining the show, with highlights from the 25-hour version:
And another thing…
Separately from Mark Watson's efforts, Smug Roberts is to perform 20 gigs in 24 hours to raise money for Comic Relief.
It marks the 20th anniversary of his stand-up debut at the Frog and Bucket club in Manchester – where he'll kick off his challenge on Friday night, and end it on Saturday.
Each performance will be at least 20 minutes long, and as well as normal comedy venues, he'll put on a show at a fan's house. Sponsor him here
Published: 25 Feb 2015
What do you think?