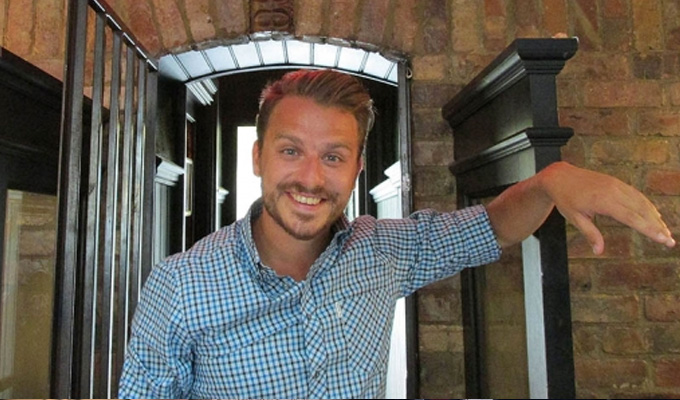 From Dapper Laughs to Ukip...
10. 'They Don't Want Anything Interesting Or Edgy'
Frankie Boyle launches a typically forthright attack on risk-averse TV commissioners, toothless middle-class satire and the lack of women on panel shows during an event at the Edinburgh TV festival in August. Read.
9. Sorry, That Was Inappropriate…
In March, comedy promoter Geoff Whiting was caught out sending an email cancelling a female comic from a show because he said there were already 'too many women' on the bill. Read.
8. Justin Lee Collins Finds A Job
Fubar radio courted controversy in March by signing Justin Lee Collins, whose career seemed to be over after he was convicted of harassing his ex-girlfriend. Read.
7. Andrew Lawrence: I'm The Target Of A Witch Hunt
In October, the comic expressed some political views that went against comedy's liberal consensus – then faced a backlash from comedians taking issue with him Read.
The American comic who made a career out of jokes about his weight was found dead in a Pittsburgh hotel in April. Read.
5. You are not pushing at boundaries
A bunch of comedians signed an open letter to ITV2 in protest at lad comic Dapper Laughs in November.This was that letter… Read.
4. The Chortle Awards
The announcement of the nominees for our annual awards in February was one of the most-read stories of the year… Read.
3. Mystery of TV comic who groomed vulnerable teen
Rumours swirled in March when a comedian's sexual encounters with a suicidal teenager were heard at an inquest into his death – but the coroner ruled that the man's name should not be reported. Read.
2. Ukip tries to shut down comedy tour
Nigel Farage's band of protesters against Brussels interference tried a spot of interference itself back in March. Activists launched a campaign against Jonny And The Baptists' Stop UKIP tour by targeting venues hosting it. Read.
1. You've created a rapists' almanac
Lee Kern's no-holds-barred broadside against Dapper Laughs helped escalate the controversy that eventually cost the laddish comic his ITV2 show. Read.
Published: 31 Dec 2014
What do you think?