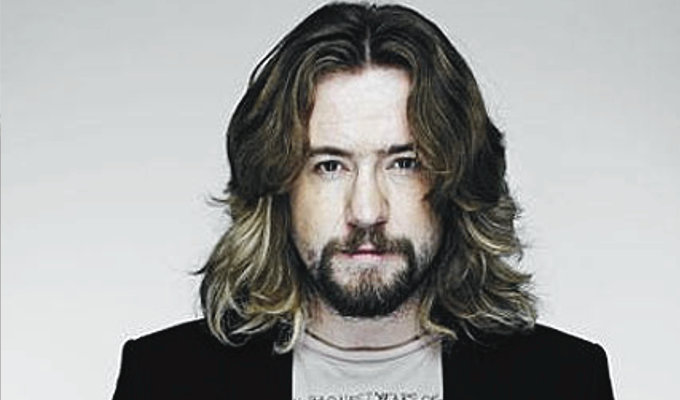 Justin Lee Collins finds a job
The former Friday Night project host was sentenced to 140 hours community work in 2012 after a court heard he subjected Anna Larke to a seven-month campaign of abuse, slapping her, insisting she catalogue all her previous sexual partners, and calling her a 'fucking slag' and a 'dirty, vile whore'.
Fubar, which also hosts shows by the likes of Richard Herring, Peacock & Gamble and Vikki Stone, boasts of its uncensored nature and that it is 'untouchable by the regulators'.
Collins will present the weekday drivetime show from 4pm to 7pm from Monday, promising 'a collection of unlikely guests, including tribute acts and conspiracy theorists' and a 'regular parade of hilarious features'.
In an interview with fellow Fubar host Mark Dolan this morning, Collins said: 'It's a weird thing radio, you're kind of anonymous, or certainly starting out I was anonymous, but it's the most incredibly intimate thing.  You can connect with people in a way that you just can't in front of the camera or on a stage…  That's the beauty of radio, when it's done really well, you feel like it's so intimate, you feel like the person is just talking to you and nobody else.'
The news comes days after collins apologised for his actions, telling The Sun: "I will regret what I said for the rest of my life. It was irrational, bizarre and disgusting. I've tried to make sense of it but I can't.'
For her part, Larke told the Mirror: 'I accept Mr Collins' apology on his verbal abuse and am glad he is seeking the help I tirelessly pleaded with him to find when we were together. If Mr Collins can sleep at night then good for him.'
Published: 7 Mar 2014
Justin Lee Collins, whose career seemed to be over after he was convicted of harassing his ex-girlfriend, has been signed up by subscription-only comedy radio station Fubar.
What do you think?