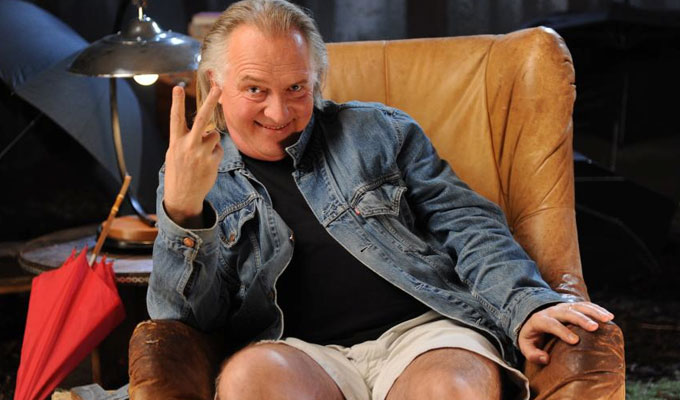 'What makes a great story is a great storyteller'
Episode 1: September 24
Vic Reeves reads In Space No One Can Hear You Clean,
A woman becomes the first cleaner in space after accidentally getting left on the first manned mission to Mars. When asked who, alive or dead, he would most like to hear read a story, Reeves said: 'If I said Christ that would be controversial, and the truth would out, wouldn't it.' By Nico Tatarowicz.
Rik Mayall reads The Weatherman
A mild-mannered weather forecaster from a local TV channel finds he can control the weather with his forecasts. Interviewed about the story shortly before his death, Mayall said: 'I think what makes a great story is a great storyteller. Even if you have a very simple story, if you know how to seduce your audience, then you're all right.' In the 'reconstructions', Steve Oram plays the weatherman in a reunion with both his Sightseers co-star Alice Lowe, as his love interest, and his double-act partner Tom Meeten, who plays his rival. Written by Tony Way.
Episode 2: October 1
Ben Miller reads Man's Best Friend
A Victorian amateur scientist, played by Kevin Eldon, transplants the mind of his dog into the body of a stranger to create the perfect wife. 'It's the ultimate male fantasy' Miller says. Written by Alex Kirk
Sue Perkins reads Return To Sender
A convict escapes jail by mailing herself out in a parcel only to be delivered by mistake to an online shopping addict. By Melissa Bubnic.
Episode 3: October 8
David Mitchell reads The Surprise
Guests waiting to throw a surprise party fear for their lives after overhearing that the man they are there for might not be all he seems. Mitchell said: 'I think Crackanory appealed to me because I like the sound of my own voice so the idea of me reading something out, just me talking with no one replying was immediately appealing to my ego.' Written by Toby Davies.
Katherine Parkinson reads The Crisis Plan
Employees of a plastics company become trapped after an earthquake – and debate who to eat first. Written by Holly Walsh
Episode 4: October 15
Johnny Vegas reads Self Storage
A man who buys abandoned storage lots keeps discovering disturbing mementos from his own past. 'It's an art, is storytelling,' Vegas says. 'I'll prove that when you see how shoddy mine is…' Writer Alex Kirk admits he was inspired by one of his favourite shows, Storage Hunters.
Meera Syal reads The Obituary Writer
A journalist resorts to killing prominent members of her community in order to keep her job. Written by Katherine Jakeways
Episode 5: October 22
Warwick Davis reads The Untangler
A man with an extraordinary talent for untangling things tries to win the love of a princess in the fairytale land of Bow. 'It reminds me of a lot of a story that might have been written by Spike Milligan with that kind of humour,' Davis says. It was actually written by Toby Davies.
Emilia Fox reads Murder He Wrote
A man devises an elaborate plan to frame his wife for his own murder. Bit of trivia: Emilia Fox's mum, the actress Joanna David, read on the original Jackanory series. By Nico Tatarowicz.
Episode 26: October 29
Simon Callow reads Let Me Be The Judge
The judge of a primetime talent show gets his comeuppance at the hands of a contestant - 'something we'd all like to see,' Callow says. By Kevin Eldon
Ruby Wax reads I'm Still Here
A living statue busker is asked to pose as a statue in a museum to foil an art heist. By Ali Crockatt and David Scott. Wax says: 'It's funny and as a writer it's hard for me to say, but I couldn't have written it'.
Published: 17 Sep 2014
What do you think?