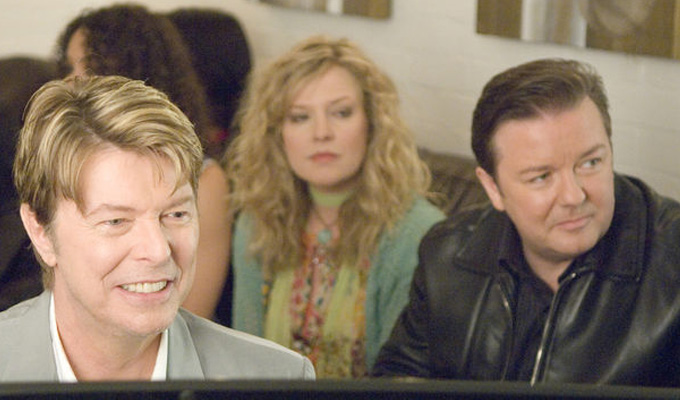 Maybe stick to singing?
Following the news that Oscar-winning actor* Prince is to guest star in New Girl next month, Jay Richardson looks back at ten other pop stars who've made memorable sitcom appearances. (*He won an Academy Award for the Purple Rain soundtrack. And tries acting in the film.)
1. Brian Eno in Father Ted
Arguably the greatest of Ted's priestly cameos, Father Brian Eno graced the show for barely a second, reflecting the minimalist approach the ex-Roxy Music man has brought to his solo career. In the same episode by contrast, Tommy Tiernan has speculated that his repeated line-flubbing while Dermot Morgan danced to The Theme From Shaft exhausted the Ted actor and contributed to his fatal heart attack the following day.

2. Elvis Costello in Frasier
Guest callers to Frasier's radio show included Art Garfunkel, Eddie Van Halen, Rufus Wainwright, Pat Boone, Gloria Estefan, Yo Yo Ma, Bonnie Raitt, Carly Simon and Henry Mancini. But one of the show's finest celebrity appearances came from Elvis Costello, who gamely played a terrible folk singer whose tone-deaf renditions of The Wild Rover and Tie Me Kangaroo Down, Sport shattered the ambience of Frasier and Niles' beloved Café Nervosa. The prolifically self-mocking singer has also appeared in The Simpsons, The Larry Sanders Show, 30 Rock, 3rd Rock From The Sun, The Comic Strip Presents, The Kumars at No 42 and Two and a Half Men. Clip
3. Edwyn Collins in West Heath Yard
Little remembered now but the former Orange Juice frontman co-wrote and starred in his own late night, Channel 4 music industry satire at the turn of the millennium, about the efforts of two pretentious producers to launch 'the next big thing'. Jarvis Cocker and Natalie Imbruglia were among those sending themselves up, with one of the enduring highlights the bechamel-cheesy, faux-soul duet 'Lasagne Just For One'.

4. Bette Midler in Seinfeld
'Well, you've made a long journey from Milan to Minsk, Rochelle, Rochelle ...' Seinfeld's long-running references to the (fictional) arthouse porn flick received a Broadway musical climax, with the inimitable Midler taking the part of the erotically awakened ingénue, belting out the title tune from her hospital bed after George injures her in a softball game.

5. Madness in The Young Ones
The only band to make two appearances in the anarchic student sitcom, The Nutty Boy's performances generated such excitement that Ben Elton and Richard Curtis were asked to pen a spin-off. Frontman Suggs was to play the Prime Minister, with the rest of the band meeting as his cabinet in a Camden Town café, while doubling up as their own evil nemeses. The results were shot for a BBC taster but never aired.
6. Chrissie Hynde in Friends
No storyline in Friends dated quicker than Ross, Monica and Chandler's excitement at attending a gig by the perennially unhip Hootie & The Blowfish. Especially after one of the Blowfish supposedly gave Monica a 'hickey'. Considerably less awkward was Chrissie Hynde's straight-faced turn as the coffee house singer who displaces Phoebe's tuneless caterwauling at Central Perk, yet later finds herself taught the chords to Smelly Cat.

7. David Bowie in Extras
The Thin White Duke improvises Funny Little Fat Man, with Ricky Gervais displaying a now rare degree of self-awareness in his celebrity fawning

8. Clare Grogan in Red Dwarf
No disrespect to Chloe Annette. But as the original, feisty incarnation of navigation officer Kochanski, the girly Altered Images singer made a lot more sense as a love interest for the immature, slobbish Lister. She also had the advantage of appearing in the show before it peaked, remaining as a cherished memory, rather than associated with its less amusing revival. Grogan's appeal to men of a certain age was confirmed when she intimidated Father Ted as a Sinéad O'Connor-channelling, feminist rock singer.
9. Victoria Beckham in Ugly Betty
Vanessa Williams has made a smooth transition from chart-topping singer to award-winning comic actress. Posh Spice has not.

10. Bob Dylan in Dharma & Greg
Quite what the folk music icon was doing appearing in one of the US's least celebrated mainstream sitcoms is open to speculation, though masochism seems a possible answer judging by his awkwardly grinning, mumbled cameo. With Jenna Elfman's Dharma auditioning to be his drummer, the rest of Dylan's group, including T-Bone Burnett and Joe Henry, can't bring themselves to look the legend in the eye.
Published: 17 Jan 2014
What do you think?