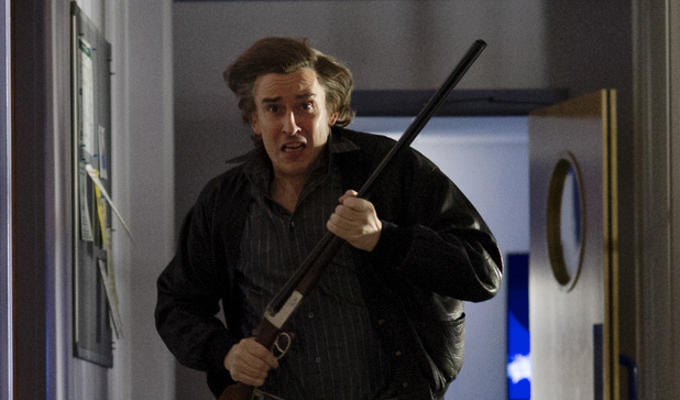 Partridge in a pickle
The received wisdom for transferring television comedies to cinema is to try to make the laughs bigger and louder, perhaps ramp up the nudity or the swearing, while shifting the story to a more exotic location. A successful template for The Inbetweeners movie, Armando Iannucci did exactly the same thing when he parleyed The Thick of It into the higher stakes US politics of In The Loop.
But Alan Partridge's career has famously settled into a more modest furrow since he lost his nationwide chat show. So Alpha Papa has it both ways and tremendous fun applying the conventions of a high-octane siege thriller to the sleepy setting of a local radio station in Norfolk. The earnest, soft rock playing throughout the film is both ironic and perfectly in keeping with our hero's tastes. A consummate Alan moment finds him furiously lip-synching to Roachford's Cuddly Toy in the car, pausing only to berate another driver for inappropriately using their fog lights.
Of course, it was an accidental gunshot that effectively ended Alan's reign on Knowing Me, Knowing You. But while an armed standoff is taking Steve Coogan's most celebrated character into new levels of crisis, Partridge is never more in his element than when he's hopelessly out of his depth.
Coogan and fellow writers Iannucci and Neil and Rob Gibbons make a decent fist of applying a 90-minute narrative arc to the pithy, nuanced humour of the Mid Morning Matters internet shorts, with Alan humourlessly rebuking Tim Key's Sidekick Simon for his ill-judged banter. The film has plenty for seasoned Partridge fans but stands alone, with no previous knowledge of the character necessary. Father Ted director Declan Lowney opts for widescreen when he can, going for panoramic sweeps of Norwich town centre and a grim, grey Cromer pier. But most of the action in the North Norfolk Studios is shot with an agile handheld, shrewdly permitting Coogan the freest rein possible.
It's worth pointing out here that Alan is a long way from his lowest ebb when Alpha Papa begins. An on-air subject of derision for North Norfolk Digital's breakfast DJ Danny Sinclair (Cardinals Burns' Dustin Demri-Burns), he's once again facing the sack. Initially, though, he's unaware of the implications of conglomerate Gordale media taking over the station. In fact he seems pretty content with life, less petty and vindictive, living in a house with a 'business centre' and giddily pursuing a flirtation with co-worker Angela (Monica Dolan). Strikingly, there's none of the prematurely ageing, red-cheeked make-up that Coogan wore in previous outings and he portrays Alan as a fit, even nimble 55-year-old, the better for him to flee in cowardly terror.
And he needs to, because when Gordale sacks veteran graveyard slot DJ Pat Farrell (Colm Meaney), the distraught Irishman returns with a shotgun and takes the studio staff hostage. Against the police's better judgement, it's Alan who's entrusted with the role of go-between, appealing to his gung-ho fantasies. However, when the media descend upon the siege and he and Farrell begin broadcasting from inside, his thoughts of overpowering his captor are overtaken by his joy at returning to the spotlight as a national hero. Until he makes an arse of himself.
Key gets to develop Simon's character beyond the subtly incredulous foil of the internet shorts, unable to resist quipping even with a gun pressed to his temple, while Felicity Montagu as Lynn, Alan's long-suffering PA, is handed her own moment in the publicity glare. Colm Meaney brings a touch of class to the film, ably capturing the heartache behind Pat's desperation, while Nigel Lindsay is suitably dislikeable as Gordale's two-faced boss.
Phil Cornwell returns with a cameo as DJ Dave Clifton, amusingly dredging up his demons for anyone who will listen. But Simon Greenall is disappointingly underused as Geordie dogsbody-turned-security guard Michael, while Darren Boyd is barely given anything to do as a straight-faced police negotiator.
Alan's romance with Angela never really engages, fostering suspicions that bits of the storyline were cut. But crucially, Alpha Papa is only fitfully as hilarious as vintage Partridge. To the writers' credit, they don't force it - the gags are almost entirely situational or derive from Alan's capacity to say the wrong thing at the most inopportune time, though there's a bit of slapstick where he tries to escape from a window that feels too gratuitous.
Across radio, television, print and the live arena, Alan's various writing teams have set such high standards for the character that this compromise between action sequences and laughs can't really hope to match them. Alpha Papa's climactic scenes have their moments, certainly. But the film leaves you with the odd impression of untapped potential, anticipating any possible sequel while knowing that you'll revisit this less often than his classic television debacles.
• Alpha Papa is in cinemas from August 7. Here is a clip:

Published: 30 Jul 2013
What do you think?