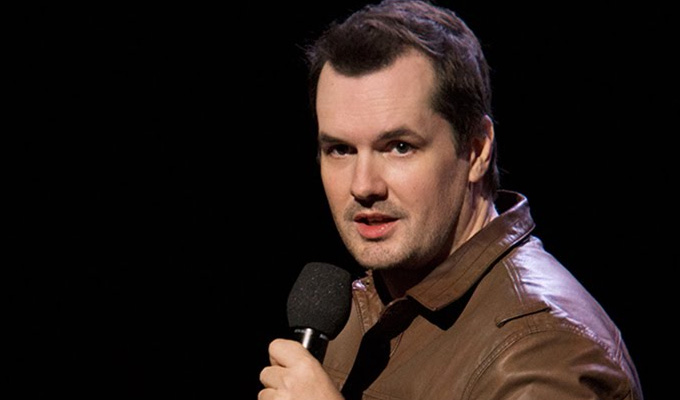 Jim Jefferies – Bare
Jim Jefferies is the epitome of men's locker-room comedy, with a crude repertoire of sex and porn and getting wasted – and then a bit more sex.
Of course, he brings far more skill to the table than your average stag-party boor, but that's his demographic, and the audience for his new special, Bare, certainly sounds like a bawdy bar-room crowd, whooping and hollering and every c-bomb (of which there are many) and crass misogynistic comment. It's to be hoped they don't believe every word, but I wouldn't be so sure.
During the 76-minute show – the first of a raft of new stand-up exclusives on Netflix – the now US-based Aussie occasionally talks about his baby son, Hank. But if you think that means he has mellowed his attitude, you probably aren't a Jim Jefferies fan.
Transgression is his bread and butter, and he'll cheekily dance around ideas such as a baby accidentally dying in his care, tagging punchlines on punchlines, each more shocking than the last. Of his Hank's mother, his girlfriend, he shrugs: 'It really bothers me when she talks.' While elsewhere he argues why it's right and proper that women don't earn the same wages as men. The tongue's in cheek, but some in Boston's Wilbur Theatre vociferously agree. And there's always wit to the brutality; a laugh to accompany the sharp intake of breath his comments elicit.
Also on his agenda is a national anal sex day – with another harsh and inappropriate comment about why men like to do it. And while below the belt, he shares a new meaning for ATM involving a sort of withdrawal that's nothing to do with your bank account . 'You can't unsee this' is the show's tagline, and there's a lot of truth in that.
Jefferies also takes time to go beyond these base topics, which is where he gets more interesting. There's a powerfully routine here about gun control, which raises arguments familiar to most non-Americans but in a skilful and funny way – and with the added frisson of playing this to a room where at least half the audience will hate this arrogant foreigner for suggesting any erosion of their liberty to possess semi-automatic rifles.
More nuanced, too, is his material about auditioning disabled actors for his now-cancelled comedy series Legit, Jefferies having carved something of a niche about talking unsentimentally about disability both on stage and screen.
But before too long we'e back to discussing coming on a girl's face, just in case anyone may feel left behind. Jefferies also has a chunk on airport security – turning the usual shtick on its head by wanting more of it when he returns home, having been accustomed to America's oppressive approach – and the Oscar Pistorius case, which plays a little closer to type, but as always the gags are so hard-hitting as to punch through any polite sensibilities.
It's low comedy, for sure, but Jefferies remains one of its more skilful exponents.
• Jim Jefferies: Bare is available to view for Netflix subscribers now.
• Here are 10 more great stand-up specials on Netflix.
Published: 31 Aug 2014
Recent DVDs
What do you think?