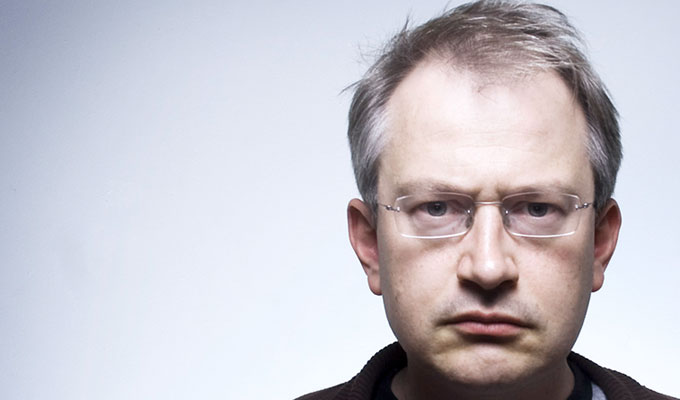 DVD: The Very Least Worst Of Robin Ince
The Very Least Worst Of Robin Ince is not a conventional stand-up DVD. Rather than a cohesive show, with a start, middle and end, it comprises 23 chunks of material from live shows he performed from 2008 to 2011, which play in a random order.
It is, Ince says on one of the introductions, a reflection of how his mind works; a fragmented anthology of thoughts; not all of them particularly finished. He voraciously devours books and the ideas within them jostle for space in his his mind, and in his only fitfully planned routines.
The broad topics he covers here will be familiar to anyone who's seen him live, or heard him on Radio 4's Infinite Monkey Cage. He cheerleads for science and rationalism – even when it leads him into ill-advised clashes with unwavering right-wingers like writers Melanie Phillips and Anne Coulter, who blames Hitler's evils on Charles Dawin and places religion above evidence.
There is a lot of middle-aged left-wing anger here; exasperation at those who should know better, either intellectually or through their boorish behaviour. His story of a train carriage full of passengers conspiring to ensure one vulgar drunk missed his stop is nicely inspiring. And the fact the shuffle function means there's no building narrative does indeed match Ince's scatterbrain style.
Ince will not fit many laypeople's idea of what a comedian should be at all. He unashamedly preaches his liberal creed to the converted – though not without mocking sanctimonious Guardian readers for confusing knowledge of an issue with genuine care – and the gags are not, on the whole, well-honed punchlines. More he wittily conveys an attitude of disbelief at the stupidity and selfishness in the world with which his like-minded audience easily concur.
But despite not following the conventions of the Apollo comedians he's funny on his own terms. Saying he 'loves people with passions', he cites an encounter with one of his heroes, John Peel at Glastonbury. It's easy to draw parallels with Peel and Ince. Peel was never the slickest DJ, but those who followed him loved him for doing what he wanted, with no concern for the mainstream or whether his listeners might enjoy the often obscure music he did. Similarly, Ince is driven by the need to communicate what he's learned, as best he can, with no concern for how comedy's supposed to be done.
For evidence of his pact of slickness you might note that the label of the first 1,000 copies have been misprinted as The Best of the Worst of Robin Ince rather than its actual title, The Very Least Worst Of Robin Ince. It's a future collectors' item, he's said, hopefully
Amid all the grumpy polemic is rather more straightforward stand-up – even including pub gags about an elderly Jewish man going to see a rabbi or the Pope and his chauffeur – the latter being delivered in an unnervingly accurate Stewart Lee impression, for credibility's sake. But they are earn their place for being amusing, and sit well in a show that has an underlying positive feeling, despite it frequently featuring a man getting impotently cross at idiots.
• The Very Least Worst Of Robin Ince was released by Go Faster Stripe last month, priced £12. Click here to buy.
Published: 21 Mar 2014
Recent DVDs
What do you think?