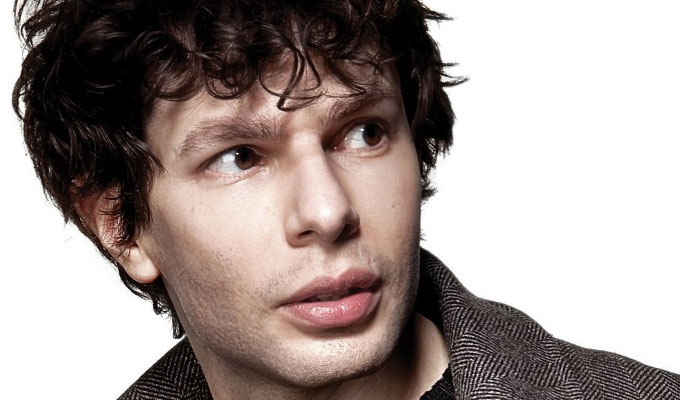 Simon Amstell: Live At The BBC
First shown on BBC4 on New Year's Eve under its original title Numb, this is an audacious, soul-baring piece of confessional stand-up of the type we've come to expect from Simon Amstell, post-Buzzcocks.
Chronically self-conscious, this hour of existential navel-gazing dwells on loneliness, depression and the futility of most human contact. He would be a tortured romantic poet, but ever the self-analyst, he fears even this would be just another mask, a false clue in his ceaseless search for life's meaning.
Along the way he charts his broken relationships – with love interests, his father, or just the trendy types he wanted to impress, even though he is contemptuous of them. They seem to have a certainty to their existence that's lacking in his.
OK, so this doesn't sound like a barrel of laughs. But although such bold and revealing frankness about his neuroses might have an element of therapy, Amstell makes it funny in the finest tradition of Jewish angst. He is an elegant writer, with lines that are witty and evocative in equal measure, and with a clear flavour of his own personality in every searing description. And while he might mock others, his own introspection and pretentiousness are where the most insightful barbs are aimed.
The minimalist setting works well for him, too: a BBC studio bereft of any scenery – the walls laid as bare as he hopes to expose his soul. If there's an element of discomfort at seeing him so raw, it also enhances the humanity of a show that dares to be deep. And that's a welcome change from the forest of comedians obsessed with the trivial.
---
Recorded at: BBC TV Centre
Time: 60 minutes
Extras: An extended interview with Alan Yentob and the short documentary, Numb in New York
Released by: 2entertain, November 25, 2013
Price: £19.99. Click here to order from Zavvi from £12.99 or here to buy from Amazon for £10
Published: 5 Dec 2013
Recent DVDs
What do you think?