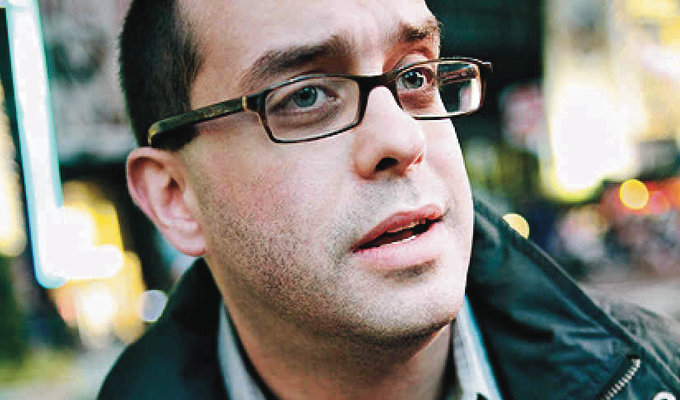 Triple threat: Three US imports
You Will Die by Joe DeRosa
Released by BSeenMedia, October 1
Click here to download from Amazon at £6.49
The interesting thing about this album is not the main show, but the bonus disc – which contains Joe DeRosa's doomed first attempt to record his show. Faced with a room that was '75 per cent drunk', he had to abandon a lot of his set for crowd control. But as he says in the intro, 'shit happens... [and] I thought we were lucky to capture in full what happens when a comedy show goes wrong.'
The audience contains the comedy kryptonite that is a tipsy girl celebrating her birthday who can't bear not to be the centre of attention, plus the bloke who can't look up from texting – even when being burnt with a detailed put-down for thinking 'your mum' was an appropriate heckle – plus various other drunken mutterings and hollers that make it impossible for him to do the show.
DeRosa is clearly an experienced club act and rolls with the punches, sometimes making capital from the interruptions, sometimes getting distracted down a blind alley as he deals with them. It's not always great comedy, but it is an interesting slice of verité footage about just how awful some crowds can be.
It may be no coincidence, but on the disc where he actually gets through his set, he exudes a similarly arrogantly self-centred attitude that his audience from hell demonstrated, proud in his ignorance and intolerance.
He doesn't care about most things, and those he does pay heed to, he hates – from New York to Twitter to (in a brilliantly harsh put-down) the comedy of Kathy Griffin. You're not supposed to admire him, but the relentless bawdy snarkiness combined with some of the hard-living comic's unedifying subject matter, for example singing the praises of porn for teaching 16-year-olds how to 'suck and fuck' does get a bit grating.
Questions of whether you can be racist about an ethnic group you belong to are raised as he viciously mocks Italian-Americans as uncouth Jersey Shore types – a routine which he later quotes to excuse dodgy material about Puerto Rican nurses.
Elsewhere this mixed bag ranges from rather dull observations about social media leading everyone to think their opinion is important, to a great bit of storytelling on something as apparently innocuous as a visit to KFC.
Impossible by Tom Shillue
Released by BSeenMedia, August 27
Click here to download from Amazon at £6.49
This is rather an odd EP, the tenth of 12 Tom Shillue is releasing over consecutive months as part of an ongoing experiment.
He clearly revels in the minutiae of the most mundane stories, but ultimately their triviality is their undoing, as it's becomes hard to care too much about what's going on. He mocks his low-key approach, telling the audience: 'I'm not rocking anybody's world, right' and berating a punter at a previous gig for suggesting hie might have fabricated the rather uneventful stories, telling her: ''Why in holy hell would I make this up?' Why indeed
He starts with a verbatim 'what happened on the train' story, and him ending up accompanying some lost tourists on the New York subway and his embarrassment at steering them wrong. There's a kernel of a good story, but it gets bogged down in details of the system that might resonate with Gothamites, but seem tedious to the rest of us.
Similarly a story of Jack Palance introducing an old TV show called Ripley's Believe It Or Not..? is lost in transatlantic translation, as he sets up another long story – this one of childhood coincidence, backed with spooky music.
Making a mountain out of a molehill is clearly his style, and he has the live audience spellbound – and you can see this being a highlight of a storytelling stand-up show –  but the lack of substance at the heart of his stories cannot be ignored for an album designed to be keep forever.
Give It A Rest by Pete Correale
Released by BSeenMedia, September 3
Click here to download from Amazon at £7.49
This is billed as Pete Correale's best jokes from 1996 to 2013, but while it's all technically strong stand-up, there's nothing too adventurous in his 17 years of comedy. Budget airlines, dog and cats, smoking... it's almost a checklist of hack comedy topics; and sometimes he finds strong gags in them, often not. His Ikea routine for example has a great payoff, but only after spending a lot of time repeating what we all know to be true about their furniture being hard to assemble.
He's an everyman comic, amiable even despite his opening routine where he thinks it's not racist to consider the Japanese and the Chinese the same, because they virtually are. Sorry, Pete, but that pretty much IS the definition of racist. But likeable gets him only so far, and the lack of ambition in the routines isn't inspiring.
Published: 11 Sep 2013
Recent DVDs
What do you think?