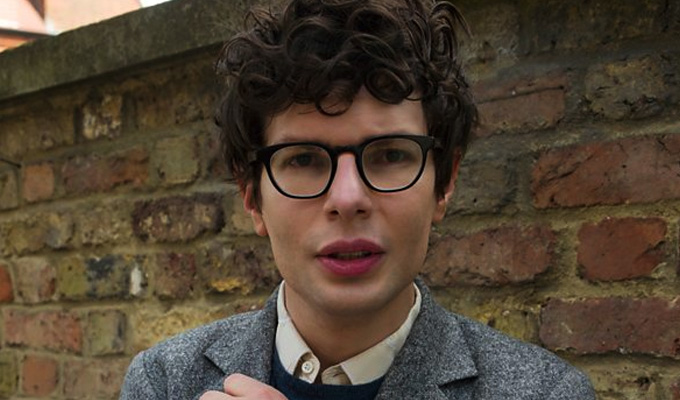 Simon Amstell
Date of birth: 29-11-1979

Simon Amstell: What Is This? at Latitude 2017
Simon Amstell's stand-up has been built on his insecurities and his misery… but his new tour show, being previewed at Latitude, comes five years into a contented relationship. What's so funny about that?
Well, therapy is an ongoing process – and Amstell is definitely in the camp that uses comedy as a form of therapy – so there's still plenty to discuss: not least his daddy issues with his distant father, the regression into how he came to accept his sexuality (and how his family weren't immediately delighted by the news) and how his former unhappiness stemmed from his inability to love himself. And its expressions like that which give away his time on the psychiatrist's couch.
He's tried other treatments, too. In a previous show he told of taking psychedelic drugs in a Peruvian retreat, while here he speaks of going to a 'sweat lodge' and self-medicating with MDMA, which he recommends with all the cheeriness as if it were a cheeky white wine. Well, since fame didn't cure what ailed him, where's a man to turn?
It's all emblematic of someone always examining his life… even the happy Amstell mulls the futility of existence and the expanse of empty years spanning out in front of him.
Still, the self-excoriation in What Is This? isn't as brutal as in previous tours, and that does come at a cost of darkly funny lines driven by bleakness. But clowns don't have to have tears to be amusing, and even as a less tortured artist, Amstell has his share of witty, incisive bon mots on the human condition.
Even a couple of months before the tour starts, What Is This? is as mature, thoughtful and thorough a self-analysis as we've come to expect. Amstell says one of the things he struggled to learn was that it's OK to tell his partner everything… yet he has no such qualms when it comes to telling an audience his most intimate secrets.
Read More
Published: 16 Jul 2017
There's no doubt that Simon Amstell's Carnage is…
19/03/2017
They are the producers who have latched on to the…
26/01/2016
'It's sentences like that which explain why this…
13/10/2014
Everyone can learn a lesson from improv, Simon Amstell…
19/07/2014
Like so many things involving Russell Brand, Give…
7/03/2013
In the real world, Simon Amstell doesn't function…
15/04/2012
'I lost my job because of the publicity,' Chris…
4/10/2011
Strange thing celebrity. As Simon Amstell walks on…
13/10/2009
Like many comedians, Simon Amstell uses stand-up to…
27/07/2009
Simon Amstell seems to be doing his career in the wrong…
1/10/2007
When you hear of a benefit gig for a comedian who's…
1/01/2007
Review of the West End/touring showAnybody expecting…
1/01/2007
Last night's benefit, organised by indefatigable…
1/01/2007
For proof, should you need it, that the geeks have…
1/01/2007
Review 'Ooooh,' I overheard a teenage girl shriek…
1/01/2006
Products
Past Shows
Agent
We do not currently hold contact details for Simon Amstell's agent. If you are a comic or agent wanting your details to appear on Chortle, click here.