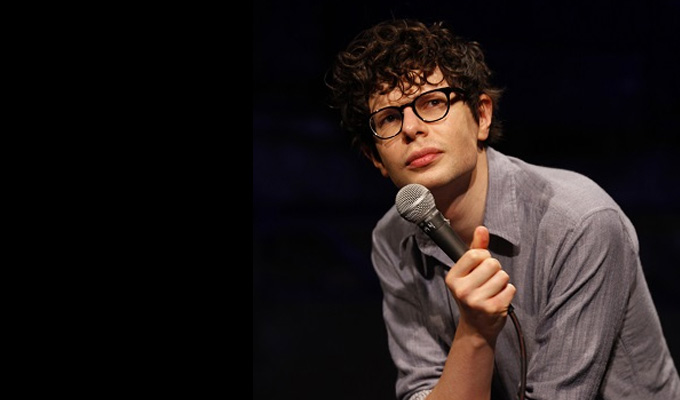 Simon Amstell: To Be Free
Note: This review is from 2014
'It's sentences like that which explain why this isn't the O2,' Simon Amstell observes to the far more intimate Leicester Square Theatre, after explaining how he went to a silent meditation retreat on Sri Lanka. His esoteric, often introspective brand of stand-up philosophy is clearly more an acquired taste than tales of man drawers, Spangles or feral youths.
Yet although his show flirts with pretension, the same acute self-awareness that causes him so much angst always steers him away from getting too pseudy, as he mocks his attempts at profundity, as a simple clown. The charmingly incisive wit comes in handy in steering the right course, too.
The inveterate navel-gazer is now ensconced in a happy, loving relationship – a nail in the coffin, for his more emotionally eviscerating soul-searching, for sure. But his thoughts now are on how to be spiritually free and at peace with the universe – an aim entirely flummoxed by his ego and desire to be loved. The concept is probably as universal as losing a sock in the washing machine, but a lot more difficult to vocalise, even if the gap between ideals and reality is always the most fertile for any comedy.
Amstell sees a freedom in autistic people, not bound by bullshit convention or society's norms. Although that does have a downside, as a teacher tells him, leading to a lovely twist on the '…and then I got off the bus' cliché. Subsequently, the artifice that sustains our world is a rich seam – whether it's his clumsy but astute gag aimed at shattering the vacuous inanity of the Radio 1 breakfast show on the morning Nelson Mandela died; or the levels of self-delusion the Queen must have to not think all the pomp and circumstance surrounding her is not a little preposterous.
More controversial than any of this, though, is probably his statement: 'I have a lot of respect for Gwyneth Paltrow…'
That comment about her dietary regimen (Amstell's a vegan himself) comes back, as all in this show so cleverly does, to the idea of the freedoms of saying or doing what you want, compared to the possible ridicule and humiliation of doing so. It's about the unresolvable paradox of wanting to yield control to primal instinct … while always being in control of the outcome.
When his own inner doubts turn off, he can either have a delightful sexual encounter, or a cringe-inducing encounter at a party when he acts oddly messianic. Interestingly, Amstell namechecks his pal Russell Brand, who has the unshakeable confidence to believe in his own importance to humanity's future. Amstell is more of a Mr Bean version of a Saviour, always coming a cropper with his good intentions.
To Be Free is a typically thoughtful Amstell show mixing existential questions with belly laughs, with neither in short supply. A stylistic companion piece to Numb, his last stand-up special, it's pleasingly ambitious and ambiguous, offering no answers and an equivocal climax than ends the 75 minutes or so with more a wimper than a bang. Still, comedy is rarely as smart or adventurous as this.
Review date: 13 Oct 2014
Reviewed by: Steve Bennett
Reviewed at: Leicester Square Theatre
Recent Reviews
What do you think?