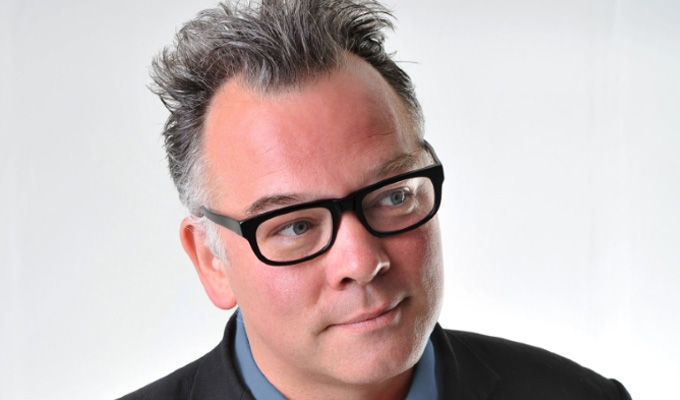 Stewart Lee
Date of birth: 05-04-1968

Stewart Lee: Snowflake/Tornado
The notion of status has always been crucial to Stewart Lee's stand-up, whether it be his place in the world or how he interacts with his audience.
Anyone who's read the annotated transcripts of his shows knows the attention he pays to subtly ensuring he is always on the back foot. Despite critical acclaim and a fan base substantial enough to finally offer him financial security, he needs to be the underdog battling against perceived injustices.
Tornado/Snowflake addresses this obsession more explicitly than any of his previous shows, even 41st Best Stand Up Ever which made status its title. Lee's focus with the new show is tighter and closer to home, after a long battle with the big concepts of Brexit.
In the first half, the comic first lowers his standing though sardonic grumbles about his physical decay – growing greyer, fatter and more deaf in the two years since his last show. Ageing may be a comic staple, but Lee expresses the indignities beautifully.
Then he turns to to the gap between his hard-earned artistic kudos and his lesser commercial standing, overshadowed by big-budget comedians on Netflix – a platform which cannot even offer the right blurb of his Content Provider series, instead using the breathless description of the preposterous B-movie Sharknado.
In the second half, it's his place in the cultural landscape that's under consideration, as a politically-correct liberal in a mainstream kicking back against such inclusive values.
The evening has been billed as two separate shows, but each half is thematically so similar, they can be considered as one – not least because some of the comedians with the biggest streaming deals are those with the least moral scruples.
Names are named as righteous complaints exaggerate into the viciously rancorous, from Jimmy Carr's callous material to Josh Widdecombe's shallowness.
Needless to say Ricky Gervais gets a kicking both before and after the interval, for so successfully monetising a fake victimhood, complaining on a global platform that he's being silenced by the snowflake liberals. Lee isn't the only comic who needs to play the underdog…
Here his tortured anguish as he strains to embody that idea of an edgelord comic literally 'saying the unsayable' is a powerfully ridiculous performance, made stronger by the commitment in both time and energy to the piece, way beyond the point most comics would have given up.
That's always been his shtick, of course, and it is overused almost to the point of self-parody in the first half as he repeats the false description of his work on Netflix with varying emphasis. It's not the only part Tornado that feels a little like Lee uncharacteristically retreading old topics, even if his execution and the detail in structuring the threads into a coherent and rewarding show is rarely matched.
He's on slightly unadventurous ground, too, when he closes part one with an Alan Bennett parody. It is well-done – dubious soft Yorkshire accent notwithstanding – but a relatively simple conceit for Lee. Far better is the literary parody in the second half, with Enid Blyton's non-PC work being skewered with more pointed vigour.
Indeed, Snowflake is probably the stronger half, from its an ironic shaggy-dog story about a spider bit, his piss-take of the Bernard Manning style of comedy, a sarcasm-laden response to Tony Parsons's unnuanced criticism of his use of 'the c-word', and an ever-more ridiculous examples of the phrase 'political correctness gone mad' being misunderstood by his elderly gran.
Throughout, Lee mixes stubborn professional jealousy with more justifiable complaints. His takedown of Phoebe Waller-Bridge is pure iconoclasm, playfully mocking the heroine-worship that's built up around her. And Dave Chapelle – a comic with some questionable content – is instead mocked for his ostentatious Hollywood ego, although the real joke is the way Lee's own, more troubled, ego fails to cope with the arrogant interloper.
Although the broad sweeps of Lee's work take in familiar liberal arguments, there's a weight and a detail that provides substantial food for thought. As with so much of his work, it's the sort of comedy that you'll recall days or weeks after the gig as situations he describes re-present themselves. Or if you sit down for some shark-based movie action.
• Stewart Lee is at the Leicester Square Theater until January 25 (returns only) followed by a UK tour (dates). More London dates at the Royal Festival Hall on June 27, 28 and July 1,2, 3 go on sale on November 20
Read More
Published: 8 Nov 2019
For a show based upon the rigours of the scientific…
20/12/2017
This year's Teenage Cancer Trust benefit certainly…
20/04/2016
Stewart Lee continues on cracking form with his third…
19/11/2014
By his own admission, last time Stewart Lee played…
25/09/2014
It's a busy time for comedy benefits, with at least…
8/05/2014
This, Stewart Lee warns his audience in general and…
7/11/2013
It was a line-up many big charity benefits would envy…
30/04/2013
Poor Stewart Lee. Despite BBC Two's best efforts…
24/11/2011
Revisiting the past can be as painful as it can be…
31/05/2011
A few years ago it would have been hard to believe…
20/10/2010
Such is Stewart Lee's influence on comedy, not only…
19/08/2010
Stewart Lee is past it. Ensconced in comfortable middle-age,…
9/12/2009
First and foremost, Lee is probably the finest comedy…
1/09/2009
In comedy circles, Stewart Lee has long been acknowledged…
1/01/2009
Given his festive first name you might expect Robin…
1/01/2008
So, top marks for everyone who guessed Johnny Vegas…
1/01/2008
It might seem little more than a simple change of venue,…
1/01/2008
In 1773, legendary curmudgeon Samuel Johnson and high-living…
1/01/2007
'A fundraiser for a theatre?' Al Murray splutters…
1/01/2007
The imposing and cavernous interior of the Royal Albert…
1/01/2007
Fatherhood has had a calming influence on Stewart Lee.…
1/01/2007
When you hear of a benefit gig for a comedian who's…
1/01/2007
The reputation of Judas is enjoying a comeback that…
1/01/2007
Last night's benefit, organised by indefatigable…
1/01/2007
He may now be exposing his famously pendulous testicles…
1/01/2006
Most comedians who consider themselves dangerous like…
1/01/2005
Even on his 17th visit to the Fringe, the sublime…
1/01/2004
After successes at the Battersea Arts Centre and the…
1/01/2003
Reviewing Pea Green Boat is somewhat redundant, as…
1/01/2002
Lee delights in playing 'dare' with his audience.…
1/01/2000
Products
Past Shows
Agent
We do not currently hold contact details for Stewart Lee's agent. If you are a comic or agent wanting your details to appear on Chortle, click here.