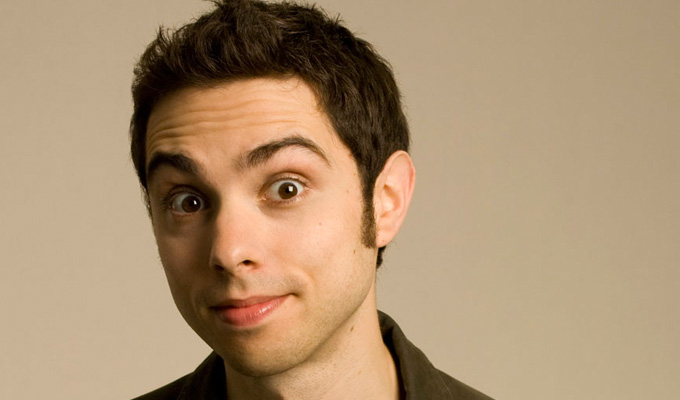 Matt Kirshen
Gallagher in new racism row
American comic Gallagher has become embroiled in a bizarre row with Peter Serafinowicz over immigration.
The pair clashed angrily on this week Probably Science podcast, after the watermelon-smashing stand-up made odd assertions about Mexicans who come to the US.
In a heated debate, he claimed that only short Mexicans came across the border, while tall ones stayed home and 'have successful television shows'.
Gallagher – who ran for Governor of California against Arnold Schwarzenegger in 2003 –  was quizzed on his views after proposing a dam across Southern California to create a fertile plain so Mexicans 'wouldn't need' to come to the US.
Asked what he thought of Mexicans, the 66-year-old replied: 'Well, we've got enough. When you say Mexicans do you mean the Mexicans that I see on TV that are tall and pretty and handsome, or the little short ones that come to the door and want to work in the back yard?'
He claimed Mexico had two cultures, 'the tall Spanish immigrants who came over from Spain and then the descendants of the Indians [indigenous people] who want to cut your heart out and show it to the sun god. It's obvious that the cultures don't mix – that's why they come up here for opportunity.'
He insisted, 'I'm just reflecting what I see. It's not me – it's that culture. Their culture is prejudicial, not ours.'
When asked what his immigration policy would be based on, he said: 'On height, we have enough short ones.'
Pocast co-host Matt Kirshen joked that border authorities would have to install theme-park style signs saying: 'You must be this tall to enter the US.'
However things became more pointed when Serafinowicz, the other guest on the podcast, asked bliuntly: 'What are you talking about?'
'I'm saying the immigrants from Mexico, Honduras, San Salvador are all the same: Short, under 5ft 2in,' Gallagher replied.
Serafinowicz challenged him: 'What's your point though? What's your fucking point, man?'
'You asked me if we have too many Mexicans, and I told you we have too many short ones. They are already 50 per cent. How can you be worried about a minority when they are in the majority? You are in the minority now. Relax.
He then asked Serafinowicz: 'Where do you live?
'I live in London... and I'm 6ft 4in.'
'Then you don't get to talk about American politics.'
'I get to talk about whatever the fuck I want, actually,' he hit back. 'I can talk about anything. You don't have to agree with it. I just think what you're saying sounds fucking racist.'
'Well, there are races in Mexico. There are Aztec, Incas and the European Spanish,' Gallagher added.
Kirshen told him: 'Wanting one lot to come into the country and not the other is pretty much the definition of racist.'
A few seconds later Serafinowicz challenged Gallagher again: 'I don't like what you were saying there about Mexican people, you know?
'Well, freedom of speech exists in America, not in England because you guys had a king,' Gallagher added.
'Listen man, you can say whatever you want,' Serafinowicz added.
'Then why don't you let me say it. Why are you giving me your opinion?' My point is scientifically, I've done an experiment, and I know that only the short people come to America and tall people stay there and have successful television shows.'
'I think your point was that you don't like a certain type of Mexican people. That was your point, I think,' Serafinowicz concluded.
It is not the first time Gallagher has sparked an argument on a podcast. In 2011 he walked out on Marc Maron's WTF, after the host suggested his guest's comedy was racist and homophobic.
During that interview Gallager said: 'Can I pick on Arabs? ... They're the enemy', said he couldn't tell lesbian jokes in Boston because of liberal topics and stated: 'There's no blacks in my audience. Not one.'
Click here to hear the Probably Science podcast, which also features regular hosts Andy Wood and Brooks Wheelan. The discussions about Mexicans kicks off about 39 minutes in.
According to the 2010 census, 16.7 per cent of Americans are of Hispanic or Latino origin, but the figure rises to 38 per cent in California.
Tweet
Follow @chortle
Read More
Published: 25 Apr 2013
Russell Brand is to be one of the headline stars of…
30/04/2008
British comic Matt Kirshen has been knocked out of…
16/08/2007
Britain's Matt Kirshen and Gina Yashere are both…
26/07/2007
British stand-ups Matt Kirshen and Gina Yashere have…
11/05/2007
The Guardian is to produce its own comedy programming,…
3/05/2007
British comedians Junior Simpson, Ava Vidal, Matt Kirshen…
13/03/2007
Tom Wrigglesworth has won this year's So You Think…
22/08/2003
The 30 semi-finalists in the BBC3 New Comedy Awards…
21/06/2003
Past Shows
Agent
We do not currently hold contact details for Matt Kirshen's agent. If you are a comic or agent wanting your details to appear on Chortle, click here.