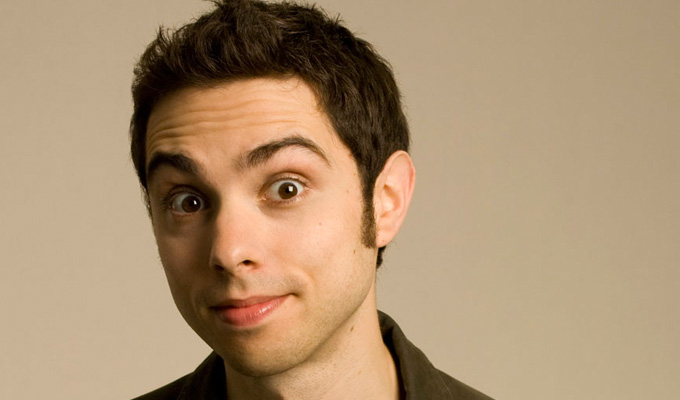 Matt Kirshen
Matt Kirshen: Wide-eyed
Note: This review is from 2011
For at least the second time this Fringe, Matt Kirshen is faced with a slightly rowdy drunken crowd. As he notes 'you're a strange one but nice' unlike the last one where a exceptionally drunk guy ruined it for everyone. In comparison this lot are kittens. In fact one man who had to leave for a toilet break by crossing the front of the stage, brings Kirshen a can of lemonade as an apology.
Kirshen almost sounds a little disillusioned at first, a fringe veteran performing in another drippy cave and hiding behind a blackout curtain 'like a shit Wizard of Oz'. But he soon hits his stride and where there are minor audience disruptions and distractions he's quick to rein it back in and get back on track.
Aptly enough, given the uncomfortable incident of the previous show, the theme of his latest work is embarrassment – having spent much of his life apparently cringing at pretty much everything he's done before.
Having had some success in the US after appearing on the comedy talent show Last Comic Standing, he's spent more time over there and thus had ample opportunity to scrutinise the differences between the two cultures. Our differing reactions to embarrassment being one aspect, an emotion Kirshen feels Americans 'own' with style - as the Neil Diamond impersonator he encounters in a lift in Vegas bears out.
It's not just a compare and contrast exercise though, as there are some considered, insightful observations and smart gags. Rather than knocking Americans for their lack of a passport as many comedians do he offers the hypothesis that it's because the country's so big, 'would you have a passport if you could get to St Petersburg on your library card?'
He treads slightly surreal territory when the mood takes him too, in a running joke featuring Jesus, Hitler and Nick Griffin, who for no real reason speak in a 'bad African-American man's accent'. Nor is he afraid to incorporate a touch of the controversial, of Jesus' crucifixion he quips, 'We won that one… that's right, I'm Jewish' all with that gleeful, permanent grin of his.
Assured and thoroughly entertaining stuff.
Read More
Published: 24 Aug 2011
Matt Kirshen is generally considered a reliable laugh…
19/08/2009
Well, it was certainly a headline-grabbing idea, if…
8/06/2009
There are some great ideas in this ambitious, well-performed…
1/01/2009
The North American stereotype of the British man is…
16/07/2008
Matt Kirshen is quick to tell us that he's spent…
1/01/2008
Two things are obvious the moment Matt Kirshen takes…
14/03/2007
Matt Kirshen is wide-eyed with a Cheshire-cat smile…
1/01/2006
Two schoolchildren sit on a wall. One, who is notably…
1/01/2006
Past Shows
Agent
We do not currently hold contact details for Matt Kirshen's agent. If you are a comic or agent wanting your details to appear on Chortle, click here.