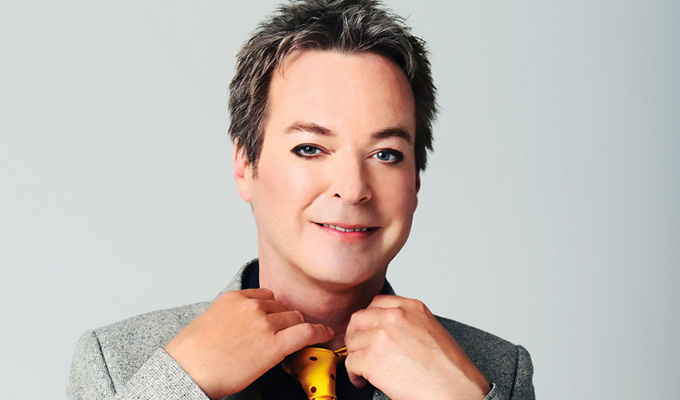 Julian Clary
Date of birth: 25-05-1959

Julian Clary to star in a play written just for him
Julian Clary is to star in the world premiere of a new black comedy on the West End stage.
Le Grand Mort was written specially for him by Stephen Clark, who died at the age of 55 last October.
The comedian will play Michael, the apparently chilling host of a dinner for two in his 'stylish, sterilely beautiful Notting Hill kitchen'.
The blurb for the play says: 'As he meticulously cuts the vegetables with almost a surgeon's precision, he talks, with knife-like wit, about cases in history where the human body has continued to prove useful even after death. As he slices and chops, one wonders who is coming for dinner and what the main course might be.
'When Tim, his young guest arrives, they engage in a series of funny, thrilling but searingly dangerous mind games, as they try to unravel the reasons why they are both there. Only when the games turn deadly do they catch a glimpse of the sadness and loss within each of them…'
Clary said: 'In 2010 Stephen Clark took me out to lunch in Camden and told me he'd like to write a play for me. How lovely, how flattering, how unusual!
'Over the following few years, I got the occasional email from Stephen saying 'I haven't forgotten the play!' but I decided he'd probably thought better of it.
'We were both busy with life, work and in Stephen's case, some serious health issues. Then, one day in 2013, it arrived. A funny, dark, beautiful play…Le Grand Mort will take me so far out of my comfort zone I may never return.'
Director Christopher Renshaw paid tribute to Clark, who was nominated for an Olivier Award four times. He wrote the book and lyrics for Love Story and lyrics for a re-worked version of Martin Guerre, as well as the play Stripped
Renshaw described him as 'someone with whom I shared absolute trust, not only in our work but in our lives. A brave, honest, brilliantly funny man, who faced the many health challenges of his life without a single complaint. An inspiration.'
He added: 'It is so very sad for me that Stephen will not be here for the first production of Le Grand Mort, but I know he will be watching from somewhere, sipping a glass of good red wine, absorbing and encouraging every moment of rehearsal, as he always did.'
The show will run at Trafalgar Studios from September 20 to October 28. Further casting, including the role of Tim, will be announced later.
Read More
Published: 9 Jun 2017
Julian Clary is to join the cast of Boy George's West…
24/06/2002
Rich Hall, Jeff Green and Adam Hills have all announced…
15/05/2002
Gone, but not forgotten Former Goon Sir Harry Secombe…
30/12/2001
A 1991 benefit featuring the likes of Rowan Atkinson,…
22/11/2001
Freddie Starr has launched a bitter attack on modern…
29/10/2001
Al Murray is to perform at the next Royal Variety…
16/10/2001
Graham Norton has been added to the bill of a charity…
17/08/2001
Agent
We do not currently hold contact details for Julian Clary's agent. If you are a comic or agent wanting your details to appear on Chortle, click here.