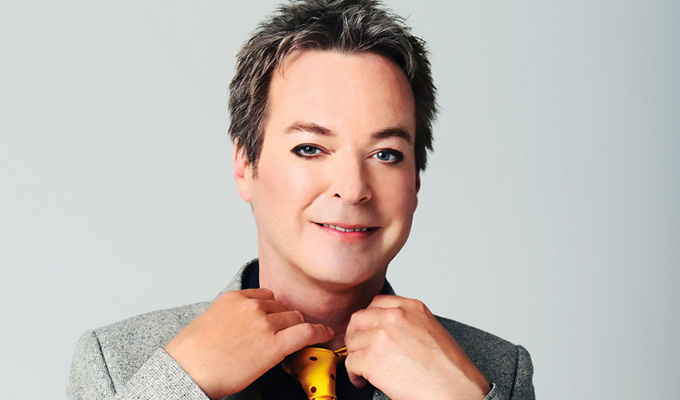 Julian Clary
Date of birth: 25-05-1959

Julian Clary: The Joy Of Mincing
Note: This review is from 2016
Today we celebrate the longevity of a queen, a bit anachronistic, but still widely loved.
Yes, it's 'renowned homosexual' Julian Clary, back on the road again and celebrating 30 years of camp comedy.
He's 56 now and slipping into the 'anecdotage' of the ageing entertainer, with tales of how he once saved Joan Collins's life (long after her lawyers had sent a 'cease and desist' letter over his former stage name, The Joan Collins Fan Club) or embarrassed himself in front of the real Queen in the line-up after a Royal Variety Performance. They'd be suitable stories for the chat show circuit; although confessions of accidentally taking crystal meth – twice – might not be. And to think he's a children's author now, a fact that still tickles him.
Yet for all his outlandish behaviour, Clary is en route for 'national treasure' status. He only has to say 'hello?' into the offstage mic to get a warm wave of appreciation, ahead of the mild Adele parody that follows by way of introduction.
He is, of course, a vision of glamour. Even his mic stand is sparkly, while he pulls off a Silky puce number that could well be one of Elton John's hand-me-downs. Clary confesses to filling it out a bit more than he once would, a fact he blames on his new writing career, rewarding himself with a digestive after every sentence. As he speaks, he frequently and delicately dabs himself with a flannel, like a sensitive Southern belle getting a touch of the vapours, far from the filthy reality.
Of course the act is full of double entendres, though even the most outlandish are never shocking, it's just a silly game of buggery-based punning. And as for camp, he has more mince than Fray Bentos – a fact he celebrates by awarding MBEs, Mincer of the British Empires, to those he deems worthy in the audience. You can feel the tension as he prowls the stalls looking for victims and the 'thank god it wasn't me' factor shouldn't be overstated. The chosen few are ordered to try on some of his more daring costumes of the 1990s – talk about being dragged up on stage.
The Joy Of Mincing offers more than dirty wordplay and playful crowd interaction, as he talks about his life in rural Kent, an all-too believable account of the parade of identically vacuous runners he encounters on TV shows, and following his mother's advice to always say 'yes' in life: the reason he ended up on I'm A Celebrity as well as a lot of far less salubrious situations.
His material isn't always particularly sharp, but it's affable and rather reassuring that Clary's still dealing in his version of postcard innuendos. There's a lot of affection in the room, both he and the audience happy in the comfort that he's doing what he's always done – including some plinky-plonky songs, more spoken than sung, that verge on cruise ship entertainment.
Yet Clary makes the show more than that the sum of these parts. The buckets of self-aware charm, the extravagance of his double entendres and a delivery that's disarmingly unaffected, despite all the spangles, make for a warmly entertaining evening.
Read More
Published: 21 Apr 2016
The Monty Python reunion might have everyone talking,…
1/12/2013
From Julian Clary's sloppy opening to his big climax,…
9/10/2009
It's been more than four years since comedy's second-favourite…
1/01/2003
Agent
We do not currently hold contact details for Julian Clary's agent. If you are a comic or agent wanting your details to appear on Chortle, click here.