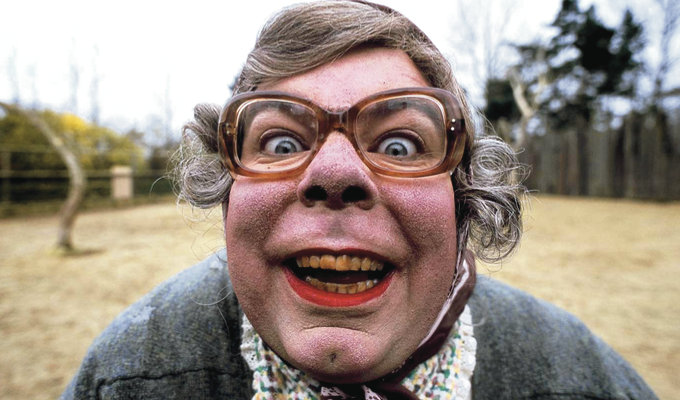 Royal Free Rocks With Laughter
Note: This review is from 2013
The Monty Python reunion might have everyone talking, but with a whole less hoo-ha, tonight's Royal Free Rocks With Laughter benefit gig boasted a impressive array of comedy reunions: The League Of Gentlemen back on stage after eight years, Harry Enfield back with Paul Whitehouse, and Rowan Atkinson back with his unequalled comic delivery. And these were just the favourites in a rich and packed assortment pack of comedy.
The starry line-up was assembled for the World Aids Day show – the fourth such event Pozzitive have put together and the first in 15 years: this time to help the Hampstead hospital build a new wing to help research cures for diseases such as HIV. Even the opening section explaining all this generated laughs amid the worthiness, thanks to Matt Lucas's ingenious ploy of reading a speech he'd allegedly meant to share with Mel Gibson.
For a few acts afterwards, the show, struggled to find a momentum – as is so often the case with overstuffed charity gigs where comics are given barely enough time to establish a rhythm before their time is up. Certainly opener Graham Norton seemed to be offstage in a blink of an eye, after sharing a typically graphic story related to the 'debris' of a sexual encounter – even TV's biggest talk-show host has to make room for others.
Adding to the skittish pace, Mitchell and Webb's three contributions were scattered throughout the evening, choosing a selection of lesser-know sketches to keep it fresh. And after their first appearance came comedy-magicians Barry & Stuart, by some chalk the least well-known of the acts on the bill, but presenting their tricks in a novel and entertaining narrative style.
But it was to fall to Harry Hill to be the first to properly storm it; bringing an irrepressible showmanship and silliness that befitted the large West End theatre. Great jokes crunch with cheery songs and a childish slang and attitude that are hilariously inappropriate for a grown man. But the piece-de-resistance of his wonderfully outlandish set was an exquisite piece of slapstick worthy of the greatest silent-movie clowns. Brilliant stuff.
Next up, 'bespoke nancy boy' Julian Clary cut quite the figure in his vivid scarlet suit, with huge black polka dots, and his set was just as jarring. He started with the expected double entendres then some pedestrian jibes based on lesbian stereotypes and talk of his 'home enema system' – but the routine ended with a peculiar song about it not 'being cool yet to be a queer' cataloguing the abuses, often state-sanctioned, endured by homosexuals around the world. Sobering, perhaps, but rather too sad a note for midway through a comedy gig, even if set to a country-and-western backing track.
Lee Mack hit the nail on the head when he reminded us of the true meaning of tonight's gig: 'To try out new material for the tour.' And judging by the typically cheeky-but-inspired gags he served up – prompted by notes he made no secret of hiding, – fans are in for a treat when his Hit The Road Mack begins in September. Look out for his 'pub quiz', giving him ample opportunity to tease the audience.
Even bigger guns came out in Part 2, following a melodic opening set by slick close-harmony group The Overtones, joined by Beverley Knight, who's usually on this Adelphi stage starring in The Bodyguard.
When Rowan Atkinson walks on to the stage in a schoolmaster's gown, you know you're in for a rare treat – and indeed he reprised his classic class register routine, with slight variations. The cliché is that you have funny bones if you can read the phone book and get a laugh, and this is pretty much exactly what Atkinson does here – with even innocuous names like 'Ainsley' getting a chuckle, so you can imagine how 'Wibble' brings the house down.
Another welcome 'Monty-Pythonmungous' flashback next, with Whitehouse and Enfield doing a lot of work for charidee by reviving Smashy and Nicey – but with added creepy undertones in this post-Yewtree era. They managed to tread the line of bad taste, while revelling in the discomfort of the situation, but it was a close-run thing.
From fake cornball to the real thing, as Tim Vine took to the stage to serve up more cheese than a fondue festival, hitting the spot with every contrived pun. Then, representing the new vanguard of stand-up, Jack Whitehall fruitfully exploited his posh background for quips about upper-class bar fights and the supposed 'hardships' he endured as a youth. The material about being bullied suggests it wasn't all quail and Quidditch, and provides a the basis for a brave long-burn joke, after more usual stuff about 'sticks and stones may break my bones…' was despatched.
And finally the reunion most had come to see: The League Of Gentlemen, with Reece Shearsmith, Steve Pemberton and Mark Gatiss starting with their classically tense Mau Mau sketch, breaking from the old script only to muse tongue-in-cheek on the Python reunion: 'Do you think they'll do new material?' 'No, it'll be tired old men doing the same stuff'.
The League's 'same stuff' also comprised Shearsmith's Pam Doove hilariously auditioning for an orange juice commercial with her, erm, 'distinctive', acting style, and, of course, Edward and Tubbs protecting their precious things in their local shop for local people. The league's section, like Atkinson's before them, was all-too short and only whets the appetite for a full comeback. Will we really have to wait 40 years until one of them needs the money for alimony like certain other comedians we could mention..?
Review date: 1 Dec 2013
Reviewed by: Steve Bennett
Reviewed at: Adelphi Theatre
Recent Reviews
What do you think?