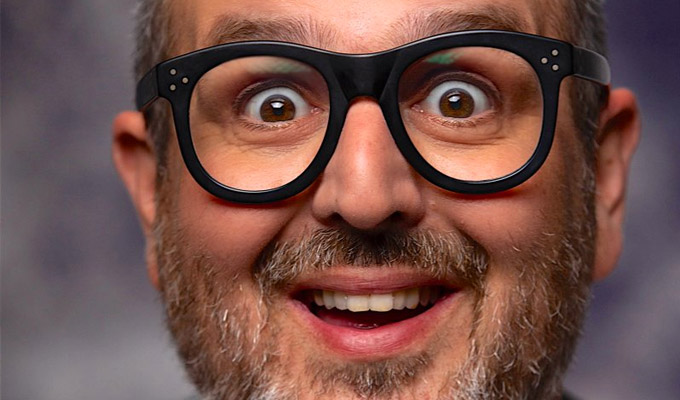 Justin Moorhouse
Corrie On Laughing
As Vic Reeves signs up for Coronation Street, we look at some of the other famous comedians who have previously trod the cobbles...
1. Arthur Lowe
Before being immortalised as Dad's Army's Captain Mainwaring, Lowe was a long-serving cast member of Corrie, joining the show on its very first episode in 1960 and remaining until 1965, racking up 199 appearances. His character, a draper and lay preacher called Leonard Swindley, was so popular he spawned two spin-off series: the 1965 sitcom Pardon the Expression and its comedy-drama sequel Turn Out The Lights in 1967. A year later he got his call-up papers to join the fictional Home Guard of Warmington-on-Sea.
Kay has actually appeared twice on the cobbles. The first time was in 1997, when he played a shopfitter. But her returned in 2004, playing Shelley's date, Eric Gartside, over a couple of episodes. A drayman at Newton & Ridley, he scared Shelley off for being such a mummy's boy.
Kay's old mukka turned Take Me Out host played Bear Grylls-style wilderness survival expert Dougie Ryan across six episodes. A boastful know-it-all, Dougie proved himself a bore when some characters took a week's break in Wales in 2015.
In 2004, Wisdom, pictured, had a cameo role as Ernie Crabbe, a jogging pensioner who turned up at Jack and Vera Duckworth's house, gasping for breath, and interested in buying a bike the couple were selling. Ernie said he needed to get into shape for an inter-pub bowls challenge…
The controversial comic appeared as himself in a cameo role on Coronation Street in December 1971 – even though he had yet to achieve much fame outside his own Embassy Club at the time. In fact, Corrie was only his second TV appearance. According to the Coronation Street Wiki, his niece, Francesca Manning, also appeared in the programme as Sandra Milligan in 2002 and as an unnamed bouncer in March 2010.
Five years after leaving Never Mind The Buzzcocks, Hughes joined the Corrie cast in 2007 as smooth-talking salesman Pat Stanaway, who struck up a flirtatious relationship with Street Cars operator Eileen Grimshaw – despite being a married man. His story arc lasted 12 episodes – ending with Eileen punching him in the face .
The stand-up has appeared on Corrie twice. In 2011, he played Duggie, who delivered a car to Sally Webster , and in 2014 he was Dean Upton, landlord of The Flying Horse, a rival of the Rovers' Return, in two episodes, in which the two pubs vied in a cricket match.
The doyenne of British comedy appeared in three episodes in May 2010 as May Penn, who visited Wetherfield to tell Deirdre Barlow about the death of her mother, Blanche. The characters were friends in Portugal, and May also attended Blanche's funeral
9. Roy Hudd
Whitfield's regular collaborator, Roy Hudd has regularly appeared as good-natured undertaker Archie Shuttleworth since 2002, making 117 appearances. He was Blanche's companion, before falling for Audrey Roberts. He last appeared at the funeral of Blanche in 2010, reuniting Hudd with Whifield.
10. Max Wall
The pigeon-legged comic played a character called Harry Payne in the Street for four episodes in 1978 and 1979. He also appeared in Crossroads and Emmerdale.
And some of the rest…
As well as famous names with substantial Corrie pars such as Craig Charles and Les Dennis, various circuit comedians have also appeared on the show.
Gareth Berliner played Macca on-and-off from 2014 to 2016, making 22 appearances in all. Initially described as a 'loveable rogue', he became an increasingly unsavoury character, after his half-brother Clayton Hibbs murdered Kylie Platt.
In 2016, Alun Cochrane is played a character called Dom, described as a 'fairly ordinary, friendly, northern bloke' who got caught in the crossfire of a feud at a school reunion.
John Shuttleworth creator Graham Fellows has taken two roles in the soap: first as a young man who chatted up Gail Potter whilst she was waiting for a date in January 1979. Then he returned as Les Charlton who had a platonic friendship with Gail in the summer of 1992.
Toby Hadoke and Archie Kelly have both played three roles: Kelly was a football referee in 2005, an enquiry officer manning the front desk at Weatherfield Police Station in 2010 and kebab shops' owner Terry Howarth in 2016.
And Hadoke played the vicar who married Curly and Emma Taylor in December 2000; a solicitor in 2004 and a doctor in 2009.
John Warburton played coach driver Barry Sidwell for an episode in February 2009; and long before he was a comedian, Adam Riches played an unnamed waiter in both October 1998 and June 1999.
Read More
Published: 22 May 2017
The BBC has named the comedy projects that its developing…
26/02/2014
Radio 4 has announced a news series of comedy pilots…
23/06/2010
Entrants to the BBC New Comedy Award had to…
6/09/2006
Chris Addison has won the top award for radio comedy…
9/05/2006
Chris Addison, Lee Mack and the Flight Of The Conchords…
29/03/2006
Comics have been paying tribute to Hovis Presley in…
23/11/2005
Johnny Vegas has been named Greater Manchester's…
13/09/2005
Stand-up comic Justin Moorhouse has been nominated…
7/04/2005
Past Shows
Agent
We do not currently hold contact details for Justin Moorhouse's agent. If you are a comic or agent wanting your details to appear on Chortle, click here.