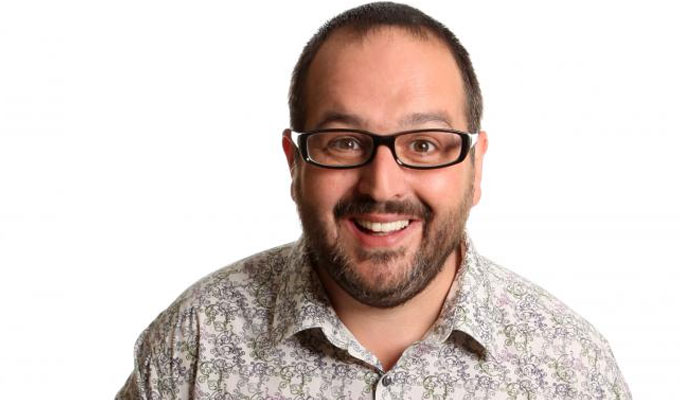 We're just a bunch of self-centred show-offs
Les Dawson: Feelings
My absolute comedy hero and pretty much the most impressive person I've ever some across. The man grafted and fought and clawed his way to the top. He came from poverty and that drive to better himself defined him.
I studied him for Mastermind and it was the best homework I'd ever been asked to do, these days he'd be lauded as a renaissance man – author, actor, musician and comedian – it seems though most people remember the piano playing and the game show. Shame. The world of comedy lost a real great far too soon. We've always got this, though – it's genius.
Louis CK: First Class
My current favourite comedian working today - straight up no frills brilliant stand up. What's fantastic about him I think is that it seems he hasn't compromised at all, he's stuck to what he believes is the right path for him and just worked on getting better and better as a stand-up, loads of comedians, especially in America use stand-up to get famous then do other things. Yes, he's got a sitcom, but it's still his live stand-up that's his drive.
I love this bit, it's him in a nutshell. There's a tendency amongst comedians when they've 'made it' to pretend they're still 'normal'. He doesn't feel the need to.
League of Gentlemen: Orange Juice
Sometimes the greatest comedy is that that exists in a moment in a small room above a pub, I think some of my best times have been seeing Johnny Vegas or Ross Noble in tiny rooms, weaving and creating magic for a privileged few. I wish I'd see the League of Gentlemen in a tiny room before they were famous. I adore them, I can watch anything they've ever done together, or separately over and over. This makes me wet myself
Hovis Presley: Gas
One of my best mates got married a few years ago and asked me to be his best man, and for a comedian I was an absolute horror at giving a best man speech. I kind of ruined the day, the expectation levels were too high and I died so hard I'm not really friends with them anymore.
Last year a good friend of mine got married, and just asked me to read at his wedding, I choose to read Hovis Presley's I Rely On You. Hovis was tragically lost to the world a few years ago. I had the pleasure of meeting and knowing him a little bit. He was a genius and his work remains hilarious.
Alan Partridge: Cheeky Monkey
I think Steve Coogan is the cleverest, sharpest comic actor we've produced in my lifetime, he's superb and I reckon getting better and better as he gets older.
I'm a massive Alan Partridge fan, and I love this clip of Steve as Alan working with John Thomson. Two brilliant comic actors at the top of their game. Inhabiting characters to the point where it's hard to tell it's not real. I showed this clip to some Aussie comics who were non-plussed - 'it's just a terrible act going wrong on a bad TV show'
Daniel Townes: Shit Comedians Say To Each Other
This is perfect for any comedian to watch if they ever think what we do is that important. You need to remember we aren't saving lives or ending suffering, we make people laugh – not for their sakes, but for own sakes, we're just a bunch of self-centred show-offs. We've all been guilty of most of these.
Daniel is great, I spent a month in a van in Western Australia with him. I wish he came over to the UK more.
• Justin Moorhouse is on tour with Destiny Calling until April 7. The DVD is released on November 30 (Preorder). www.justinmoorhouse.com..
Published: 28 Sep 2015
What do you think?