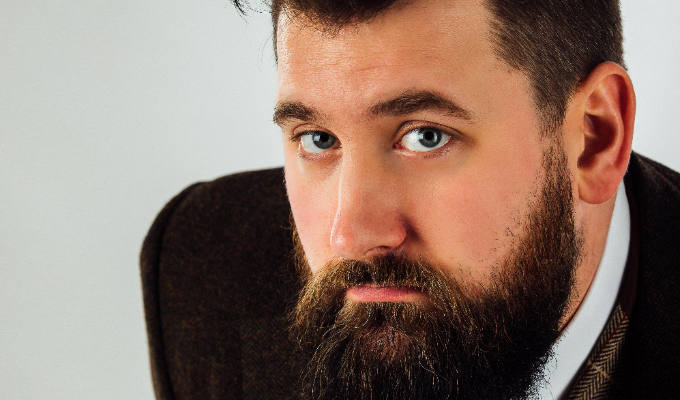 Garrett Millerick
Stand-up and director
Read More
How do you write a comedy show in the midst of a tragedy?
I was asked in July of last year to write an article for Chortle about my upcoming Edinburgh Fringe show Sunflower. After a few fits and starts I failed to write the article. I reluctantly called Madelaine, my long-suffering PR, and said I wasn't able to meet the assignment. Thankfully Chortle didn't take it personally and understood why the task was beyond me.
The brief had been fairly simple, could you write about 1,000 words on how you try to write a comedy show in the midst of personal tragedy. The problem was, in the middle of July of last year, I didn't have an answer. I hadn't written the show yet and there were a few short weeks to go before opening night of the festival.
I just had an idea of what I was going to try to do, but very little idea as to whether it was even possible. Admittedly, banging on about things I know little or nothing about for the entertainment of others is my stock in trade, but I just didn't have anything to say on the subject.
The show had begun as a very different beast. This time last year I went to Leicester to have a bash at a new hour of stuff I had decided to call Sunflower. The idea was to do straight stand-up, no links and no themes: jokes that could stand on their own.
I'm not adverse to theme shows or story shows, and indeed have done my fair share of them. But not last year, last year was to be, as my posters proclaimed: '100% Pure Comedy' with 'No Additives'. I was quite keen to challenge myself to write something positive, something to contrast the horror of world events.
The general mood of the country has been very grim over the last few years and it feels like people need their jesters now more than ever, so I named the show after my favourite Beach Boys album in the hopes that the tone of that record might in some way inform the writing of the material. The Beach Boys have a phenomenal ability to leave you feeling incredibly uplifted even after being really quite bleak.
So that was the plan. Stand-up comedy that is positive even when it's not dealing with positive subject matter, and that doesn't have to rely on a theme or a story to justify being a 'show'.
I had about a third of a show's worth of material sketched out and working quite well by April. Then the plan went right out of the window. I was in the dressing room of the Comedy Store in London when I received a text from my wife informing me that she was pregnant with our first child. Which was very exciting, and also terrifying as my immediate ecstatic reaction resulted in a temporary comedy amnesia and I was unable to remember a single routine I had ever written, which is a problem if you have to open a show in a few minutes.
My comedy is very much a reflection of how I'm feeling at the time of writing it. I can't speak for anyone else but I don't think that makes me unique. So the baby news changed what I was writing and how I was writing, and it altered my world view significantly. Over a few months I assembled about another third of a show. I had no idea if these pieces would match up or what the general overview of Sunflower would now be, I was hoping that if I kept writing that would become clear.
I don't know what that show would have been, or what the ending would have looked like because unfortunately after a few months the situation changed and we were no longer expecting a baby. In the midst of that news I didn't really think about comedy at all for a bit. I cancelled some gigs, my wife took some time off work and Sunflower became something to deal with later.
By the time I came around to picking up the notes and attempting to finish what I started, another more complicated set of circumstances reared their head and Edinburgh drifted further off into the distance and the idea of writing stand-up was off the agenda for a bit.
I must apologise here as you'll notice that I've avoided explaining exactly what those circumstances were but as much as I do cover them in the show, I'm not going to here. For a couple of reasons; firstly I don't want to get into it (we simply don't have the word count) but also it serves as a click bait-esque cliffhanger enticement for you to come and see the show, which I'm told is the main point.
There is a persistent fallacy about Edinburgh shows that they are solo endeavours. Although the performer takes the lion's share of the work, the vast majority of us have a team of people working on our shows and their contribution is immeasurable. Georgie Donnelly, my producer, just hit the pause button and waited to hear what I wanted to do. The obvious thing to do was to cancel the run entirely, and despite the festival now being weeks away, everyone said they'd understand if that was what I wanted to do.
But it wasn't what I wanted to do. I wanted to get on with it and to get back to work, but I had two separate thirds of shows and no ending. But I did have something to say. Something that had been lacking in my preparation for the show up to that point; I had an idea I wanted to communicate.
I had been pacing round a hospital car park listening to unfinished demos for an album Ben Folds Five never made back in 2000. The basic idea occurred to me that I could present the first two-thirds of the show as a sort of demo of an unfinished show and then the end could be about how and why that show couldn't be finished.
The thing I wanted to communicate with the last unwritten third of the piece was about comedy. In the darkest moments we had suffered in the recent past, the thing that got us through the experience was jokes; dark jokes, silly jokes, politically incorrect jokes, situational jokes, sick jokes, the lot. And it worked, because in those moments there are only two options, laughter or despair. Take your pick.
So I called Georgie and said I had a plan. She then immediately went about making sure I had nothing to worry about other than executing the plan and trying to finish the show in the few weeks we had to do it.
That's approximately where I was when I was asked to write this article last July. I was trying to work out how exactly you write comedy about tragedy, in the middle of that tragedy. I couldn't write an article about it because I didn't have any better answer to the question that 'you just have to'.
So a few weeks ago Madelaine called me up and asked if I would have a bash at writing the article for Chortle now to promote the upcoming Soho run of the show (starts on the 12th, guys) so I had a bash.
But having tried to write it now for a few weeks I don't have any more insight than I did in July, I'm afraid. I was able to do the show and to put the thing together in such a short space of time, in large part due to having a really brilliant team of people working with me, hugely supportive colleagues and family and friends. That's all I can offer as an instructional piece of advice: if you ever need to write a comedy show in a few weeks about a gut wrenching disaster you've just been through… get some excellent people to help you.
That goes for performing it too, my excellent show manager Sarah Homan ensured that no cherry headed drunks were admitted on Saturdays. Which was essential.
With all that time to reflect, I'm afraid that as I sit here in February, I have no better answer to the question than I did in July except to say; necessity is the mother of invention.
The aim was to try to communicate that feeling we had when we were in the midst of it all that having a laugh was important. It was nice that people seemed to think that the show does just that. It would be remiss of me not to suggest you find out for yourself though, so come and see it next week in Soho.
There is a really good bit about Chesney Hawkes before the sad bit.
• Garrett Millerick: Sunflower is on at the Soho Theatre in London from Tuesday to Sunday next week.
Read More
Published: 8 Feb 2019
Past Shows
Agent
We do not currently hold contact details for Garrett Millerick's agent. If you are a comic or agent wanting your details to appear on Chortle, click here.