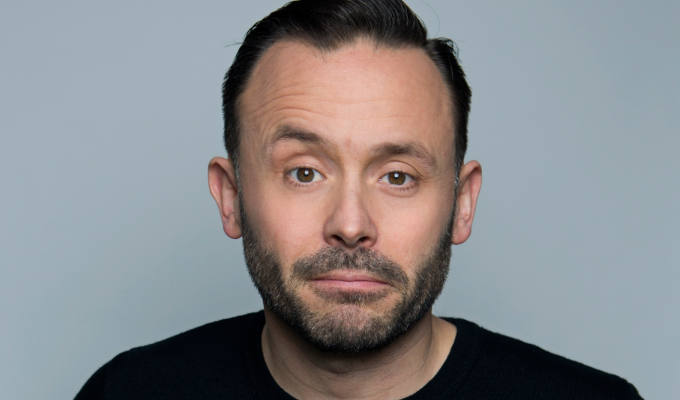 Geoff Norcott
Geoff Norcott: It's OK To Change Your Mind
Explaining the not-so elegant title of his new Radio 4 special, the pro-Tory, pro-Brexit comedian Geoff Norcott says the last turbulent year has caused him to reassess a few things. Not, of course, to the extent of becoming 'yet another Socialist in comedy' - as that would entail losing the one thing that makes him so attractive to a BBC seeking to counter charges of left-wing bias in its comedy.
Instead he mulls such 'new-normal' realities as the fact we have a Tory Chancellor who's getting through magic money trees with the zeal of an Amazonian logger, abandoning Conservatism small-government principles.
Given the limits of a half-hour stand-up show trying to cover a lot of ground, Norcott doesn't delve into the political science of this, offering it more as a 'funny old world' observation in a universe turned so upside-down even the most ardent Brexiteer might have to accept we were better off out of the EU at least when it comes to vaccine roll-outs.
On that front, Norcott has been forced to reassess his previous objection to the way the NHS was put on an untouchable pedestal, rather than considered just another taxpayer-funded service. Like the atheist who finds God on the point of death, the iconoclast reconsiders his view at the sharp end of a pandemic.
Nonetheless, Norcott tries to offer some alternative to the orthodoxy as romps through some familiar stories from lockdown, from Dominic Cummings' Barnard Castle trip to his surprise that Britons were so pliant when it came to accepting the 'virtual house arrest' of lockdown. Ironically, his last Radio 4 show, recorded just before the first measures came into place was called Geoff Norcott Hates Being Told What To Do. He professes to be a libertarian, but admits that's probably a term used only by people who consider themselves 'too groovy to simply admit they are Tory'.
Norcott's actually one of the more reasonable breeds of Conservative. It'd be hard not to acknowledge the truth in his criticisms of Sir Keir Starmer's character, and he even slips in the odd gag 'to keep the lefties happy', covering topics from Tory cronyism to threats to the health service.
On the repercussions of Black Lives Matter, he speaks common sense - dare I suggest liberal common sense - on the need for a racial reappraisal, even if he fears the Marxist hardcore who have leapt on the movement.
This eminently sensible segment, however, ends with some jibes about the lack of white people in adverts now, which he sees as an ineffective, performative move. But most people might find it hard to consider this very limited over-representation of minorities on screen as anything to truly get worked up about - while at worst it's a trigger for those with much more unpleasant views.
For the most part, though, Norcott's an affable and amusing centre-right voice, able to present an alternative view with a witty turn of phrase, far from going the full Farage. It makes for a moderately entertaining commentary on a unique 12 months – in both senses of the adverb 'moderately'.
• Geoff Norcott: It's OK To Change Your Mind is on Radio 4 at 11pm tonight, then on BBC Sounds.
Read More
Published: 29 Apr 2021
Many people have had to get used to working from home…
4/04/2020
Geoff Norcott's still revelling in his status…
22/08/2018
There's always somebody who has to ruin it. Comedy…
14/02/2018
Britain always looks enviously at US topical programmes…
20/07/2017
Scotland has built a viable tourist industry on a…
20/08/2016
On the surface of it, this is a show about the difference…
13/08/2013
Geoff Norcott is having one of those crises of conscience…
11/02/2013
You would never particularly mark Geoff Norcott out…
19/05/2011
We all know the devil has all the best music; but does…
19/05/2010
The difference between men and women is a subject that…
7/08/2009
Review Geoff Norcott used to be an English teacher,…
1/01/2006
A high-energy performer, Norcott's strength is his…
1/11/2001
Past Shows
Agent
We do not currently hold contact details for Geoff Norcott's agent. If you are a comic or agent wanting your details to appear on Chortle, click here.