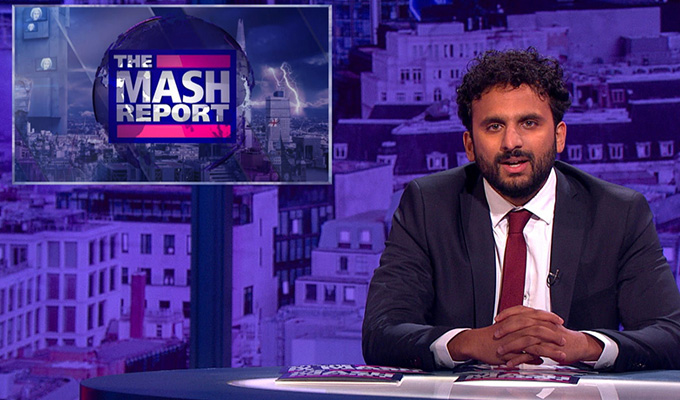 The Mash Report
Note: This review is from 2017
Britain always looks enviously at US topical programmes such as The Daily Show or Last Week Tonight… but despite several attempts, British broadcasters have never really been able to commit the resources to employ the writing and research teams needed to make the format work.
The Mash Report is the latest attempt, and mixed topical jokes with sillier parodies, influenced – like the Daily Mash website on which it is based – by The Onion.
Kumar introduced the show as being perfect for 2017: 'Who cares if the news is real or fake as long as it's shouted loud enough,' he insisted – and he certainly has the requisite tone of authority mixed with incredulity at the mess the world's in.
At its core is a familiar set-up. Man behind a desk and in front of a blue-hued cityscape with a video inset over his right shoulder, offering a sarcastic commentary on the week's news, such as the Brexit negotiations and the infighting in the Tory party, between introducing correspondents.
Many of Kumar's trains of thought also start as you might expect: David Davis not taking notes to the meeting or Theresa May surprisingly still being in power, but the monologue finds a distinctive path of its own, aided by the comic's own well-honed tone of sarcasm.
Indeed, a rich sardonic vein runs through the whole show, including nice asides like Rachel Parris patronising Kumar for the way he handed over to her social media section.
She was just one of the familiar comedy circuit faces producers recruited for the show. The headlines were read by Ellie Taylor and Steve N Allen, and video reports feature the likes of Marek Larwood, Tom Bell and Jason Forbes. Tory-supporting stand-up Geoff Norcott was recruited to offer some political balance, although his ideas for the NHS ended up parodying the very callousness associated with his party.
Sometimes the news is funnier than comedy, of course, and the fact that senior political figures deal with opponents with phrases like 'kick you in the bollocks' are funny enough by their repetition. But The Mash Report even found fodder with the usually unparodyable Donald Trump, with Andrew Hunter Murray presenting a segment about the US right-wing evangelicals that reinforced the nutters' belief that the US President is the new messiah.
A couple of the Onion-style newsdesk one-liners seemed out of kilter, but when The Mash Report sticks closely to the proven US formula, it works, and very well. After so many false dawns, it seems like the BBC has finally found a successful home-grown take on the format.
Review date: 20 Jul 2017
Reviewed by:
Recent Reviews
What do you think?