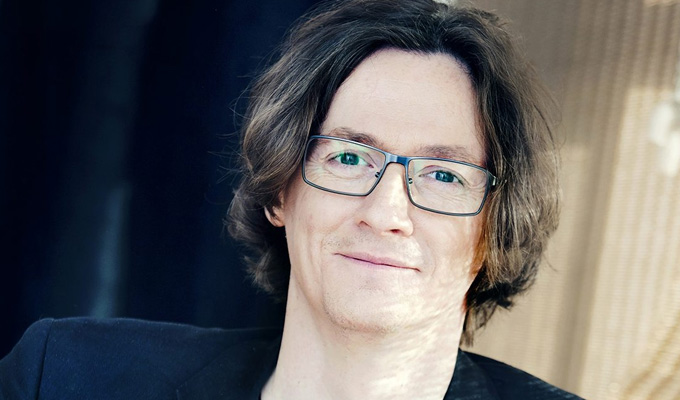 Ed Byrne
Date of birth: 30-11-1971

I might have barbecued a sausage for Dara O Briain...
Comedians Ed Byrne and Desiree Burch are among the ten contestants taking part in the latest TV culinary challenge, Celebrity Best Home Cook.
Here they discuss their kitchen expertise expertise and how they will impress judges Mary Berry, Michelin-starred chef Angela Hartnett and fruit and veg expert Chris Bavin.
The other contestants in the show, hosted by Claudia Winklema, are reality TV stars Ferne McCann and Tom Read Wilson, former Shadow Chancellor Ed Balls, actors Ruth Madeley, Shobna Gulati, CBBC presenter Karim Zeroual, journalist and Prime Ministerial sibling Rachel Johnson and former Welsh rugby captain Gareth Thomas.
---
Ed Byrne
What is your home-cooked signature dish? And how did it come about?
Smoked pork ribs. I cover them in a dry rub that I've been perfecting by trial and error for years, then shove them in a barrel smoker for about 10 hours, spraying them with apple juice and cider to keep them moist.
What is your earliest memory of home cooking, who was it with, and what did you make?
As a homework assignment when I was about 10, I had to follow a recipe called 'egg in the nest' which consisted of whipped egg white on toast with the yolk plopped in the middle and then grilled. I think I made it three or four times before admitting it was absolutely revolting and had been invented by somebody with no taste buds.
How are you going to impress the judges?
We can't say for sure I'm going to impress them at all, but my plan is to try and put as much of my personality into each dish as I can and as little of my hair as possible.
Who do you see as your biggest competition?
I'm hoping to put Ed Balls out early on, just because of the fact that while we're both in the competition everyone will have to refer to us by our full names to avoid confusion.
Who is the most famous person you've cooked for, and what did you make?
I don't think I've ever cooked for a famous person in my life! I might have barbecued a sausage for Dara O Briain but that's about it.
It's late, you've just come home after a long day - what's your go to, ready in a flash meal?
Like most blokes, I'm very comfortable around a spaghetti bolognese. The key here is to chuck in a bit of chorizo.
When you're at home who is the cook, and what do you love them to make (if it's not you doing the cooking!)
Don't tell my mother, but my wife's roast potatoes are the best in the world.
If you were made of three ingredients, what would they be and why?
Spicy chorizo, because while I can be a bit fiery I generally can be thrown in to anything.
Egg because I work just as well even if I'm scrambled or fried.
Porridge because I'm surprisingly popular in Scotland
How have your adventures across Central America influenced what you eat at home?
Watching how they make fresh tortillas in little roadside shacks in Mexico and Central America really made me want to try it at home. It's surprisingly easy to get the hang of. I can't make Pepián the way they do in Guatemala.
How do you feel about entering the competition and have your comedy colleagues offered any words of wisdom?
I'm pretty excited, to tell the truth. My overall attitude is, what have I got to lose? As for words of wisdom from comedy colleagues, Dara O Briain just said, 'Don't be yourself.'
---
Desiree Burch
What is your home cooked signature dish? And how did it come about?
It's a wonderous dessert monstrosity called Monkey Bread that's basically a bundt tin baked mountain of cinnamon rolls. I tend to do desserts for dinner parties or holidays, and found a recipe for this in my 20s. After bringing it to a Friendsgiving dinner one year, it became routinely requested well into my 30s among friend gatherings.
The judges are coming to your house for dinner, what's on the menu?
Probably something not particularly British. It's easier to be impressed if it's not something you normally eat. Possibly just a simple grilled salmon with some roasted vegetables. I like to focus on pudding, so there'd be a sweet pie of some sort to top it all off.
What is your earliest memory of home cooking. Who was it with, and what did you make?
It would have been Saturday morning breakfast as a kid. Spam, eggs and fried potatoes. That breakfast was on point for years!
Tell us about a home cooking disaster?
As none of the extractor fans work in my flat (or from what I can tell, a good chunk of the building) I definitely have set off the smoke alarm many times - once around 1am while practising for this show.
How are you going to impress the judges?
I think I am going to try to choose things that are challenging but interesting to me, because cooking is a process of adventure and discovery, but I am going to work to make sure all those things have flavour because, at the end of the day, I think flavour reigns supreme. I hope I'll be able to deliver on that, and that the judges want to come along for the ride.
What can viewers look forward to from you in this competition?
Flavour for sure. Hopefully fun as well. Or at least a lot of comic frustration.
It's late, you've just come home after a long day - what's your go to, ready in a flash meal?
A chicken and veg stir-fry over rice.
Tell us about your best maverick ingredient?
Just recently have been using a lot more celery in everything. I used to think this was something boring to put peanut butter on for a kids' snack or to use once a year in Thanksgiving stuffing, but I've come to appreciate how powerful and distinctive a flavour it is, and just want to have it with everything.
Tell us about your worst ingredient or any foods you really don't like?
I do not like raisins. Ugh. Boring, insidiously insipid. In too many things as an afterthought. There are very few things that contain raisins that I have a bite of and don't think, this would have been better without the raisins.
We've all been cooking more at home over the last 12 months, what have you been cooking that's been a hit? And what have you learnt that you love about home cooking?
Dude! Cornbread! I don't think this one happens in the UK, but it's something I remembered from the States that we generally have around the holidays. It can go sweet or savoury in a snap and satisfies that need for bread, dessert, etc.. What I love about home cooking is the dance around the kitchen to the music in your head that hopefully makes the food taste better - though the best part of home cooking is sharing it with someone else.
If you were made of three ingredients, what would they be and why?
Mussels, because the name is funny, so sort of clever, and the food is good for your brain, and I can relate to all these things.
Bone broth, because I am the hot new trend that was always around here being good for you.
And nuts, because, obviously!
If you could bring one dish over here from home, what would it be and why? Or alternatively which dish have you sampled here that you wish they served in LA?
Honestly, I wish black pudding was a thing in the States. It sounds gross, but it's so, so yummy. I mean, you could definitely find it at a British-themed restaurant, but it's not a thing you're gonna buy in the frozen food section to have at home. Which is sad.
What would it mean to you to be crowned Celebrity Best Home Cook?
It would mean something had gone terribly wrong in the competition and perhaps even in Britain.
• Celebrity Best Home Cook, starts on BBC One on Tuesday January 26 at 9pm.
Read More
Published: 19 Jan 2021
Ed Byrne has helped an injured hillwalker to safety…
21/01/2017
Dara O Briain and Ed Byrne are shooting a second travelogue…
8/07/2016
Ed Byrne and Dara O Briain first bonded backstage…
23/03/2015
Ed Byrne is to host a planned new panel game pitching…
11/06/2013
Teams of comedians are to take part in a special edition…
19/02/2013
Ed Byrne has quit Twitter after Keith Chegwin accused…
22/02/2011
Noel Fielding has signed up for this year's Let's…
26/01/2011
Frank Skinner, Ed Byrne and Marcus Brigstocke have…
2/02/2010
Past Shows
Agent
We do not currently hold contact details for Ed Byrne's agent. If you are a comic or agent wanting your details to appear on Chortle, click here.