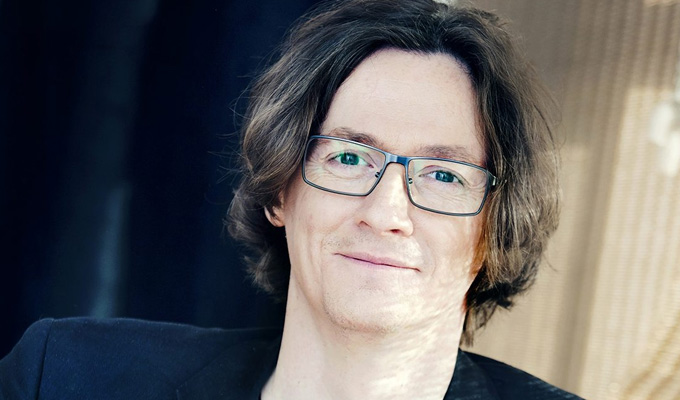 Ed Byrne
Date of birth: 30-11-1971

Ed Byrne joins Hitchhikers' Guide
Ed Byrne has joined the cast of the new Hitchhikers Guide To The Galaxy series.
The comic will play Hillman Hunter, an Irish property developer from Earth who was tricked by Zaphod Beeblebrox into moving to a new planet.
He is described as 'a stereotype Paddy from a bygone era'  using phrases such as 'Bejaysus' who we first meet seeking applicants to be god for the planet.
Hunter was created by author Eoin Colfer when he picked up creator Douglas Adams's mantle for the sixth novel in the Hitchhikers series, And Another Thing in 2009.
He is a major character in the book, which Radio 4 is adapting to mark the 40th anniversary of the landmark comedy series' first ever broadcast.
The new episodes feature most of the original radio cast, and more details were revealed at the MCM London Comic Con this weekend.
Also joining the team is Lenny Henry, playing a character called The Consultant, and Jim Broadbent who will be playing Marvin The Paranoid Android.
That role was originally played by Steven Moore, who has since retired. But Broadbent was in the original Hitchhikers show as the philosopher Vroomfondel long before finding hame in the likes of Game Of Thrones, Harry Potter and Bridget Jones' Diary.
Returning are Geoff McGivern as Ford Prefect, Simon Jones as Arthur Dent, Simon Jones, Mark Wing Davey as Zaphod Beeblebrox and  Sandra Dickinson as Trillian, the role she played on the TV version, taking over from  Susan Sheridan who played her on radio.
And, as previously announced, Jane Horrocks will be playing Fenchurch, Dent's soul-mate.
A clip from the new Hexagonal Phase episodes was played to fans at the convention:
Published: 30 Oct 2017
Teams of comedians are to take part in a special edition…
19/02/2013
Ed Byrne has quit Twitter after Keith Chegwin accused…
22/02/2011
Noel Fielding has signed up for this year's Let's…
26/01/2011
Frank Skinner, Ed Byrne and Marcus Brigstocke have…
2/02/2010
Ed Byrne's second DVD missed our pre-Christmas reviews,…
11/01/2010
The final of the FHM stand-up competition, which took…
24/11/2009
Ed Byrne and self-critical American comic Andy Kindler…
25/07/2009
Paul Merton is to read Spike Milligan's acclaimed…
7/12/2007
Past Shows
Agent
We do not currently hold contact details for Ed Byrne's agent. If you are a comic or agent wanting your details to appear on Chortle, click here.
We see you are using AdBlocker software. Chortle relies on advertisers to fund this website so it's free for you, so we would ask that you disable it for this site. Our ads are non-intrusive and relevant. Help keep Chortle viable.