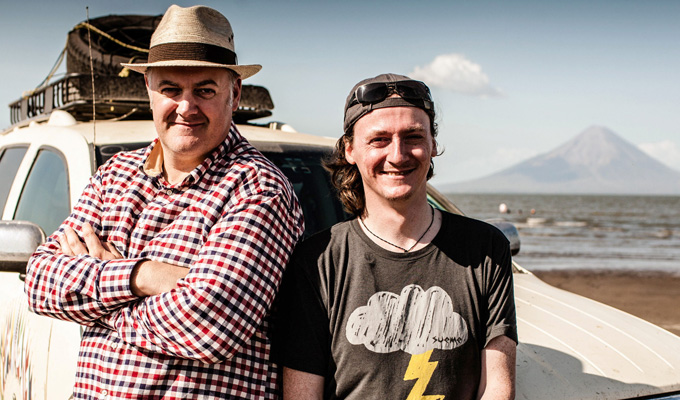 I refused to refer to a 'flood of immigrants'
Ed Byrne and Dara O Briain first bonded backstage in Dublin, 'bitching about other Irish comedians'. Best men at each other's wedding, the friends tour alternately so as not to steal ticket sales from each other – and when O Briain first began gigging in London, he would crash at Byrne's house, 'as all the Irish comedians did, probably the ones we used to bitch about'.
'Ed established the beachhead with a place we could all stay,' the Mock The Week host recalls. 'He was manager of the waifs-and-strays motel.'
Being immigrants still informs the pair's comic worldview. Byrne recalls an exchange with Jeremy Clarkson on Have I Got News For You, in which the now-suspended Top Gear host questioned his right to say 'we' of the British.
Though born in Swords, just outside Dublin, Byrne argues that 'it would be disingenuous of me, as someone who's lived in Britain for 24 years, has an English wife, two kids born here and pay my taxes to refer to myself otherwise'. When he's appeared on Question Time, 'people on Twitter ask if I'm referring to Britain when I talk about 'what our Government should be doing'. So I'm constantly treated as an immigrant'.
O Briain acknowledges that the Irish are more-or-less 'invisible' and 'normalised' in British society. 'No one's fighting for our representation in the same way that they rightly are for more women or black comics on panel shows,' he stresses.
Nevertheless, as someone born in County Wicklow, 'raised in a different language with different television, music, sport … who has to go through passport control in order to see my mother,' he's representative of the Irish continuing to move to London to pursue their comedy careers, even as some of the next generation, the likes of Maeve Higgins and Colm Tyrrell, try to make it in New York.
All of them are insider-outsiders, 'at a slight remove … not fully at home, there's an element of not quite having a shared hinterland [with your audience],' he reflects.
'It's not like I'm a Dutch comedian. But I don't have the shared reference base of 30 years growing up that I have in Ireland. And equally, all the comics who become huge have a base where they're big – whether it's Peter Kay up north, Michael [McIntyre] with the southern middle-class or Tommy [Tiernan] in rural Ireland. For me, to a certain extent, it's Dublin.'
Outside of the regulars, Byrne has made the most appearances on Mock The Week, 'teasing me in a way where the newer comics would be too deferential,' O Briain says.
Fellow comedian Andrew Lawrence certainly wasn't too deferential when he railed against the show as part of an online rant that expressed some sympathy with Ukip policies – making a jibe about the 'ageing, balding, fat men, ethnic comedians and women-posing-as-comedians' on the panels.
In response, O Briain tweeted: 'Hey Andrew, sorry I'm so ageing, bald and fat, but as an an immigrant I'll retain my disdain for anti-immigrant politics.'
He smiles now. 'The fat and bald thing didn't get the level of public sympathy it deserved. But while there are aspects of my politics that caused me to bristle at that, I was really offended by the notion that I pretend to hold views in order to get work.
'It's this idea, that you must secretly feel the same way about Romanians because you're sort of the same as us. No, I'm not the same as you! It was a journey for me like it was for the Romanians.'
He and Byrne have just made Dara and Ed's Great Big Adventure for BBC Two, a three-part film of them driving 4,000 miles along the Pan-American highway last year, from Arizona to Panama. Amid the usual docu-tainment escapades of volcano sledging, Mexican wrestling and iguana eating, there were some sobering moments, including seeing a murdered gang member tossed into a body bag in El Salvador. And La Bestia ('The Beast'), otherwise known as The Death Train, on which desperate migrants make an illegal and dangerous trip towards the US border. Hanging onto the locomotive for dear life, 80 per cent of these stowaways are assaulted or robbed by predatory gangs, while 60 per cent of the women are raped.
'It felt weird travelling south when so much of what we were covering was about the migration north,' Byrne recalls. 'It almost felt like running into a burning building, going against this tide of human traffic.
'Yet when we got there, it was just people getting on with their lives. There's an idea of the whole of Central and South America flooding into the United States. But so many people are still there, making the best of it. I remember being given a line to say in reference to the flood of immigrants and saying I didn't want to. It's a very thorny issue and you need to walk a line, you can't be seen to be taking a side in what's ostensibly a documentary.'
If the great, factual record of contemporary British comedy is ever filmed, O Briain ventures that the most important moment wasn't the opening of The Comedy Store, nor Baddiel and Newman playing Wembley, but the 2002 Plastic Industry Awards. Hosting the corporate bash the following year, the Irishman learned that it was at the event 12 months earlier where Angus Deayton met the prostitute here who would engulf him in scandal and lead to his sacking as Have I Got News For You's chairman.
'It had been ten years since there'd been a new panel show,' O Briain reasons. "But without Angus, I got a chance to host [Have I Got News For You], Jimmy [Carr] got a chance, Alexander [Armstrong], loads of people. They went for the new generation of comedians.
'Jimmy then got 8 Out Of 10 Cats, I got Mock The Week, so there had to be another six or so comics around us. For the first time in 10 years, it created space for all these new acts to come through. Then the Dave channel appears, and there are all these digital platforms that need content, and comedians became the chief machine that keeps coming up with it. We can fill the spaces in the schedules.'
This familiarity in turn stimulated demand for big stand-up showcases like Live at the Apollo and Michael McIntyre's Comedy Roadshow, prompting today's big theatre and arena tours, O Briain postulates. 'And it's all due to British plastic. That's my theory anyway!'
• Dara and Ed's Great Big Adventure starts on BBC Two at 9pm tomorrow. Here is a preview:

Published: 23 Mar 2015
What do you think?