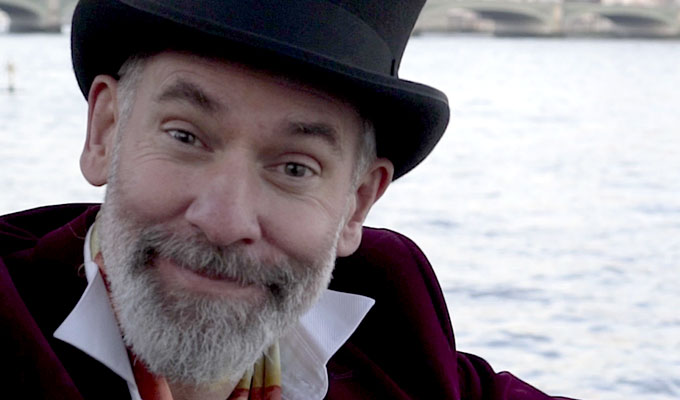 Dominic Frisby
Adam Smith: Father Of The Fringe
Most people see the Edinburgh Fringe in full flow and marvel at the explosion of diverse creativity and artistic expression on offer. But comedian and financial commentator Dominic Frisby also sees a shining example of free-market economics.
Frisby's clearly a fan of both Tory pin-up Adam Smith, whose 18th Century work including the seminal Wealth Of Nations earned him the sobriquet 'the father of capitalism', and the festival. In this film, he ties those two passions together.
It could be argued – as Frisby suggests – that Smith was a pioneer of the Free Fringe model himself. Fearing tenured academics had no incentive to innovate or inspire, he would lecture for free then pass around a tin for donations at the end.
This fact comes in the first part of Adam Smith: Father Of The Fringe, which concerns itself with the Scottish economist's life and work. In this section, Frisby adopts the sort of softly earnest voice you get on the educational movies they play at historic tourist attractions. Indeed he may well have recorded many such voiceovers.
The comedian's enthusiasm picks up in the second half of this hour-long film, however, when he ties Smith's theories to the Fringe, which he describes as an 'extraordinary economic success story'. Performers who've lost thousands putting on shows may bridle at that suggestion, but we'll return to that.
Frisby mainly advances the idea that the Fringe has been such a success – with 60,000 performances in 2019 and more tickets sold than any other event bar the Olympics – because it is essentially unregulated. 'Everyone can have a go,' in the words of contributor Arthur Smith (no relation).
The Fringe was set up in 1947 by the 'uninvited eight', a group of more experimental theatre groups that were not invited to the worthy new international festival which favoured prestigious, establishment outfits run on public subsidies.
However, the maverick outsiders could be more inventive - indeed needed to be. As the festival expanded and competition grew, those productions that were different stood out more, whereas playing it safe consigned you to be ignored. It sounds more like supercharged evolution, with hundreds of mutations forcing theatre in new directions.
Indeed Frisby quotes Andrew Cruickshank, an early chairman of the Edinburgh Festival Fringe Society: 'We were the living proof of one of nature's prime notions, the notion of random… this was evolution and the science of the theatre in action.'
Key was the lack of interference from any organisers. Being an open-access festival meant no constraints were imposed on what could be offered. The right to fail was also an important part of the process, which the big theatres could never risk. As Al Murray says, sometimes a misfire is 'exactly what you needed to happen to you', to force you to refocus your ideas. That's true commercially as well as artistically.
Comedy's increasing dominance of the festival can also be ascribed to economics, a solo monologue being an order of magnitude cheaper to stage than a full theatrical production. And with so many shows fighting for attention, it's the 'free market as red in tooth and claw as it possibly can be' according to Murray.
Fellow contributor Henning Wehn agrees: '[The Fringe] is a microcosm of a market-driven economy,' he tells Frisby. 'But with no safety net. You have to make and finance your own way up there. It's a level playing field - just don't whinge if it's gone wrong.'
Of course, things did go a bit awry in the festival's superinflation. The big venues became gatekeepers as demand for the premium spaces boomed, undermining the free-for-all-ethos.
More crucially the economic model broke, in what could be seen as a salutary lesson about the problems of late-stage capitalism. Everyone who owned property prospered – whether it be landlords renting out their flats or the university-owned venues – while those who actually did the work suffered. Losses of thousands of pounds became the norm for stand-ups hoping to be discovered.
However, Wehn has little sympathy for those who complain, saying anyone who knows their way around an Excel spreadsheet should be able to foresee the problems and try to cut costs to mitigate against them.
Likewise, Frisby doesn't really see these as failures of capitalism, despite his own previous losses at the Fringe. Instead, he considers the Free Fringe model that revitalised the festival as the unseen hand of the market correcting itself. Though that hand was definitely guided by pioneer Peter Buckley Hill, an amateur in the best sense of the word, in it purely for the love of being on stage.
Certainly under this new way of doing things, barriers to entry have been lowered and comics can once again make money. But if putting the means of production back into the hands of the workers sounds like a Marxist philosophy, don't expect Frisby to mention it!
He's keener to point out that while most people in entertainmentt might not see themselves as capitalists, each is an entrepreneur in their own right. And you have to say that, a few omissions aside, he makes a good argument.
But more than the economic case, this film is a celebration of what makes the Fringe - at least in normal times - so thrilling and mad and creative and vast. In lieu of a full-on festival, it might be the closest to that excitement many people will get this year.
• Adam Smith: Father Of The Fringe is available on demand from Vimeo until August 30, priced £10.
Read More
Published: 12 Aug 2021
There's always somebody who has to ruin it. Comedy…
14/02/2018
Some of the topics once considered the most unlikely…
9/08/2016
Dominic Frisby was trying to forge a career as a character…
1/01/2003
Have we found the new Friends? The new Fawlty Towers?…
1/01/2001
Charming, inventive and very funny man producing little…
1/01/2001
Amusing character comedian who's most often seen in…
13/08/2000
Originally intended as a double-act, this show was…
1/01/2000
Products
Past Shows
Agent
We do not currently hold contact details for Dominic Frisby's agent. If you are a comic or agent wanting your details to appear on Chortle, click here.