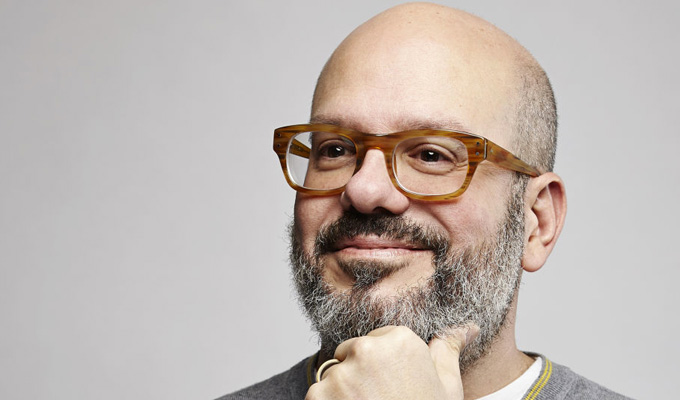 David Cross
Date of birth: 04-04-1964

You need sympathy for him, even though he's an asshole
Comic David Cross has created a new show for Sky One, Bliss, about the complicated double life of successful travel writer Andrew – played by Stephen Mangan – who has wound up with two partners and two children whose existences are unknown to each other. Here the writer/director speaks about how the idea came about.
I was reading a story on the internet about a guy who had two families that didn't know about each other and who finally got caught. I remember thinking, "How can you even do that?"
I started to think about it and do some research. There's a bunch of guys who get caught every year, normally when they fall ill. It was shocking how many instances there are, particularly in the UK. So I began to think this might make for a great show.
Some of the real-life stories I read are hair-raising. How did one man get away with it for 15 years? How would you deal with your wife's suspicion? What does that do to you psychologically? I thought it was very juicy territory to write about.
I pitched it as the idea of the guy who is one person in one room, and another in another. That is a key element in classic farce – look at the sitcom Three's Company or Shakespeare's As You Like It.
I thought that the comedy part would look after itself and that we should deal with the real part. I said to myself, "What if you had to write it, and it couldn't be silly?" It is not just Andrew's life that's at stake, but numerous other people's lives as well.
Andrew doesn't like confrontation. He hates it when a woman starts crying in front of him. He goes to break up with a woman, and when she doesn't take it well, he immediately backtracks.
He's always trying to please people. He's not a bad person, but he's certainly not a good person, either. He's very weak and selfish. He denies he is selfish in order to justify his actions. He tells himself, 'What they don't know won't hurt them.' He truly believes that.
It's important to emphasise that he's not someone who says, 'Dude, I've got two women waiting for me!' In Bliss, his double life is not seen as an accomplishment.
He does love these two women and children, but he's put himself and them in an untenable position. That's the fascinating psychology we are exploring in this show.
From the very beginning, I wanted to cast a comic actor in the lead because I feel comic actors are more well-rounded than dramatic actors. They can be funny and dramatic, and in my experience a lot of dramatic actors are not very good at comedy. I wanted a really strong comic actor in the lead, and that's why we went for Stephen.
He is a very good comic actor, and he's totally believable. He can be sympathetic and manipulative, but also communicate pathos and vulnerability. That's tricky.
You have to have some level of sympathy with Andrew while simultaneously saying, 'What an asshole!'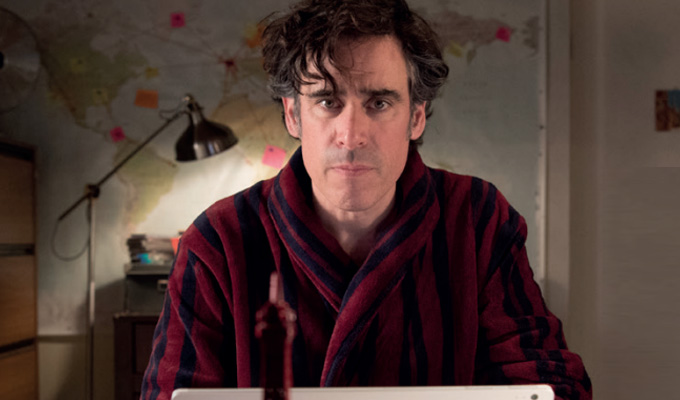 Stephen Mangan on his character
He's made a lot of small decisions which are motivated by a desire not to upset people. It's a kind of cowardly niceness – we're all guilty of that from time to time.
Sixteen years ago, he took the easy route rather than fessing up. He told a series of white lies; now 16 years down the line, he has two partners, two children and a hellishly stressful existence. I'm not
trying to condone it, but it must be so exhausting!
It's not a "wey-hey, I've-got-a-harem" thing. Andrew is just someone who got a couple of women pregnant and didn't confess to it at the time.
He is almost in a psychotic state where he is trying to keep things afloat. In his two secret offices, he has backdrops of different cities, so he can take photographs and pretend to his partners he is in Bratislava or Barcelona writing travel books. He never leaves his
– he just Googles everything so he can write his travel books
In the middle of the night, he must think, 'What am I doing?" But most of the time he's worrying about the details. Which family am I with? What have I said to whom? Who knows where I am supposed
to be now? He hasn't got time to go into existential angst about it.
His worst nightmare is that he thinks his son by one woman might have fallen in love with his daughter by the other. He tries to keep them apart and keeps them off social media.
What I like about this show is it is as much a drama as a comedy. In any story, you want something to be at stake. He is potentially going to destroy two relationships and two children's lives.
Read More
Published: 31 Jan 2018
American comic David Cross has written a sitcom pilot…
19/03/2009
Noel Fielding was spotted playing croquet with Kasabian…
15/06/2007
AMERICAN stand-up David Cross is coming to London for…
27/02/2007
Top American stand-up David Cross is to make his British…
17/06/2004
Past Shows
Misc live shows
Agent
We do not currently hold contact details for David Cross's agent. If you are a comic or agent wanting your details to appear on Chortle, click here.