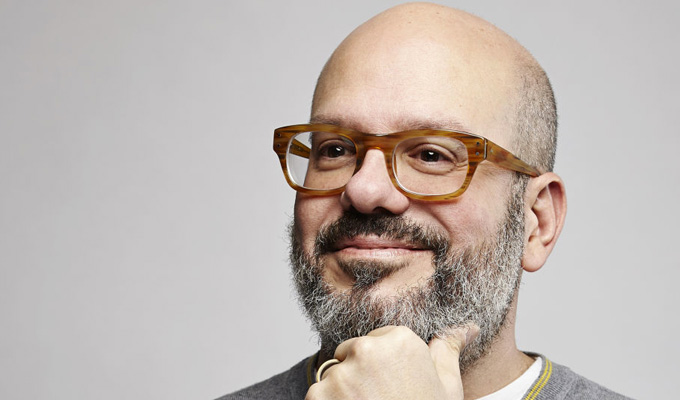 David Cross
Date of birth: 04-04-1964

David Cross: Oh Come On
A man's vote is between himself and the ballot box, but there's something about David Cross that gives just the slightest hint that he mat not be a Donald Trump supporter.
Maybe it's the lengthy charge sheet he produces of all the President's corrupt, duplicitous and immoral actions, in person and in office; maybe it's the explicit parallels he draws with the rise of Hitler; or maybe it's the extended fantasy he has in which harm and ignominy are heaped on the insecure bully… a piece of fiction that has nonetheless attracted the interests of the American secret service.
The section is not sophisticated or erudite, as the Arrested Development star freely admits, but more of a therapy for him, a primal scream in a world gone insane. Trump isn't even good for comedy, he argues, since there's no 'reveal': the world already knows he's an shameless egotistical villain so nothing is a surprise.
Though the imagery in this section is brutal, Cross delivers his impassioned ranting with restraint, sustaining the same mild-mannered and measured tone across the 90-minute show. His opening preamble is about nothing more controversial than the toiletries in his hotel room, proving he can get laughs just reading the ingredients list on a bar of soap.
It's the pretentiousness he can't stand, and points out with a wry wit. A fact that's also evidenced by his disdain for the wealthy but feckless beach-bum hipsters of Santa Monica who prompt another flash of his contempt.
He's calmer when speaking about his year-old daughter, and his attempt to instil in her his jaundiced worldview. He thinks telling her what to think would be tantamount to child abuse, although his imagined solution is even more sinister. His wife, incidentally, is Amber Tamblyn, a co-founder of the Time's Up movement, which gives his tongue-in-cheeks jabs at the feminist sisterhood an added potency, even though they are relatively mild.
Calmness prevails, too, as he speaks of the time he went for a colonic irrigation, instilling a appropriate zen-like peace in the room before the shit inevitably, and literally, starts to go down. He takes his time over a story that unfolds pretty much as you expect, finding wry amusement in the details. Cross is more of an understated storyteller compared to the rat-a-tat of many of his countrymen, and so is well-suited to the languid late-night slot he has at the Leicester Square Theatre, while the careful observations lead to bluntly funny pay-offs.
And his encore – when he's forced to confront the uncomfortable reality of what manner of man he would be in a crisis – is a delight.
• David Cross is at Leicester Square Theatre again at 9.30pm tonight.
Read More
Published: 28 Sep 2018
From this side of the Atlantic, it's easy to put…
1/01/2007
American comic Cross takes a no-holds-barred approach…
3/06/2003
Past Shows
Misc live shows
Agent
We do not currently hold contact details for David Cross's agent. If you are a comic or agent wanting your details to appear on Chortle, click here.