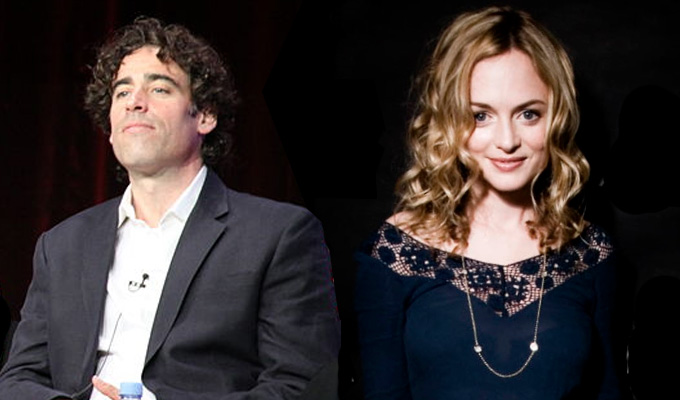 Stephen Mangan is a bigamist in new Sky comedy
Stephen Mangan is to play a bigamist in a new Sky comedy, alongside Austin Powers star Heather Graham, Chortle can reveal.
Bliss is co-written, directed and executive produced by Arrested Development's David Cross.
Episodes star Mangan plays Andrew, a successful travel writer, living between two sets of wives and children – Kim (Graham) and teenage daughter Christina; and Denise (The Mimic's Jo Hartley), and their teenage son Kris. Dashing across Bristol between the two homes takes its toll on Andrew's sanity, and he finds himself taking increasingly drastic measures to protect the two families.
Filming begins in Bristol and London later this month, but it is not known if Cross will have a cameo role. The six-part series will air on Sky Atlantic next year.
Cross said: 'This project is unlike anything I've ever done before, in so far as I've never been to Bristol. Is it nice? Heard good things. Oh, also there's a scene that takes place in Weston-Super-Mare so there's that.'
Mangan added: 'I've always wanted two wives so this project is very close to my heart. And I get to work with the super-talent that is David Cross. I can't wait.'
Graham said: 'David has written an incredibly funny and wonderful script.  I'm excited to be working with him and Stephen on this project.'
The production companies involved in Bliss include Merman Films, set up by Cross's Todd Margaret co-star Sharon Horgan, as well as Big Talk Productions and Cross's own Liberal Jew-Run Media Productions.
Merman's Clelia Mountford is producing, with Horgan joining Cross and Big Talk's Kenton Allen and Matthew Justice in executive producing.
Bliss was commissioned for Sky by Jon Mountague, Sky's head of comedy and Zai Bennett, director of Sky Atlantic.
Speaking to the Huffington Post about the series in January, Cross said: 'It's a bit different for me in that it is more dramatic and serious than anything I've done to date. 
'It still has a lot of comedic moments, but nothing broad or farcical in any way; very much grounded in reality … And like a bunch of stuff that I find myself participating in, or just watching, has a complicated story of a world unravelling.'
Bliss was previously in development with the US channel Showtime and is Cross's first time directing a narrative comedy for television, following his 2014 feature debut Hits.
Cross has also suggested that W/ Bob & David, his sketch show with long-time collaborator Bob Odenkirk will return for a second series on Netflix, posting in a question and answer session on Reddit last month: 'Yes, hopefully. It's all about scheduling at the moment, but we both want to do it - as well as Netflix.'
He also hinted at another return for Arrested Development and his character Tobias Funke, posting: 'The word on the Hollywood street is that yes, there will be more Tobias in the near future.'
Bliss is the latest Sky comedy to cast a big-name American star, following Don Johnson and James Van Der Beek in the forthcoming Sick Note and The Carters Get Rich respectively.
Cross is making the series for Sky despite being a vocal critic of Rupert Murdoch, whose 21st Century Fox holds a controlling stake in the broadcaster.
He recently joked about being the tycoon's 'personal castrato' for making Arrested Development, which began on Murdoch's Fox network. 'I got to tour the world, ate amazing food, and got to see a lot of awesome evil,' he remarked.
And speaking to the Drowned in Sound website in 2007 he said: 'Here's the big, dark secret nobody talks about: Fox didn't like the show. They didn't like the fact that it kept winning Emmys and being mentioned as one of the ten best shows on TV. It was expensive, they didn't get along with the producer, they didn't like the politics of it. It didn't do anything for them. That show stayed on only as a result of Emmys, Golden Globes and other awards.
'They really didn't like it. And – I swear to God, although it sounds like I'm making this up – I don't think Rupert Murdoch liked it. I don't know that for a fact, of course. There were a couple of people [at Fox] who championed it but, outside of those people, the network simply didn't like it.'
- by Jay Richardson
Published: 10 Nov 2016
What do you think?