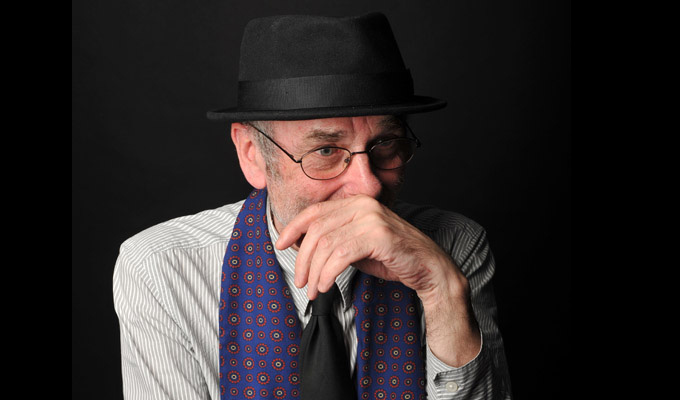 The Freewheeling John Dowie
John Dowie is the missing link of comedy, a man who straddled the generations between folk club stand-ups such as Billy Connolly and Jasper Carrott, and the alternative comics of the Comedy Store and the Comic Strip.
He gigged where there weren't gigs, and might have taken a more prominent place in cultural history, had he not quit, just as comedy was becoming lucrative.
'I had enough of audiences that spat on you if they liked you and spat on you if they didn't,' he writes of abandoning the punk venues he played, admitting that he felt burned out from constantly performing in a circuit that didn't yet exist.
Instead of comedy, he found a new obsession, cycling, pootling around Europe from campsite to campsite – with the occasional train ride or budget b&b en route. 'As former contemporaries dined at The Ivy, I ate beans from a camping stove,' he writes, dourly but not bitterly.
As the 'Freewheeling' title suggests, the book is almost a stream of consciousness about the thoughts he had on his travels, from prosaic concerns about the price of pitching a tent to reflections on the meaning of life. Dowie is Jack Kerouac with a puncture repair kit.
Though not a memoir, as such, we get glimpses of his life growing up in Oulton on the edges of Birmingham, where he became obsessed by Spike Milligan. The young Dowie collared his hero at the stage door after a performance of his play The Bed Sitting Room, and the ambition to become the next Spike Milligan – however that might be achieved – lodged in his head.
Before his haphazard 'audience with' performances, Spike would always say 'this show has not been rehearsed, therefore it cannot go wrong,' and Dowie takes the same approach to touring on his bike; going where his whim takes him, funded by the sale of all his worldly possessions.
He encounters rude Frenchman, friendly Dutch, and surly Englishmen with no sense of customer service who nonetheless decided to go into the hospitality business – so no shattering of stereotypes here. Our deadpan hero must negotiate homophobic campsite owners, labyrinthine rules about bringing bicycles on trains – and also his own melancholy. It would be trite to say he was cycling away from reality, but he leaves a strong feeling that he enjoys living up to the romantic notion of artistic solitude, a man alone with his red wine and his memories
Indeed, his travels lead him to reconnect with various names from his history, either literally or figuratively. There's David Gordon, the camp artistic director of the Midlands Arts Centre who first encouraged Dowie on the stage; old flame Debbie – called Dubai as that's how it sounds in the Brummie brogue – whom he tracks down in Sardinia in an ill-fated attempt to kindle a romance; or the 'jazz hoofer' Will Gaines, a fellow touring artist he recalls with fondness. It seems people were more colourful in the past.
Some flashbacks will resonate with comedy fans, as Dowie recall the first year of the Assembly Rooms at the Edinburgh Fringe in 1981 or future mega-agent Addison Cresswell introducing a pub of hardened Scottish drinkers to the filthy flirtations of a leather-clad Julian Clary around the same time. Then there's the run-in Dowie had with customs officials curious about his suitcase full of props after a performing trip to Amsterdam
But he'll spend just as long talking about a mechanical failure on his bike as he will these showbiz anecdotes, just to reiterate the point this is definitely not a memoir.
And more than the travel tales, Dowie reflects on life, both his and in the abstract, and while he may come to no definitive conclusions, he's certainly a man who knows the journey is more important than any destination.
• The Freewheeling John Dowie has been published by Unbound at £14.99. Click here to buy from Amazon at £10.06
Published: 11 May 2018
What do you think?