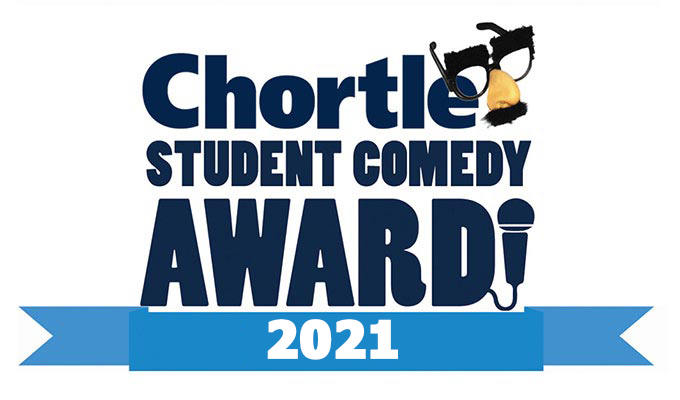 Chortle Student Comedy Awards
2021
WINNER: Joe-Kent Walters
RUNNER-UP: Sam Williams
FINALISTS: Omar Badawy, Andy Bucks, Charlotte Cropper, Hamish Duff, Isaac Kean, Grace Sanders,
Scott Redmond, George Tothill, Sharon Wanjohi
2020
Competition was interrupted by the Covid pandemic. Finalists competed in 2021 instead
2019
WINNER: Erika Ehler
RUNNER-UP: Tom Short
FINALISTS: Dan Allum-Gruselle, Emman Idama, Tim Thompson, Finlay Christie, Mamoun Elagab, Rosa Handscomb
2018
WINNER: Bexie Archer
RUNNER-UP: James Trickey
FINALISTS: Ania Magliano, Alex Franklin, Jamie Dalgleish, Lulu Popplewell, James Allen, Rhiannon Shaw
2017
WINNER: Riordan DJ
RUNNER-UP: Jack Gleadow
FINALISTS: Dillon Mapletoft, Harrison Charles as Alexander Feisteisterberg , Frank Foucault (real name Luke Smith), Haydn Jenkins, Tony Wright and Sam Knights.
2016
WINNER: Tom Gidman
RUNNER-UP: Rahul Kohli
FINALISTS: Adam Mastroianni, Roya Shadmand, Michael Odewale, Eric Rushton, Josh Jones and Morgan Rees.
2015
WINNER: Andy Field
RUNNER-UP: Liam Pickford
FINALISTS: Stephen Ryan, Cilleian Farrell, Lauren Pattison, Stuart McPherson, Joe Bowley
2014
WINNER: Jamali Maddix
RUNNER-UP: Jack Gillespie
FINALISTS: Alan Irwin, Elie Kraft, Red Redmond, Stephen Ryan, James Ball, Daniel Harvey as Pierre Pierre, Alex Oliver
2013
WINNER: Rio Bauer
RUNNER-UP: Nathan Willcock and Adam Todd (shared)
FINALISTS: Conor Neville, Evelyn Mok, Tim Renkow, Matilda Wnek, Richard Perry
2012
WINNER: Kwame Asante
RUNNER-UP: Jonny Pelham
FINALISTS: Pierre Novellie, Dalia Malek, Sebastian Bloomfield as Johnny F Monotone, Hari Sriskantha, Adam Mitchell, David Elms
2011
WINNER: Adam Hess
RUNNER-UP: Glenn Moore
THIRD:Richard Hanrahan
FINALISTS: Richard Stainbank, Richard Hanrahan, Rob Carter, Richard Gadd, Chris Quaile, Matt Winning as Steph E Graph
2010
WINNER: Phil Wang
RUNNER-UP: Matt Rees
FINALISTS: Matt Richardson, Ed Patrick, Matt Winning, Emerald Paston, Ian Smith, Nicholas Cooke, Max Dickens
2009
WINNER: Joe Lycett
RUNNER-UP: Iain Stirling
FINALISTS: Mat Ewins, Gabriel Ebulue, Tom Rosenthal, Nicola Bolsover, Sam Gore, Laura Lexx, Max Dickens, Dominic Cross, Laurie Blake, Will Scrambler
2008
WINNER: Jack Heal
RUNNER-UP: Simon Bird
FINALISTS: Jez Scharf, Ian Smith, Danny McLoughlin, Gareth Morinan, Richard Stainbank, Paul Longley, Joseph Wilson, Jon Brittain and Chris Ramsey
2007
WINNER: Tom Deacon
RUNNER-UP: Rodney Marques
THIRD: Prince Abdi
FINALISTS: Andy Vaugham Dave Steele, Ed Patrick, Dean O'Callaghan, Kerry Howard, Thomas Neuemark, Mickey Anderson, Dave Howarth, Ed Gamble as Selsdon Krupp, Bethany Black
2006
WINNER:: Donnchah O'Connail
RUNNER-UP: Chris Martin
FINALISTS: Paul Hayfield, Darren Richman as Mr Headmaster, Tony Richardson, Simon Bird, Andy Vaughan
2005
WINNER: Nathan Caton
RUNNER-UP: Luke Catterson
FINALISTS: Paul Byrne, Ian Hunter, Tony Richardson, Symon Garner, Idil Sukan, Ben Travis, Kai Barron
2004
WINNER: Lloyd Langford
RUNNER-UP: Mike Belgrave
FINALISTS: Dave Sayers, Ian Hunter, Dec Munro,, Tom Bright, Bullett and Gunn, Elliott Tiney, Luke Buckley, Jarlath Regan, James Bench Capon, Demitris Deech, Paul Byrne
Published: 3 Sep 2015
Recent Awards
What do you think?