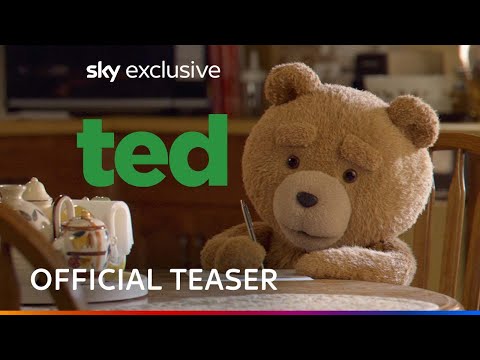 Trailer for Ted, the new TV series based on the hit films
Here's the first look at the Ted TV series, a prequel to Seth MacFarlane's two films about a teddy bear who came to life.
The seven-part series is being made for the Peacock streaming service in the US, and will air on Sky Max in the UK early next year.
It is set in 1993, and Ted The Bear is living in Framingham, Massachusetts, with his best friend, 16-year-old John Bennett, played by Max Burkholder.
According to the blurb 'Ted may be a lousy influence on John, but at the end of the day, he's a loyal pal who's always willing to go out on a limb for friendship'.
In a statement MacFarlane and his fellow showrunners Paul Corrigan and Brad Walsh said: 'Each generation develops its own unique artistic style, its own way of seeing the world. In the twenties, it was the subversive musical phrasings of jazz. In the fifties, it was the bold brushwork of the abstract expressionists.
'Our generation's unique art is streaming content based on previously successful intellectual property. In that proud tradition, we humbly give you Ted.'
Published: 17 Nov 2023