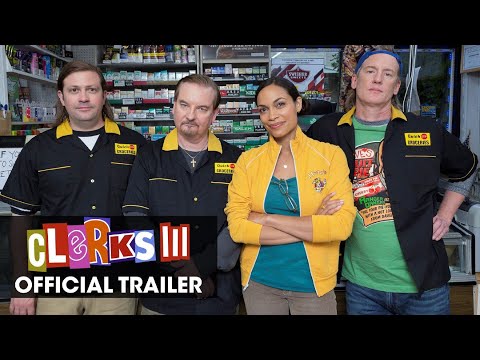 Clerks 3 trailer
Kevin Smith has released the trailer for Clerks 3 – in which he reprises his role as Silent Bob.
The clip reveals the meta premise of the sequel is that after suffering a heart attack convenience store worker Randal (Jeff Anderson) reappraises his life – and decides to make a movie about the goings-on at the shop.
'I always thought you could've made a cool movie,' his friend Dante (Brian O'Halloran) responds.
In one clip two goth customers are told about the plan, only for one to reply, deadpan: 'Meta.'
Smith himself had a heart attack on stage in California in 2018.
And at one point in the trailer, Randal explains of the two characters who always hang out outside the store: 'Jay and Silent Bob are like C-3PO and R2-D2. They've been here since the first movie which was the last time they were cool, but they've been with the franchise so long, they still give them cameos and put them on the lunch boxes.'
The teaser also features appearances from Ben Affleck, Fred Armisen and Sarah Michelle Gellar who audition for the movie-within-a-movie.
The film is going to be in US cinemas for two nights only: Tuesday, September 13, and Thursday, September 15. No UK distribution has yet been announced.
Published: 7 Jul 2022
Recent Videos
What do you think?