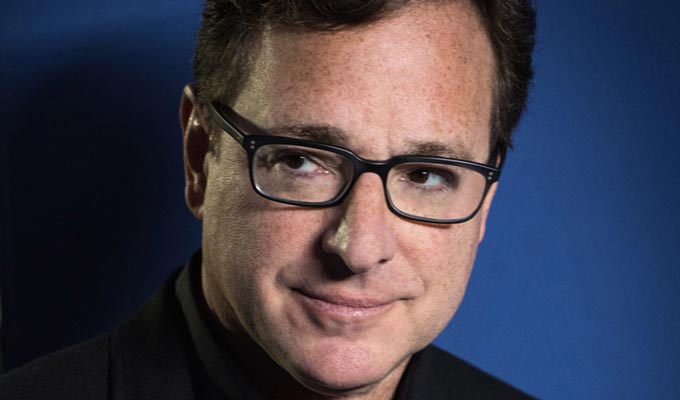 'My penis is the least upsetting thing I can think of'
American comic Bob Saget, star of Netflix sitcom Fuller House as well as a long-established stand-up, makes his London debut at the Leicester Square Theatre tomorrow night. Here he recalls his Unforgettable Five gigs.
Gig that taught me what not to do
I've been doing stand up for over 40 years. I started out just doing comedy music parodies, which are of course fun for an audience but can be the lowest rung on the entertainment ladder.
When I was 17 I won a radio contest in a club in Philadelphia, singing an original song I wrote called Bondage. I think I won not because the song was good but because they couldn't believe a 17-year-old was singing a song about bondage.
As I developed an act more and more I sang the amazing George Harrison song to the best of my ability, While My Guitar Gently Weeps. I only sang a little bit of it, thank goodness, but I had a shampoo bottle with a garden hose coming out of it behind the guitar and as I was singing the end of the song I opened up the valve on the shampoo bottle and water poured out of the garden hose all over my pants. I said something to the guy in the front row like, 'My pants are wet and it's your fault.'
So that's the roots of how I eventually learned what not to do on stage – because you find out that anybody behind the first three rows can't see water leaking out of a guitar, especially for a hacky prop bit parody of a classic.
Best gig
I have had quite a few best gigs fortunately, occasionally involving comedy festivals. I played 30,000 people in Ottawa, Canada, and also did the same near Vancouver doing my own show and then introducing Snoop Dogg at a separate venue.
I've always loved a semi-polite rock 'n' roll audience because my stand-up has always been on the fringe of good taste and yet I have meaningful things to say – well, to me anyway.
My stand-up has always been irreverent and yet somehow has a public service announcement attached to it. I try to stay away from politics because it gets too upsetting. So I would rather talk about my wiener than so many things that are upsetting in the world. My penis is the least upsetting thing I can think of. And I think about it often.
But one of my favourite gigs was hosting the 90-minute Dirty Show from the Montreal comedy festival, Just For Laughs. It went out live at 11pm all over Canada on their Movie Network which is equivalent to a country's biggest pay service like HBO in the US.
What I loved about it was I was able to host a 90-minute live show for the whole country that was quite ribald. I never use the word 'ribald', but I may start soon because it sounds very ribald. I also hosted Saturday Night Live once and loved the hell out of that because of the live aspect.
Anyway, the comedians on that JFL special were friends of mine —and I became friends with Jimmy Carr who I get to see when I come to London before my show at the Leicester Square Theatre tomorrow.
Also on the same show I hosted were Amy Schumer, Triumph the Insult Comic Dog, Jim Norton, Mike Ward, and we closed the show with my very dear friend Ben Folds —where I got to sing with him a song that's not very possible to sing right now (and rightfully so, but old classic rap is what it was) by Snoop Dogg and Dr. Dre: Bitches Ain't Shit. It's a song from back in the day that definitely didn't come from our viewpoint but was fun to sing – with an all 16-year-old girl choir by the way.
Jimmy Carr gave me a very hard time in his fun, mischievous way, embarrassing me in front of the 16-year-old girl choir who knew me from the family television show in North America Full House and now the hit Netflix reboot, Fuller House. My comedy life definitely has bipolar qualities to it that I own like a good grown man that would hurt no one.
Worst gig ever
I was playing in Anchorage, Alaska. Jay Leno had suggested all of us comedians who were in our early 20s should play this place called PJs, a strip club where guns and pot are legal. Not a good combo for a stoned heckling crowd. Many of us younger guys played it, including Jerry Seinfeld, and I had the good fortune of being with my friend Kevin Nealon for the shows.
The nightmare began when I had to follow a stripper who had three pie pans attached over her upper and lower regions. She had matches stuck to them with scotch tape and lit them on fire and then did a little crack whore dance and then blew herself out, saying the words, '....And now the comedy of Bob Saget.'
I came to the stage in the waft of the smell of sulphur and smoke and some kind of room sanitiser. My set didn't go much better because they wanted more talent like she had to provide. My guitar wasn't the only thing that was leaking that night.
Funny how you try to forget gigs like that but you just cannot.
Best and worst heckler
I was shooting my second to last comedy special called That's What I'm Talkin' About (got a Grammy nomination for it, let me pick that name-drop up) and during the filming as I started to play through the musical comedy portion of my show, which I really do enjoy quite a bit, a guy literally got up from his seat on camera (nine cameras to be exact) and said he had to go to the bathroom because he had explosive diarrhoea.
Now that could be handled in any way – I suggested I give him Imodium and said it works for me because I hadn't shit for two months. But as you can imagine that is not highbrow comedy and it went over 'fine-ish' but I was still trying to feel it out so he could go to the bathroom and come back and not interrupt the rest of my filming.
He ran out of the theatre, which was in Seattle, Washington, and I stalled doing odd improv narrating about what he was doing and while I was on stage talking about him— he comes bounding back down the aisle, apparently already to go again and apparently having just done two shots of whiskey, which I knew could only build up his original problem once again.
The fun part came when I started singing about him in an improv fashion about what a tiny little wiener he had as he remained standing at his seat and started to dance— basically the River Dance. And if that dance doesn't cause diarrhoea, nothing will.
I was afraid he was going to blast the audience and turn my show into a horrible version of The Aristocrats – like there is a tolerable version. But he took his seat and sat there like a nice young man for the remainder of my special.
The beauty and fear that goes into a live show, especially one for television, is that it's very scary to know that at any moment, someone could be having the best time of their lives while you're performing, and yet they're filling their pants. That is just way too much information. And could also require crime scene tape.
I never saw him again and I look forward to keeping it that way.
Worst journey to a gig
That would have to be when I played Australia several years ago. It's a 14-hour flight from Los Angeles and I got off the plane and went right to a radio station where the morning show host caught me off guard, in that way some morning show hosts do,.
He showed me the young lady who was hosting the next show I was going to be on – I believe it was Sunrise Australia. I was single at the time and he said he had her phone number and I should leave her a message on her voicemail. Exhausted and wanting to play along, I did just that. 6:30am will do strange things to comedian off a 14 hour flight.
Her show hadn't started yet so I thought maybe I would speak to her live on the air on her cellphone— which is not something anyone in her position would enjoy. It was a foolish thing for me to do but I dunno, I thought they were friends or something. I left her a message telling her I'll be on her show soon and I look forward to meeting her and perhaps we could go to lunch, all of this being egged on by the morning radio show host.
By the time I got to Sunrise Australia the first thing I did was go right to her and apologise and then apologise on the air.
She was surprisingly gracious and kind and we just kind of politely left it off as the morning show radio guy as trying to make some silly American comedian look even sillier. And I think he partly succeeded. And no, we did not go to lunch.
The funny part is I went back to that same exact television studio four times later throughout the day and found out the secret of how they do their shows is that they bring in different hosts all day long and put a different set behind each one of them but it's in the exact same space. That is truly how you got your real estate dollar. And it was the same crew so by the end of the day they looked like they had melted.
I had a wonderful time on that Australian tour and was also hocking my bestselling book, Dirty Daddy, being the comedy ho that I am.
• Bob Saget is at the Leicester Square Theatre tomorrow night. He says 'All of my dear friends from America who play London tell me how deeply they love the audiences. And I have four friends.' Tickets are here.
Published: 20 Sep 2018
What do you think?