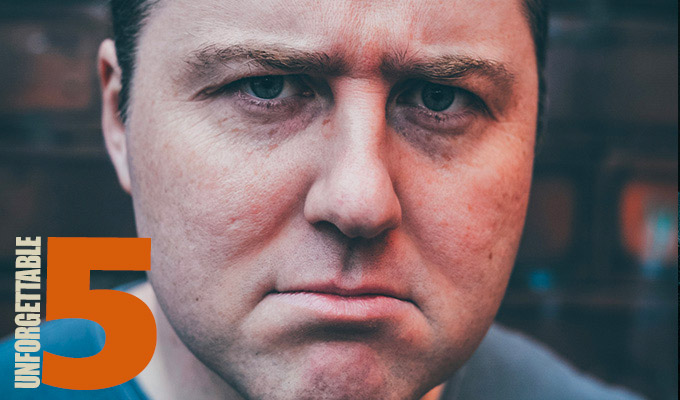 'Simultaneously the most violent and polite audience member ever'
Worst gig
I once did Coventry University Students Union Bar and when I arrived I realised the gig was booked in the middle of reading week and also the posters had the wrong date on them. Unsurprisingly enough, there was no audience there.
The manager of the bar, who was a winning combination of being thick, tight and angry, still insisted I did the gig. To no audience. Actually, there were four people at the very back of the room, playing a game of pool on a double date. I decided I would try and make them leave, in order to stop this plum of a manager from taking any money at all.
I commentated on their woeful cue skills for about five minutes, they left, and then I did my remaining 15 to nobody, until a bunch of guys turned up and started heckling. It's incredibly surreal having to gig to nobody and I gladly welcomed their interruptions. I told them to stick around to heckle Russell Kane who I knew would be glad of it.
In terms of bad gigs, honourable mentions also go to Harper Adams Agricultural College, those dreadful cunts who run the gig in the bar of the theatre in Tunbridge Wells and King's Lynn Corn Exchange, which I think gets a whole chapter to itself in Dante's Inferno.
Least welcome pre-show and post-show comment
A thing that really gets on my tits is when a person comes up to you before a show and says 'You better be funny!' I think that's implied.
The last time it happened, I was doing a charity gig in Aberdare, when some harridan in a fleece sidled up to me and, without so much as a hello, barked it into my ear. You feel like responding: 'Well, you better not shout witless clichés at me just before I'm about to go onstage but it's too late now isn't it, you mince-brained homunculus?'
Incidentally, at that gig there was netting covering the orchestra pit and when I was on stage I asked the technician if it would take my body weight. He said yes, and I jumped in. It took my weight, but sagged, and so to the entire stalls it looked like I'd just jumped to my death. I then did a good five minutes laying on the netting.
After the gig, the tech came up to me and said: 'I had no idea if it would take your weight, I just wanted to see what would happen.'
Most unusual location
I did a fundraiser in Te Anau, on the south island of New Zealand, in a wool shed. They cleared out all the equipment and we performed on the raised stage where the sheep are normally sheared, with the audience all sat on hay bales.
The owner of the shed, a farmer named Jimmy, asked if I wanted to eat before the show. I said yes, that would be very kind. Then he killed a sheep.
I'll be honest, I would've been happy with a sandwich.
Strangest audience member
I was gigging at the Cardiff Glee once and after my set, myself and Greg Davies were watching Brendon Burns perform while we were stood at the back of the room, near the exit.
Brendon had managed to antagonise a large proportion of the audience. In the middle of Brendon's set, a bloke who looked like he could enter The World's Strongest Man (repeatedly and without his permission) stood up, threw a glass beer bottle at Brendon and then calmly walked over to the doorman and said: 'Can you throw me out please, before I kill this cunt?'
Now the doorman was about half the size of this guy. He couldn't have thrown him out if he wanted to. So he just opened the door and said: 'Can you please leave the building, sir?' and the veiny behemoth said: 'Certainly.' Then they shook hands and he left. Simultaneously the most violent and polite audience member I've ever witnessed.
Gig that taught me the biggest lesson
When I was pretty new, I did some tour supports for Russell Brand. I was told not to approach Brand under any circumstance. I thought: 'I'm bound to meet him, I'm supporting him on tour.'
I never met him.
He spent all of his time hidden in his dressing room. It was like gigging with Anne Frank. And so I had to do my own offstage introduction, to thousands of people waiting for Russell Brand, and tell them I was going to do half an hour first instead.
They were the biggest audiences I'd ever played to. Aintree Pavilion is so big they normally race horses around inside it. And I was the loneliest I'd ever been doing comedy.
So when the promoter rang me up and told me I was doing well and they wanted me to do another 20 more tour dates, I turned them down. I learnt there's not much point doing a job in comedy if it makes you unhappy.
• Lloyd Langford: Why The Big Face is on at Banshee Labyrinth at 22:00.
Published: 9 Aug 2018
What do you think?