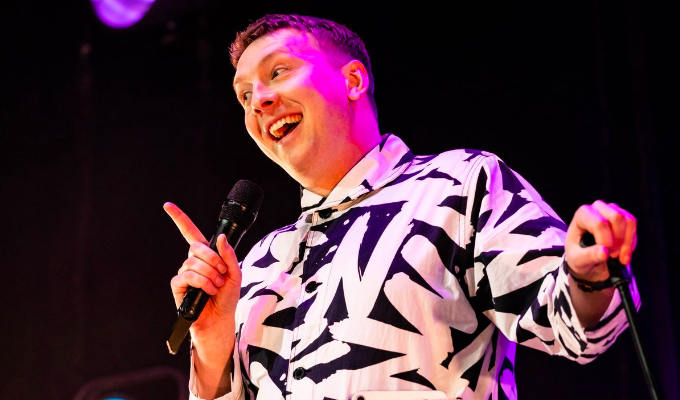 Just For Laughs London
It's a tough job launching a comedy festival London, given the the city has hundreds of gigs a week anyway. Where Just For Laughs absolutely dominates downtown Montreal for a couple of weeks in July, you could easily be in London and be entirely unaware it was on.
In fact, you could even be in The O2 complex in Greenwich where it all happened – and whose owners AEG Presents are co-promoters – and not be aware. Giant ads are just as likely to be promoting Micky Flanagan or Peter Kay's forthcoming gigs, which are not part of the festival, as JFL shows.
Just For Laughs previously tried a London festival with a Speigeltent set up in Russell Square in 2016. And they did secure some big names for this year's, albeit not for proper comedy shows. Ryan Reynolds was in conversation with Rob Delaney in the uniquely un-intimate main O2 arena in an event punctuated with ads for his gin brand. Floor-level tickets were £90… although one fan tweeted that he got his for 'the price of coffee and a cake', suggesting not everyone paid full price.
Best part of Ryan Reynolds at The O2 was when they played a big ad for his gin brand, they brought out bottle of his gin brand to drink, then showed a big logo for his gin brand, then logos for his phones and production company, then more ads. Inside The Actors Studio it was not.

— Jonathan Sloman (blue tick in post) (@SquidyUK) March 6, 2023
Miranda Hart, Sue Perkins, Jo Brand and Jonathan Ross were all part of the festival, too, if only to talk about Comic Relief.
This is not even the only big-name stand-up event in the SE10 postcode. And the pop-up Greenwich Comedy Festival has an in-built sense of occasion because it parks its marquees on the grounds of the National Maritime Museum each September, inherently a better place to head than the atmosphere-free corporate mall of The O2
The line-up got Just For Laughs opening night show, Katherine Ryan & Friends in the 1,800-seat Indigo space, was strong, but not far off the sort of bill you might find at the other Greenwich event or at other regular top-flight gigs at the likes of the Union Chapel.
Ryan's return to the stage after popping out her third child was a notable event – although as the hardest-working woman in comedy, it seemed she'd been away for barely a blink. Though it was actually 11 weeks since she gave birth.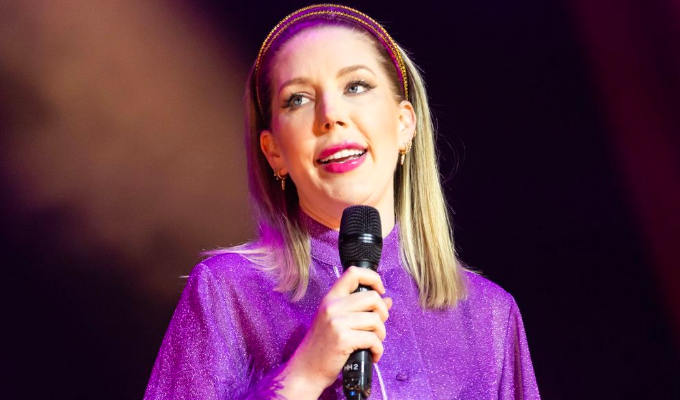 Little Fenna is too new an addition to have spawned much comedy, but ever-candid Ryan mined the rest of her life for straight-talking material. Teenage daughter Violet is the puritanical woke voice challenging the comic's less progressive tendencies, even though Ryan's long been a proud feminist and even prouder man-hater. Then she got married 'like a stupid whore'.
She talked about the revived relationship with her childhood sweetheart Bobby Kootstra that was never meant to happen, and how he abandons the family for his beloved golf. It could be typical domestic material, but Ryan heaps on plenty of disdainful attitude once she warmed up from a comparatively cool start.
Elsewhere, celebrity gossip fuels her, whether pouring scorn on Leonardo DiCaprio's well-documented love of the inappropriately young woman, or Pete Davidson's greatest asset that lands him the hottest dates in Hollywood.
Where Ryan's sassy with her scorn, Kerry Godliman's grumpy, harrumphing about having to make any effort in life and baffled by the younger generation, especially her own offspring. She has an appealingly abrasive edge, and a straight-talking bluntness that gets to the nub of the issue. Her suggestion that we should treat Amazon's Jeff Bezos like a dodgy market salesman flogging us all sorts of moody gear.
Fresh from his Dancing On Ice departure, Darren Harriott boasts a reassuringly chill demeanour and a stash of material about how his life has changed from being a bouncer at risk of falling in with the wrong crowd to the man he is today. He even likes red wine now, having previously thought it 'wasn't for black men' – as you never see it the music videos. Harriott is more of a laid-back storyteller than a snappy punchline merchant, but is excellent company.
Ed Gamble was the star of the night, though – even outshining the host. His closing routine about hotel buffet breakfasts, taken from his recent Electric tour, is a beat-perfect observational routine, with a pithy, witty and evocative description of every item on offer.
Before that he hit highs with his confected outrage that his comedy was considered suitable for children, and even if the middle of the set was a little more muted in therms of material, his cheeky young imp demeanour works wonders.
Ryan was back on stage on Sunday as part of Graham Norton's variety gala in the main arena. Told you she was the hardest-working woman in comedy.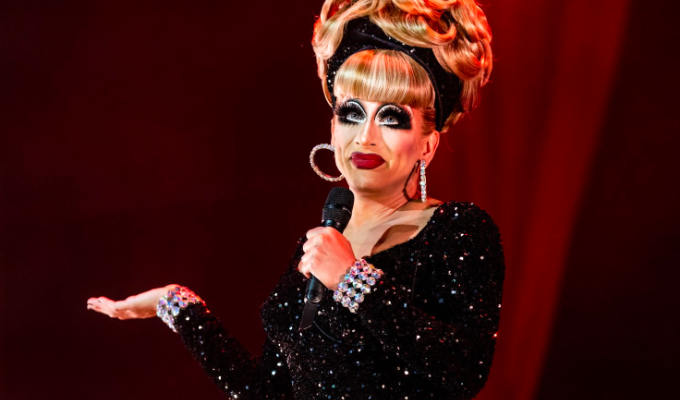 This night, which also featured music from Eurovision star Sam Ryder, had much more of the pizzazz that was in short supply on the previous night. Some of that came from the star power of the host himself, some from the Drag Race stars he bought on. Bianco Del Rio – sporting the size of eyelashes more normally seen on a pink VW Beetle – spared no one with her acid-tongued putdowns, while Danny Beard showed an impressive vocal range, even if the his way of leading a singalong was little bit 'provincial nightclub DJ on a Saturday night'.
He was followed by Phil Wang, marking a definite change in energy. 'If Danny Beard is cocaine, I'm the day after,' he said before mocking white people for one very specific reason: their fear of reheating rice – typical of his dryly silly material.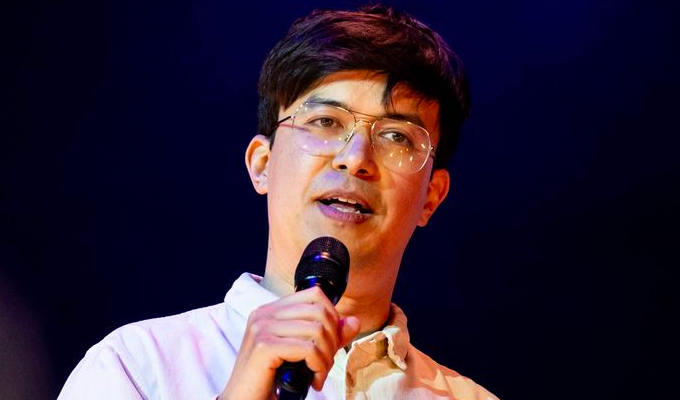 It's been a long time since Norton did stand-up but he dusted down some still-effective material about getting drunk while performing at the Edinburgh Fringe – so you can tell how old that story is.
Jayde Adams seemed out of sorts. She screwed up her first routine about her days as an Adele tribute by failing to establish she was talking about a reality show she took part in. And she told the same joke about Megabuses twice. But all was forgiven once she belted out Nessun Dorma, her powerful voice bringing the audience to their feet.
Joe Lycett's routine could also have gone awry, given that he confessed to having been drinking since 5pm (it was 10pm by this point). While he might not have been completely slick, he's always delightful company and here playfully divided various words into being 'straight' or 'gay' while portraying Liz Truss – his hero as the UK's premier right-wing comedian of course – as the apex of 'hun culture'. That's short for honey, not wartime Nazis.
Amusingly, Lycett got distracted by an advert in the arena for GoPuff – which he took as an encouragement. For he's all about the positivity, and even managed a sincere(-ish) message to his haters as he closed the star-studded bill.
Later, The Office's Craig Robinson – who also stars in the cult sitcom Killing It – hosted a brilliant late night music and comedy mash-up in Indigo, backed by his funky seven-piece soul band The Nasty Delicious that included a guitarist he'd randomly recruited from Ronnie Scott's the previous evening.
Infectious, dance-in-your seat tracks ranged from Barry White to the Eurythmics (for the white people) and from Jessie's Girl from his movie Hot Tub Time Machine to the Chicago Bulls intro music.
Mix that with witty asides, a charismatic keyboard-playing frontman, and a easy-going, freewheeling vibe that took in singalongs and subversions of the tropes and you have a recipe for a fun evening that really got the audience moving – what few of them there were. I had a full row to myself, and it was only row G. Shame so many missed such a delightful party.
Sunday saw two New Faces Of Comedy showcases – one of the hottest tickets and most prestigious gigs of the Montreal event and here billed as a place to see 'the future stars of the comedy circuit' – although its definition of 'new faces' stretched to Shazia Mirza, now in her 23rd year as a stand-up.
But in London I was told in no uncertain terms was just an audition, a new act event that shouldn't be reviewed and I should never have been given a ticket for. Not that the punters who paid £12.50 a seat in All Bar One had any indication this was anything but a normal gig…
So, under sufferance, I can give you no review, but I will say that the standouts were Josh Glanc, with his unfailing commitment to silly, unpredictable comedy, and Alison Spittle with her gloriously graphic but cheerfully delivered description of getting a contraceptive coil fitted. Perfect material for 2pm on a Sunday!
Thank God – or maybe Max & Ivan – for The Wrestling, a bold, brash and stupid spectacle guaranteed that closed the festival in an impressive style that not all of the preceding four days lived up to.
Fans who negotiated the long, snaking queue to get through the airport-style security to enter Indigo were treated to such a star-studded affair that even the likes of Rachel Parris, Nick Helm, Jazz Emu and Flo & Joan get under-used, kicking the event off in musical style and then disappearing. Suzi Ruffell compered and commentators Aisling Bea (on the side of good), Nish Kumar (evil) and Iain Stirling (expert analysis - despite apparently knowing little about the rules or terminology) lobbed in plenty of witty ad-libs.
If comedy in general is affected by a 'careful what you say' sensibility – and that's a big if – The Wrestling offers a freeing sense that anything goes, both from the loose improv of the night and the ridiculously overblown caricatures battling in good and evil.
Where else could you hear the phrase 'smash her disabled head in!' and it not be a hate crime. This came in the first, unscheduled, match in which surprise guest, Greg 'The Taskmaster' Davies took on reigning champ Rosie 'Daddy' Jones.
Jones cheated her way to retaining her belt, only for a sneaky ambush forcing her to retire hurt ahead of the climactic eight-way battle royale that was to decide the 2023 title. Olga 'Rock Hard' Koch – who had been a backstage reporter with Matt Crosby – eventually served as her proxy after outwitting the other big-name surprise of the night James Acaster.
In the first scheduled showdown Sarah Keyworth put in a creditable, if ultimately losing, performance against pro Nina Samuels, even if not every move was convincing.
But how things stepped up when it was pro-on-former-pro action, with muscle-bound Levi Muir and Max Olesker showing strength and athleticism in their tag-team showdown. Their partners also served well: Ivan Gonzalez, in the annual half match he says is his limit, and Ed 'The Gambler' Gambler showing off genuine – and perhaps surprising – grappling skills.
Then then main event. Alex 'The Raging' Horne entering on a longboat; 'The Ringfluencer' Abi Clark with her social media team; Phil 'Phil Wang' Wang in the revealing Bruce Lee jumpsuit he wore on Taskmaster; and pros Cara Noir, La Cyclona and arch-heel 'The Prince of Mumbai' Rishi Ghosh. Plus the comedy highlight of the bout: Glenn 'Morgue' as a cryogenically frozen 1970s Tory MP, 'defrosted' by his manager, the very right-wing comedian Joe Lycett.
Of course chaos ensued. Amid the pandemonium, Clark performed a daring high-stakes dive through the ropes; Wang was slammed from the ropes into a ringside table and stretchered away; and Lycett revealed himself not to be a right-wing comedian at all - the shock! – and turned against his capitalist charge.
Despite crashing out so dramatically, Wang made a Lazarus-like comeback – against the advice of medic Mark Silcox – and ultimately took the title. But Acaster vowed he will mount a challenge for it, in what is the best thing to come out of the whole of this Just For Laughs festival: confirmation that The Wrestling will return in 2024.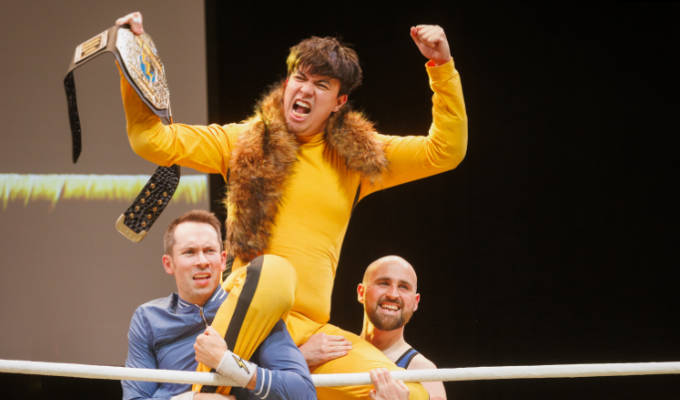 » A full gallery of pictures from The Wrestling
Review date: 6 Mar 2023
Reviewed by: