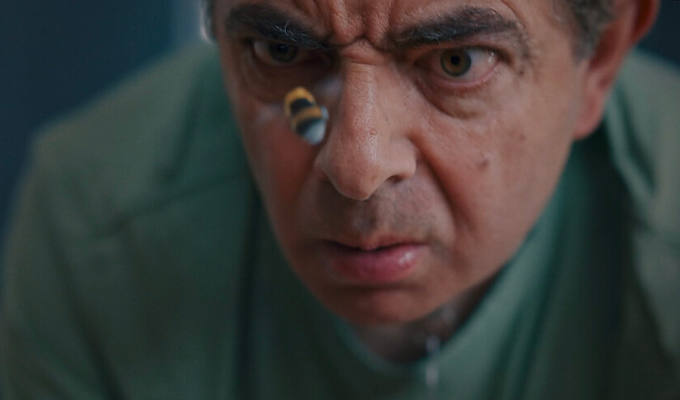 Man Vs Bee
Rowan Atkinson's physical comedy is as close to a cartoon as humans get. Indeed he's already been animated as Mr Bean, to massively bankable effect.
Now he's essentially reinvented Roadrunner as a live-action series. In Man vs Bee, a supposedly simple creature forever thwarts over-elaborate attempts to do him in, which inevitably backfire on his nemesis.
Echoes of Bean are loud – inevitably – but here Atkinson plays Trevor Bingley, a more sympathetic and marginally more credible character, a victim of clumsy misfortune rather than petulant selfishness.
His job is to house-sit an impossibly opulent property, full of needlessly complex gadgets that of course he has no hope of using correctly. (Elma Fudd had similar problems in the 1954 Looney Tune Design for Leaving).
Over nine approximately ten-minute episodes – the first a double-lengther to set the scene – the appropriate damage is wreaked in an increasingly elaborate and chaotic manner. It's not long before he's covered in shit with priceless Mondrian and Kandinsky artworks and an E-type Jag ruined. The police (in the mild-mannered form of Tom Basden) are soon involved.
The episodes are fun and easy to watch. The pratfalls may be heavily signposted, and you know that Trevor's always going to make monumentally stupid decisions to try to put right his mistakes, but Atkinson remains a master of this genre. He elicits laughs from his hangdog or incredulous, shocked expressions and, most of all, his split-second timing (aided by director Man Vs Bee) that makes even the inevitable surprising.
Atkinson and his co-writer Will Davies clearly have greater ambitions for the show than merely a series of unfortunate events. Trevor is shown to have an estranged family, presumably to make him more human, though this dose of sad reality doesn't always sit so well with the slapstick. More interesting is the psychological hole he plunges into as he believes the insect is out to get him. Meanwhile, some wider plot twists put a slight narrative on to the series, presumably to give it more appeal to adults as the kids enjoy the pantomime of Trevor's ever-increasing, and messy, humiliations at his own hands.
Nonetheless, it may be a bit thin to binge – even though the full series can easily be binged in single sessions, being shorter than most movies. However, for offering a quick burst of expertly performed silliness, Man Vs Bee earns its stripes.
» 'People think perfectionism is admirable... I find it quite corrosive', Chortle's Rowan Atkinson interview
• Man vs Bee is on Netflix now.
Review date: 24 Jun 2022
Reviewed by: Steve Bennett
Recent Reviews
What do you think?