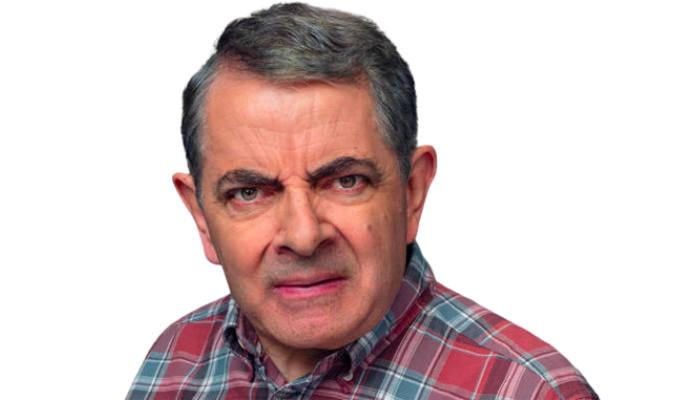 'People think perfectionism is admirable... I find it quite corrosive'
'He's a very odd, very tiny, self-regarding, narcissistic, self-centred anarchist,' Rowan Atkinson says contemptuously. Of which psychopathic despot is he speaking? None other than Mr Bean.
For all these despicable qualities, his alter-ego is, of course, remarkably well-liked across the globe, with almost 10 billion views on YouTube alone. But if Atkinson is over-critical of his childlike creation, that's merely a symptom of his tendency to take comedy intensely seriously.
Speaking to Chortle and a small handful of other journalists to promote his new Netflix physical comedy series Man Vs Bee, he is polite and thoughtful, but guarded, as he discusses his work with gravitas. Much of which, he confesses, he finds miserable and demanding.
'It's so annoying. It's such a shame,' he laments. 'The process of shooting something, I find so hard, so stressful, just worrying that everything you're doing is not as good as it could be.
'I suppose it's a kind of perfectionism. You know, a lot of people promote perfectionism as if it was admirable quality, whereas I think it can be quite corrosive, it can actually be quite a negative thing.'
In his case, that trait means a 'continual dissatisfaction with what I'm doing, which means the process of shooting is not enjoyable. But that's the bit I'm supposed to be good at.'
It's not all bleak. Atkinson says he enjoys pre-production, 'preparing the script and having the ideas and that wonderful blue-sky thinking where you're just sitting with friends in a room thinking, "would it be fun if this happened, would it be funny story?"
'And then when it comes to the awful reality of putting it on to video…' he trails off. 'Yeah, that's a shame.'
'Then the post-production is fun, you know, the editing. I'm always very intimately involved with the music production, sound mix, and all that. I was there right to the last day of sound mixing three weeks ago, and I was there from the first script meeting three years ago. So it's been my Covid project. Yeah, my only Covid project, but it's taken that long.'
I ask if, after all that demanding graft, he enjoys the finished product?
'Ish,' is the tentative reply. 'You know, for me, the glass is always half empty, you'll not be surprised to hear.
'I can see there are some good bits in Man Vs Bee but then I see all these other bits in between them and think, "why aren't they as good as the good bits?" You know, "Why won't it go like this?". But that's just my nature, always slightly dissatisfied.'
It's probably not the ringing endorsement of his show that Netflix bosses would be hoping for. But he needn't worry, the nine episodes, all around ten minutes long, very much deliver the perfectly executed physical comedy that has won Bean his billions of fans, only this time in the guise of Trevor, a well-meaning but hapless house-sitter driven to distraction by the titular insect.
Inevitably viewers will see similarities with Mr Bean, and Atkinson acknowledges:' I think I'd be surprised if people didn't make comparisons.'
'Because in the end, it's me as a performer in a largely non-verbal space, just like Mr Bean, and I've only got one face and a limited number of expressions that I can pull and therefore you're bound to be reminded, I think, occasionally of Mr Bean.
'But I do hope that people see Trevor as a quite distinct character from Mr Bean. I think he's a more three-dimensional more believable, nicer, frankly, just a sweet and nicer man.
'Because Mr Bean is not nice. I don't often play genuinely nice men, that's a relatively rare thing. So yes, there are parallels but but Mr Bean as a character couldn't have told our story. He would have been too inward-looking.'
Unlike Bean, Trevor has real relationships with an estranged family, who he FaceTimes from the lavish, high-tech home he's housesitting – bee permitting.
'We felt we had to give him some light and shade and some depth,' Atkinson explains as we sit around a table in a plush London hotel. 'A relationship with his ex-wife and with his daughter – correctly I think – portrays him as a decent guy who clearly hasn't always made a success of everything in his life.
'The daughter probably thinks he's a very sweet, good natured, well intentioned man, but who's got failings, And one of his failings is this obsessiveness. When the bee becomes the target of his obsession, it leads to a progressive downfall. Trevor's obsessiveness takes him into quite a dark and difficult place where he behaves extremely badly.
'Funniness is just exaggerated truth, so you've got to find the truth first. Truth is an important element because that's what people connect with. The audience has got to see a truth in either the character you play or the situation you're talking about… When you identify the truth, then it can – with someone who brings a certain skill set – become funny'.
Why a bee? Writer Will Davies explains that there are a number of connections. 'Rowan was educated at a school called St Bees in Cumbria, and there's a lovely scene in Mr Bean where he's bothered by a bee during a picnic,' he says.
'But above all, it was me remembering a story he used to tell about his grandfather driving while a bee was in the car with him, trying to get it out and having a crash. Fortunately, he was okay, and so was the bee, but the story always made me laugh.'
Atkinson adds: 'We did choose the bee because it's about the only stinging insects that people really like. They're genuinely positive contributor to society. So even though you've got to be a little wary of them sometimes. It's important to have a sympathetic and empathetic protagonist.'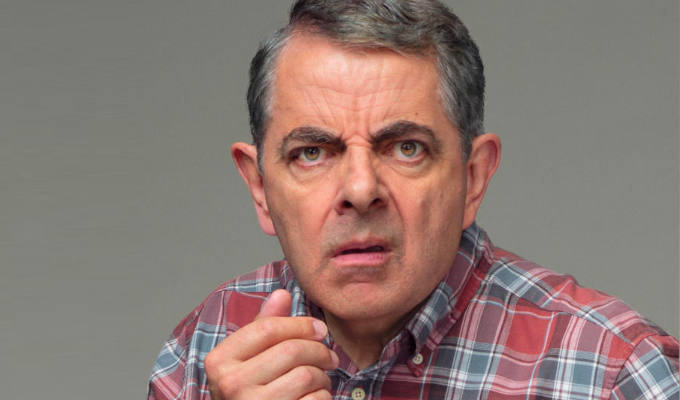 Conversation with Atkinson, Davis and producer Chris Clark reveals just how much meticulous attention to detail has gone into these 110 or so minutes of TV – what Atkinson sometimes refers to as a movie, but packaged differently.
'Will and I have worked with Rowan a few times, and before we even before we even start filming, there's been a massive amount of work that's gone in,' Clark says.
'We obviously start with the basic idea, but then we'll break it down over a number of weeks, even months, into ideas that could be written on a card. It could just be a very simple thing like "puts the bee in a microwave" and we'll start to build up a whole storyline based around little bite-sized ideas
'Then we'll go off and write the scripts, then we'll start to rehearse them. The rehearsal process is much bigger than any other film I've ever worked on - we're talking about weeks and weeks of rehearsals.
'You know that Rowan is very exacting and very specific about how he wants to do things. He uses the word perfectionist, not not in a good way necessarily. He knows it's an affliction as well. But also, that's what makes it so special, his brilliance as a comedian, is because the specificity of what he does is so extraordinary. '
'That can lead to multiple takes. And it's the same all over again in the editing. But there's always a reason behind it all – the need to make it as strong as it possibly can be comedically, and emotionally as well.'
Davies adds: 'Rowan worked very hard on that. It took him a long time to work out how Trevor would walk, for instance. He had to work out what his walk would be when he was worried or what was his walk when he has to move quickly. And once he got that he began to feel physically how he could be that character. That filtered through into the wardrobe choices and the other things.'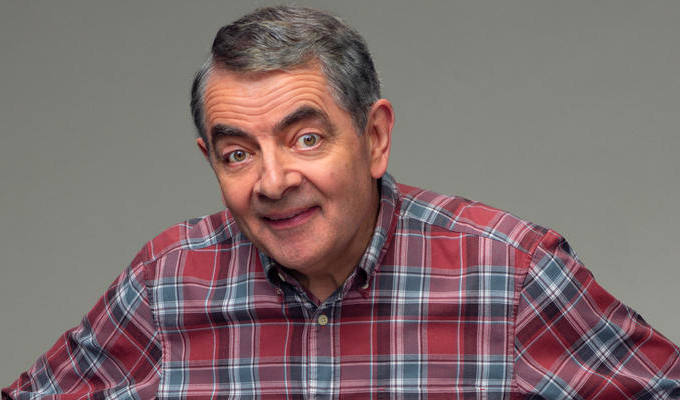 Even the layout of the set was determined during rehearsals, as Atkinson worked through the best way of performing gags. 'The set is the house that jokes built,' says director David Kerr. 'If Trevor picks up the tennis racket from here, can he get the whisk from there? Could Rowan climb up this fireplace? Continuity was so complex, because it was a big space with so many things in it, so many of which had to be touched or moved or damaged in the course of the story. We needed to make sure we were not giving ourselves an unfixable problem.'
Davies adds: ''Happily, the fact that Rowan has such a control and mastery of tone means that it is really consistent – the logical progression of each beat will be followed through. His comic instincts have been forged over decades, so he is rarely wrong.
'Also, what Rowan will never do is undermine the the overall reality for the sake of one laugh. So there are times when you go, "Oh my God, but it would be so much funnier if you just didn't question that bit, but just did this". But Rowan won't. He just can't ever bring himself to do that. If the punchline isn't justified by the steps before, then you can't do that.
'Rowan also hates any idea that you're not playing fair with the audience. He wants things to have been set up and bedded in earlier, not to arrive conveniently later on, because the set-up is often as important as the pay-off in comedy.'
'Rowan's very methodical,' confirms Kerr. 'He has a master's degree in engineering that really informs his approach to comedy. He is incredibly rigorous.
'I drew storyboards for almost every scene – with a full-body actor like Rowan, we needed to capture his performance in wide or full-length shots while using judicious close-ups and dynamic camera moves to accentuate the comedy. It is a form of choreography, really.'
No wonder Man Vs Bee took 12 weeks to shoot, split between exterior locations and Bovingdon Studios in Hertfordshire. And it's interesting how Atkinson's recollections of the experience differ from his colleagues.
For example, Davies gushed about canine actor Pixel, the six-year-old collie-poodle cross who plays Cupcake. 'Cupcake was without a doubt, the most highly professional actor in the cast, she did a phenomenal job Absolutely amazing. Obviously, everyone else was great, as well. But Cupcake was extraordinary.'
But what stands out in Atkinson's memory is Pixel's trainer saying she was left 'slightly traumatised' whenever he ran towards her or made a loud noise, as the script demanded. 'Then she'd have to take two hours out in order to reset,' he said. 'And shooting costs $50,000 an hour so how are we going to get around this? So it wasn't plain sailing. The dog was great, but like all animals, not 100 per cent reliable.'
Atkinson says his worst experience on set was filming a scene when he's covered in 'filth and dog poo… this awful stuff splattered on me' and showers it off. But 'every time you wash it off you have to put it back on again for the next scene. It was really, really tough. I mean, not physically, just rather horrible.'
Asked if he's in any way similar to Trevor, Atkinson says: 'It's not for me to judge. I hope I share nice qualities and I hope I don't share any of his obsessive and really quite odd qualities. Certainly I identify with him more than I do Mr. Bean.'
That's as close as we get to anything personal, having been warned in advance by the publicists that he will not stray off the topic of his work. Asked to share any personal embarrassing incidents worthy of Trevor, he politely but firmly declines.
In an interview with the Sunday Times last weekend, Atkinson even declined to say whether the glorious house where Man Vs Bee was filmed was his own. ButClark reveals 'it's not a real standing place' but a mix of internal sets and computer-generated images. After all, 'it would have to be a very broad- minded owner who would say, "yeah, burn it, smash it up," says Kerr.
It is also left to Clark to reveal that the very first E-type Jaguar that features in the series now belongs to Atkinson, a renowned car nut.
Back in conversation with the star himself, talk turns to whether he would ever turn to performing any of his creations on stage.
'I've always wanted to do a sort of stadium show with Mr Bean,' he says suggesting a recreation of a town he could drive the Mini around 'like the Royal Tournament that used to happen with tanks and people abseiling through the ceilings… that kind of idea. Beantown is the name in my head. Anyway, we probably won't do that…'
However, what could be on the cards are more adventures for Man Vs Bee's Trevor.
'We feel Trevor's a great character,' Davies says. 'So we think that the Man Versus… could be followed by any number of other other things. We have begun to think about what those situations might be.'
'I think if you said that to Rowan, he would say "never ever ever again" but then Rowan always says that whenever he's just finished something.'
• Man Vs Bee lands on Netflix on June 24
---
CREATING THE BEE: 'It was never going to be a character with a top hat and cane…'
While the action in Man Vs Bee may occasionally resemble Tom and Jerry, the aim is that it would all be based on reality – which included the CGI bee.
It was decided early on that Trevor's nemesis would be a white-tailed bumblebee. 'Honeybees are more common, but they look too much like wasps,' says video effects supervisor Rob Duncan. 'Bumblebees are big and fat, fluffy and cuddly. Once we had decided that, we built it from the inside out, starting with the skeleton and then adding all the detail. That was the easy part.'
'We're used to applying personality to a dog, but it's a lot harder with an insect. Our interaction with bees is quite ambiguous: we know they're good for the environment, but we don't want them buzzing around our ear.
'It was never going to be a character with a top hat and cane: the audience has to buy into the idea that this is a real insect, otherwise, there's no jeopardy. After a while, we do start to push the envelope in terms of its behaviour.'
'It was all about suggestion,' adds director David Kerr. 'You can imply an attitude from little things when it's rubbing its little feet together or cleaning itself – tiny bits of movement that read as a response or an attitude.
'A lot of the shot design was informed by the disparity in scale between a man and a bee, You often want two-shots in comedy and really the only way to do that here was to frame the bee in foreground, so the scale of the bee becomes a lot bigger closer to the lens.'
To help with that, they employed puppeteer Sarah Mardel, who spent months during lockdown dangling model bees from wires on the end of two-and-a-half metre poles, 'figuring out how accurately you could land something so small, at a right angle, so far away from you... That was a real test. It was a bit of trial and error, a lot of research and figuring out what you can do with what you've got,' she said.
Both Rob and Sarah spent hours on YouTube, researching how bees took S-shaped flight paths and how they behaved when trapped under a cup to recovering from being stunned.
On set, Rowan and Sarah (dressed in black) would do a take or two using the bee on the pole to set Trevor's eyeline and camera angles. Rowan would then generally do a take without the bee to assist the post-production.
Then to get a bee's-eye view, Sarah was given a 360-degree VR camera to operate at the end of a two-metre pole, so she could replicate the flightpaths that bees generally take.
Published: 14 Jun 2022
What do you think?