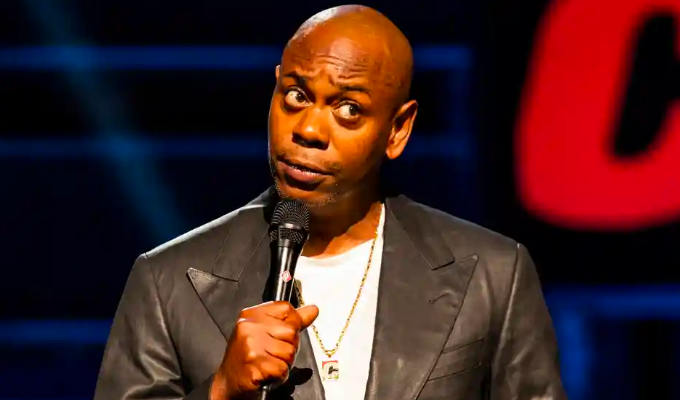 Dave Chappelle: The Closer
In what he says will be his last stand-up special for a while, Dave Chappelle reveals he has spent 16 years being accused of transphobia.
Rather than reflect on whether there might be anything in this enduring complaint, he's defiantly doubling down, with 70 minutes of material mainly obsessing about other people's genitals. When he says, in a rather patronising tone: 'I've never had a problem with transgender people, if you listen to what I'm saying,' it's hard to take that at face value.
His justification is devoting his special to this contentious topic is three-fold. First he considers that there's a cancel culture driven by the trans and wider LGBTQ community – so attacking them is not punching down. Even, apparently, if you're being paid tens of millions of dollars on the world's biggest media platform to do so.
Secondly, he reasons that black people have had it tougher than trans folk, as if it were some kind of competition. 'Intersectionality' isn't in his dictionary, with the scant acknowledgment that it's possible to be both black and gay coming as an apparent afterthought.
And third he had a trans mate who - he is keen to tell us – thought Chappelle was a 'master of his craft'. So that's all right then.
Trans rights are surely an issue more nuanced than the loudest voices on both sides would acknowledge, and with his insight and fearlessness, Chappelle could have been the comic to tackle this knotty topic.
But much of The Closer leaves an unpleasant taste, and is less about challenging the audience's attitudes than appealing to the worst of them, then griping about 'cancel culture' like a well-remunerated Fox News anchor.
In the most crass routine here, he talks about beating up a lesbian in a bar… but justifies himself because she looked a bit like a bloke. Well that's absolutely fine then, nothing problematic there.
At another point he describes feminists as 'frumpy dykes' not worth raping. It's hard to see a distinction here between a comedian who proudly, boastfully refers to himself as 'The GOAT' and Jim Davidson at his most misogynistic.
There's always a fine line between provocative comedy and just being a dick, but that line's in Chappelle's rearview mirror now, as he sees to stand up to censorious voices.
He does have a deft routine about the #MeToo movement in which he challenges their methods – a controversial take but a valid opinion. Which he then turns into a sexist joke that's clearly tongue in cheek. If only we could be so sure of his motives the rest of the time…
The result is a special that seems a long fall from the power of 8:46, the show Chappelle released in the peak of the pandemic last summer in response to the death of George Floyd.
There is a poignant section at the end of this show involving that trans friend, which could be a compassionate appeal for a little more humanity and tolerance when it comes to dealing with other viewpoints. But in context, it feels like he's spent an hour kicking a hornets' nest then asking the stingy bastards to calm down a bit.
• Dave Chappelle: The Closer is on Netflix now. The comic also starts a run of gigs at the Eventim Apollo in London next week. Tickets
Review date: 6 Oct 2021
Reviewed by: Steve Bennett
Recent Reviews
What do you think?