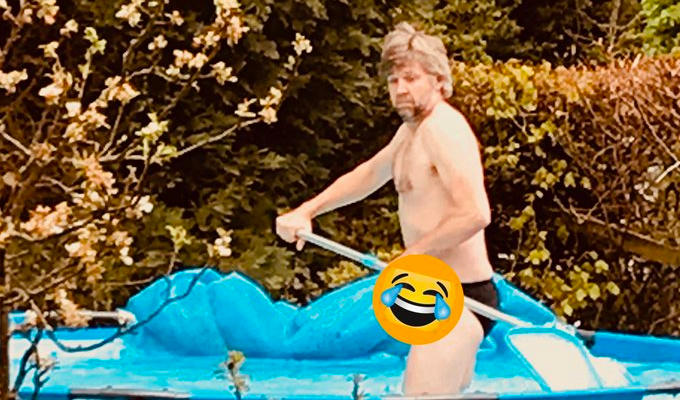 Rob Rouse: No Refunds
Lockdown seems to have sent Rob Rouse more stir-crazy than most – and it's a madness he delightedly embraces.
For a blockbuster opening, he dons a sparkly hat bow-tie and waistcoat to sing a rousing anthem to lowered expectations. He has a cane, wonderfully, and even toots on a pink trombone (not a euphemism) as he performs with all the vim of the Rockettes but the physicality of an out-of-shape middle-aged man. The fact that it's marvellous rather undermines the message of the lyrics.
Rouse's boyish looks, as seen as Bottom on Upstart Crow, have indeed weathered, but if the grey temples and beard suggest a maturity, the content of this comeback show defies that. In fact, the juxtaposition makes the silliness more potent.
There are strong flavours of Vic Reeves in No Refunds, in the cheerful commitment to surrealism and the ridiculous imagery. It's evident in sketches such a demonstration on how to enliven Zoom calls or his song in the persona of Neil Young, his mask making it look as if the veteran's face has melted into a hideous grotesque.
The introductory song warns that Rouse thinks it's funny when things go on for far too long, and certainly several skits outstay their welcome. French teacher Gerard Fan Fan, explaining why nouns are gendered, on vous regarde…
Rouse loves the contrast between the mundane and the showy, and the main stand-up section is a paean to the Hope Valley Garden Centre near his Peak District home (and yes, this bit, which leads into the Neil Young parody goes on too long).
But when this show hits, it really zings with unrestrained silliness, sold on Rouse's funny bones and childish zest for showing off. As a work in progress, this outing of No Refunds augers excellently for his live comeback.
• Rob Rouse: No Refunds is at Gilded Balloon Teviot at 9pm tonight.
Review date: 19 Aug 2021
Reviewed by: Steve Bennett
Reviewed at: Gilded Balloon Teviot
Recent Reviews
What do you think?