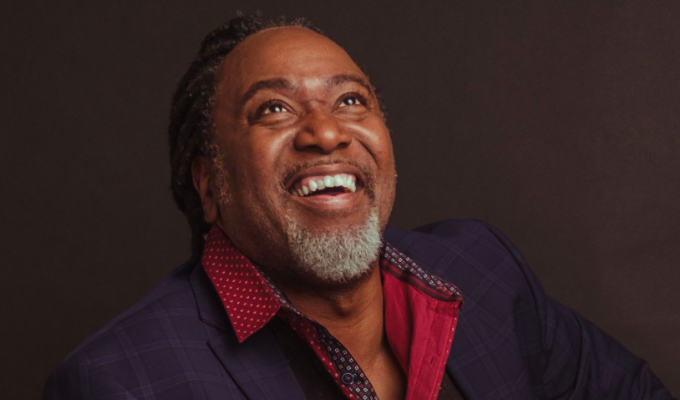 Reginald D Hunter at Latitude 2021
Long after the stand-up's finished, Latitude's comedy arena hosts the old-school disco called Guilty Pleasures. The description might better fit some of Reginald D Hunter's material: laughing at Bill Cosby jokes or how sexual grooming could work out well seems more reprehensible than liking a Destiny's Child track…
As always, the laid-back American enjoys walking the line of taste. He exudes the wisdom of a life well-scrutinised and pose his scenarios in terms of philosophical musings, but it's all in service of justifying a transgressive idea or joke. He prefaces one query to the audience with: 'I'm not trying to make no trouble…' Perish the thought!
He has been known to to be self-indulgent, using his commanding stage presence to cover for a lack of preparedness or focus. But post-pandemic, he hits the ground running with such a tight volley of comic misdirections, even he has to confess: 'I'm not sure I can keep this up.'
It is indeed, a cracking hit rate as he whips through gags about becoming a father and one of the best, and most blunt, takes on national differences between colloquial English.
The wide-ranging set finds fresh topics or fresh angles on old ones as he covers the death of his father at 102, Meghan Markle, and the private life of Philip Schofield among many others. He even does a proper pub joke you can take away to tell later… if not quite so well.
Only at the end does Hunter eat into the stores of goodwill he's built up, detailing the plot of a James Bond movie he'd like to see that seems more like the misguided efforts of an obsessed teenage fan rather than a well-considered comic conceit. But this is no time to die on stage.. and the ever-generous Latitude audience is happy to indulge him, even without any satisfying payoff.
Review date: 26 Jul 2021
Reviewed by: Steve Bennett
Recent Reviews
What do you think?