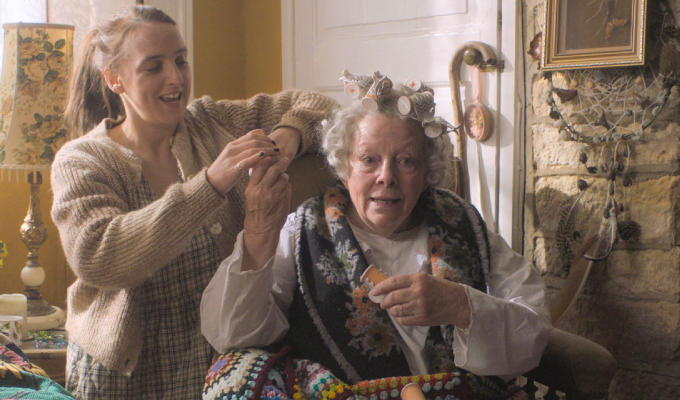 Please Help
Anyone who's seen Lucy Pearman's one-woman shows will not forget her endearingly dotty sense of humour and her unwavering commitment to the absurd.
Such surrealism rarely translates to screen, as the force of personality needed to bring viewers on board is inevitably diluted – but in Please Help, released on BBC Three today, the comic has made it work by rooting the oddities in a rather grim reality.
Pearman plays Milly, living a stressed, claustrophobic and isolated life in rural Oxfordshire, where she not only has to run a small farm but also be the sole carer of her easily confused grandmother (Anna Calder-Marshall).
This situation alone leads to plenty of slapstick, with Pearman awkwardly and hilariously manhandling various unwieldy objects – the pensioner, a dog, a tandem. More physical comedy comes in a delightful montage, featuring a memorable struggle with a farm gate.
But then the oddness takes a huge leap as Milly starts to experience some very bizarre happenings. It could be the stress causing her to hallucinate, or it could be a sort of magical reality in the storytelling of this humdrum life.
Either way, this bold step into the bizarre opens the nimble script up to so many abrupt turns and jokes, each wildly unpredictable as the narrative and the characters defy all conventions. The result is charming, bonkers, imaginative – and often laugh-out-loud funny.
Nor is Milly the only oddball in this warped reality. Harry Peacock is the brusque, argumentative Uncle Sean trying to set her up on a date with the shy, and fittingly peculiar, KwikFit worker Dean Nutt (Edward Bluemel). Look, and listen, out for cameos by comedy favourites Toby Williams and Tim Key, too.
Pearman's made a few stand-out TV appearances of late, in Red Dwarf and alongside Spencer Jones in both The Mind of Herbert Clunkerdunk and Mister Winner. But Please Help is the fruit of her own fertile and offbeat mind – and sparkles with originality and wit.
Inventive gags, making the most of the visual medium, are packed tightly into these eccentric 15 minutes, while the story behind the strange powers bestowed upon Milly is so intriguing, you'll feel cheated that the story is over so soon without exploring them more.
The BBC really ought to pounce on this imaginative, hilarious premise and sign Pearman up for a series immediately.
• Please Help is on BBC iPlayer now.
Review date: 7 Jul 2021
Reviewed by: Steve Bennett