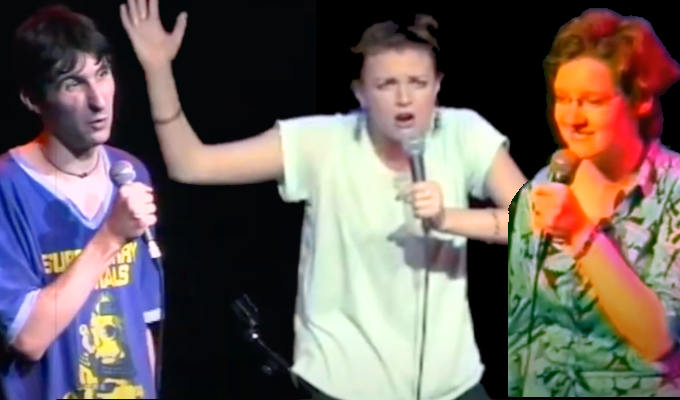 So You Think You're Funny? Best Bits
It's always fun watching before-they-were-famous clips of successful comedians to compare and contrast their early instincts with the gig-honed personas which would make their name.
Now Edinburgh's Gilded Balloon venue has released some archive footage from its annual So You Think You're Funny competition, often the first rung on the way to a comedy career.
The annual final is often an unforgiving affair. The venue isn't the easiest to play, with large ceilings and often overheated, while nervousness in the festival pressure-cooker can be intense. After all, finalists had to have been performing comedy for less than a year when they entered.
It doesn't seem to rattle Sarah Millican though, whose 2005 performance opening this anthology shows a rare confidence in both writing and in the sense of who she is. As she speaks about her divorce, mocking misguided but well-intentioned advice, she feels like the finished product already.
Three years later, Seann Walsh similarly has the main traits of his persona - lazy and unhealthy – in place. While in 2012, Aisling Bea takes a different approach to a similar personal inertia – 'I hate moving,' she asserts. The performance isn't that slick, but it's authentic and animated, which allows her to own some consciously bad jokes.
In 2002, we see noted Welshman Mark Watson talking in self-effacing way about life in the principality - years before confessing that he wasn't actually Welsh, and reverting to his real Bristolian accent on stage.
Doc Brown takes a familiar mash-up - a hip-hop approach to a posh activity– but has the rapping skills to make his rhymes about dressage zing; Zoe Lyons owns the stage as she shows off her tattoo; then more recently Maisie Adam overcomes some apparent nerves in her 2017 appearance to paint a delightful picture of her French teacher with an overpowering Northern English accent.
The second part of this YouTube show gives an airing to some of the compéres, including a horn-tooting Bill Bailey, a slightly rusty Rhona Cameron making her Fringe comeback in 2008, the return of Aisling Bea, but this time as MC in 2017 (although it's wrongly captioned with the year she won).
Finally, we see some of the presentation ceremonies, which seems unnecessary, even if it does feature the always-anarchic Johnny Vegas. Spare a thought, though, for poor Matthew Osborn, who won the 2002 competition. The footage here only shows third place Nina Conti and second place Watson (who forgets his Welsh brogue in his acceptance comments) getting their awards. Osborn clearly didn't become famous enough to avoid being whitewashed out of SYTYF history!
The show is embedded below - and if you enjoy it, you're encouraged to donate to the Gilded Balloon here to help the venue survive this fallow year.
Review date: 14 Aug 2020
Reviewed by: Steve Bennett
Recent Reviews
What do you think?