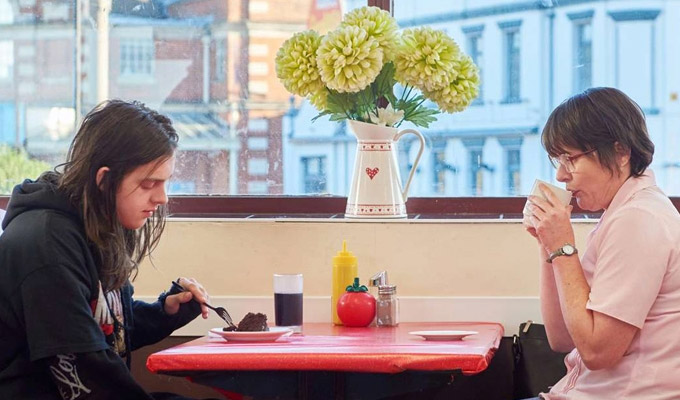 Days Of The Bagnold Summer, directed by Simon Bird
This review was originally published in March, when Simon Bird's directorial debut was screened at the Glagsow Film Festival. We publish it again today as Days Of The Bagnold Summer is released on-demand on platforms including Apple iTunes and Amazon.
---
Best known for playing two victims of arrested development – uptight Will in The Inbetweeners and sneery, squabbling Adam in Friday Night Dinner – Simon Bird returns to adolescent angst in the suburbs for his directorial debut, Days Of The Bagnold Summer.
Based on the graphic novel by Joff Winterhart and adapted by novelist Lisa Owens, Bird's wife, you can choose to see this film as a reaction to the actor's narrow typecasting, featuring as it does a compelling, multi-layered central performance from Earl Cave as a disaffected 15-year-old.
However, this charming feature is very much a double-hander, with Cave delightfully matched by Monica Dolan as his 52-year-old divorcee mother. If the former announces himself with an understated and soulful screen charisma, W1A's Dolan simply reiterates her skill for moving effortlessly between comedy and drama.
The plot is simple. In quiet Bromley, lank-haired, moody metalhead Daniel Bagnold is anticipating spending the school holidays in Florida with his father, stepmother and their new baby. Until his father phones to cancel the trip.
So instead, Daniel makes half-hearted attempts to get a part-time job, hangs out with his equally metal-obsessed but rather more upbeat friend Ky (Uncle's Elliot Speller-Gillott) and contemplates joining a local band. Yet for six long weeks, he's largely forced to spend time with his librarian mother Sue, their relationship defined by tension and Daniel's sulky, resentful dismissal of his despairing parent.
As school holidays often unfold, very little else happens. Sue enjoys a date with Daniel's history teacher, played with unctuous suavity by Rob Brydon, and drags her son to the seaside in her latest failed effort to bond with him.
Beyond that, the film is a pleasant, permanently sunny succession of amusing vignettes scored by wistful songsters Belle & Sebastian, periodically punctuated by blasts of heavy metal at the moments of Daniel's greatest mortification.
The humour resides in the measured snatches of disconnected dialogue between mother and son, that yet betray an underlying need, love and melancholy. Through her son's struggles, Sue is also prompted to consider her own youth and wonder about what might have been.
The fine supporting cast includes Alice Lowe as Sue's younger sister and Tamsin Greig as Ky's hippy masseuse mother, both in their very different ways trying to rebuild Sue's confidence and bring her out of herself. Tim Key cameos with a typical Key turn, involving Daniel in a seaside fudge-making demonstration only to belittle him and highlight his teenage insecurities.
Despite the very English reserve on display – Sue briefly performs an internet search on her son's behaviour, but the depression or other mental health problems that both might be suffering are largely inferred – Bird floods the film with a colourful, pastel pallet and underlying sense of optimism that this is only a phase in the Bagnolds' lives, more reminiscent of contemporary US coming-of-age films than grittier, comparable British fare.
Often preferring to keep his camera static, using the architecture of the family home to emphasise the central characters' emotional separation, Bird's directorial instincts and budget may be arty-independent, a world away from the knockabout brazenness of the Inbetweeners movies.
But Days of the Bagnold Summer is an endearing, accessible film for anyone who's struggled through puberty, or, indeed, struggled to connect with a family member going through it.
Review date: 8 Jun 2020
Reviewed by: Jay Richardson
Recent Reviews
What do you think?