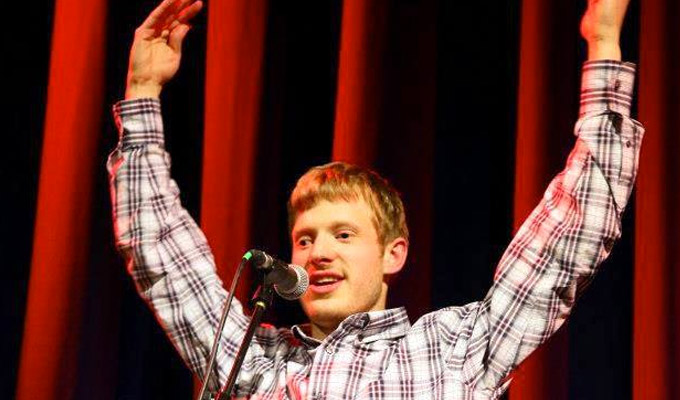 Leicester Square Theatre New Act Of The Year 2019
Too much? Fifteen comedians on one new act final might feel like overkill, but no act seemed undeserving of their place at the climax of the Leicester Square Theatre talent hunt last night – and all were certainly strong enough to make a long show fly by.
Lily Phillips got the night off to a robust start, with a routine that called to mind Jo Brand with her sardonic, feminist-skewed take on what a woman is 'supposed' to talk about. That meant leaning into subjects such as her vagina, cystitis, her bumhole and a particular sort of breastfeeding. The material runs the risk of being one-note, but she's certainly got enough strong, if graphic, gags to keep the laughs comic over a short set, enhanced by her cheery disdain for the genteel and a bulletproof confidence. It earned her a joint third place – not bad for the death spot of being first.
Alice India was even more heavily influenced by another comedian – and so felt a little too close to being a Lou Sanders tribute act, with her a chaotically ditzy and odd persona gushing and over-emoting in an exaggerated pantomime. But it took Lou Sanders a long time to learn how to be Lou Sanders successfully, and India often seemed to be going through the motions. That said, her energy and confidence is compelling, even if the contemporary clowning falls into the traps she's trying to mock.
Jamie D'Souza proved himself a great writer, even in a field that is overcrowded in comedy as he talked about being an emotionally repressed teen, toe-curlingly awkward with women. Yet he made the stories – primarily about going to meet her parents who were unaware he was Asian – into a highly effective way of delivering gag after wry gag, producing a tight and funny set. One of my favourites on the night, this slick, joke-focussed comic was unlucky not to be placed.
David Eagle also offered a well-polished set with a quiver full of entertaining stories, in his case largely revolving around his blindness, all delivered with a typically Northern brand of cheery sarcasm. There may be some irony that his set creates a lot of wonderful images, while the tales are both generously peppered with gags and well-constructed, down to an elegantly unforced callback. As a musician, he's won two Radio 2 Folk Awards with his band The Young'uns – and now he can add a comedy accolade to his mantelpiece, after being crowned winner here.
It was a tough act to follow, but Sam Eley was equal to the task, with an audacious routine that took one controversial premise and stuck with it for the whole performance. It's a high-risk move, but that's what gave a crucial edge to his amusing writing, which also displayed an impressive intellectual rigour and a deft ability to keep twisting the central idea and building upon it. In some finals he would be a shoo-in, but it's a sign of how high the standard was tonight that such a virtuoso display of comic writing couldn't get placed.
Tom Short was not about writing, but in being playful in the moment. He has a suitcase full of props and a wheel of fortune, which determines how his act should proceed. He hits the ground running with this concept, leaving the audience struggling to catch up, which wasn't helped by fate deeming that his first task would be to do a 'big finish'. But putting obstacles in his own way is the cornerstone of this manically slapstick act, which earlier this year won him second place in the Chortle Student Comedy Awards. It wasn't his night tonight, such is the nature of an performance orchestrated to be unpredictable, but we will be certainly seeing more of him.
Josh Baulf is a much easier persona to buy into. Very much in the Rob Beckett mould, he exudes the easy chumminess of a London geezer as he chats breezily to the front row. His inherent camp occasionally blossoms into full Alan Carr shriek as he exaggerates his incredulity at some of the more esoteric Groupon offers his missus signs up for. Relatability is the watchword with both this routine and his other material about trying to rendezvous with a cab after a night out. His writing isn't exceptional, but he's naturally funny and engaging – just the attributes that tend to turn comedians into stars. His second placing tonight is only the start.
Even higher camp from Sam Serrano, who deployed some of the more familiar tricks of the genre, such as aggressively flirting with a straight guy in the audience who'd already become something of a feature of the night, thanks to skilled compere Mick Ferry's witty banter. Serrano was strongest when talking about his learning difficulties and people's reaction to him, but other parts of the set felt a little more contrived or familiar, from fitness regimes to our reliance on tech. He's certainly a solid act, with occasional sparkles of originality, but that wasn't enough with the bar this high.
In delivery and energy, Luke Craig was the polar opposite, calm and collected and able to draw the audience in with an understated confidence. His talk was of growing up around the shady characters of Croydon and Lewisham, South London, offering some insight into a world not often credibly portrayed. His gags could have been stronger – but, my gosh, is he a compelling storyteller, with command of pacing, timing and the dramatic pause. It was captivating stuff that earned him the shared third place.
In contrast, Eddy Hare was a stronger gag-writer, but had the sort of dry, quietly sarcastic comic tone we've heard plenty of before from the likes of Liam Williams or David Elms. Much of his shtick involves using an ironically swaggering language to portray the mundane, such as going to the post office – a routine that nonetheless delivered a very strong payoff – while his opening gambit is to talk of his physical self-consciousness. Another act to file under 'solid' until he breaks out of the archetype.
American Matthew Chadourne struggled to make an impact; his material about wanting to be reincarnated as various animals had a pleasing symmetry, but the premise was forced – as was his contrivance to drop in a highfalutin literary pun – and the jokes bland. This felt more like comedy done as an exercise rather than anything from the soul. A rare misstep in the line-up.
Manchester's Hannah Platt was the opposite; wearing her heart on her sleeve as she discussed her mental health issues with a disarming honesty and a mordant wit. She had a small handful of excellent jokes, but they lay too far apart as she talked around the topics in hand. The openness and bleakness make her distinctive, though, and she feels like a voice with something to say.
Patrick Spicer had a less grim nihilism about his comedy, shrugging it off as a fun but unlucrative waste of time with no real prospects; perhaps something of an industry in-joke but perfectly honest and pretty engaging. Despite such low stakes, he played things relatively safe, discussing the likes of social drinking in a routine that was amusing and nicely executed, but not with that extra edge to stand out.
Michael Akadiri also made for good company, with effortlessly amusing stories most successfully taken from his job as a doctor on the front line of the NHS, always a rich mine for material. His punchlines are occasionally predictable, but by no means always, and his reactions to his own observations add a kick to the taglines. A comic in firm control of his comedy and the audience, he's already looking like a pro.
Pansexual and non-binary, Umbry Winters comes with the sort of adjectives that would bring Piers Morgan out in a cold sweat. Personal experiences form part of a lively set, but primarily some familiar male and female archetypes can be mocked by someone who's refusing to pick a team. Gags occasionally slip into cliché – a 'thank you for coming' innuendo for instance – but Winters has engaging energy, unconventional point of view, and now and again a great punchline that suggests great promise.
If tonight represents the standard of the new act circuit, the scene is in very fine fettle indeed.
Review date: 17 Dec 2019
Reviewed by:
Reviewed at: Leicester Square Theatre